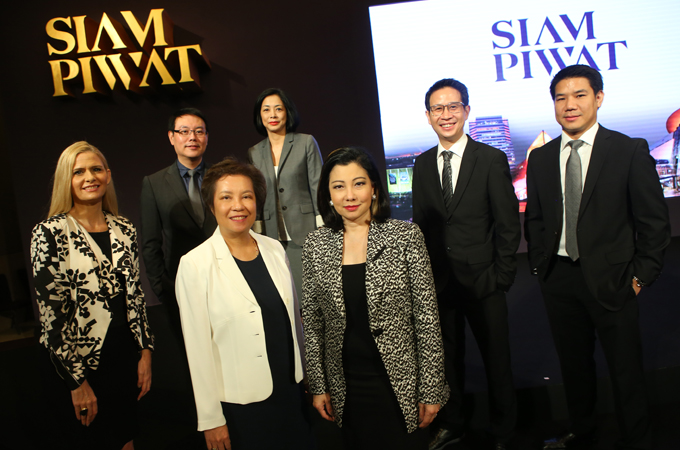 Siam Piwat Co., Ltd., the owner and operator of prestige retail developments such as Siam Paragon and Siam Center, as well as the joint venture partner of ICONSIAM, the Bht 50,000 million (US$1.54 billion) landmark development, today, unveiled a 5-year strategy that aims to consolidate its position as a 'thought-leader' in the rapidly evolving retail development sector through a programme of investments in projects worth Bht 55,000 million

Mrs. Chadatip Chutrakul, Chief Executive Officer of Siam Piwat Co., Ltd. said: "The retail development sector is going through a period of exceptional growth with a record amount of new investments announced by various companies in the last 12 months.
"Thought-leadership drives Siam Piwat's success. Underpinning our future growth is our focus on offering in our projects novel concepts, as well as new retail and lifestyle ideas that are the first in Thailand, and some even also in the world. The 5-year strategy we are announcing today will determine our investment direction, and the relationships we have with our business partners and tenants, aiming to strengthen Siam Piwat's position as an innovation leader in Thailand's retail and property sector," she said.
"In line with this strategy, Siam Piwat will focus on being an innovation leader in providing unparalleled experiences to visitors to its properties, as well as be a partner of choice to retailers and investors, aiming to double its revenues in five years," she said. Mrs. Chutrakul noted that to reflect this strategy the company adopted the corporate vision of 'The Icon of Innovative Lifestyle', and unveiled a new company logo.


According to Mrs. Chutrakul, to be a thought-leader in retail and property development, Siam Piwat will do five things.

1. "First, we will focus on constantly creating new and unique experiences. With consumers now globally connected, they are instantly aware of new world trends and their expectations are much higher. We have a dedicated unit to track new trends and customer preferences as well as benefit from collaboration partners in staying abreast of these developments. In line with this, next year, we will have major redevelopment initiatives for Siam Paragon and Siam Discovery to ensure that they stay at the forefront of trends. These redevelopment plans will be truly extraordinary, and even more dazzling than the redevelopment of Siam Center last year, which became the biggest talk-of-town initiative of the year and continues to win international awards and accolades for its novelty," she said. She added that ICONSIAM, the joint venture project with Magnolia Quality Development Corporation and Charoen Pokphand Group, reflects this approach and incorporates in the project 'Seven World-Class Wonders' which will be concepts and attractions that are all new to Thailand. Mrs. Chutrakul added that Siam Piwat also has eight properties under study at other locations in and outside Bangkok as well as overseas, and which should be finalised within 2015.

2. "Second, Siam Piwat will work closely with tenants to offer new ideas that can help support the further success of tenants and business partners as we work together to provide exciting and unparalleled experiences for visitors. We will challenge our tenants to create new experiences and to create new designs, new products and other new offerings that are unique to the property. These may be new line extensions, signature labels, and innovative product variations, as well as new experiences at their stores that go beyond their traditional offerings. Our experience at Siam Center, where we pioneered this collaborative and exciting new approach, has been extremely positive and very well received by visitors. At ICONSIAM, we will take this approach even further in our "Icons within Icon" concept and join forces with more than 500 tenants and world-famous brands," she said.

3. Mrs. Chutrakul said that Siam Piwat will invest in new retail formats and concepts as well as new brands that are not yet in Thailand. They aim to bring excitement to the retailing sector as well as differentiate Siam Piwat's properties. "We plan to operate new retail businesses, including up to four brands of specialty stores, with projects valued at around Bht 3,000 million. They include both international franchises and Siam Piwat's own brands, and we are currently in talks with three international restaurants. Some of these projects should be firmed up by the last quarter of this year," she said. "We already operate the Loft, a franchise specialty store from Japan. We recently extended our agreement and will add three more branches in the next five years. Our own stores, The Wonder Room and The Selected at Siam Center present fashion and home accessories from up-and-coming new Thai designers, and these have been very successful. We will add more branches and are also considering invitations to open branches in other countries," she added.

4. "Siam Piwat will also invest in new businesses with world-class partners. In the past three years, we have been approached by leading international firms to conduct feasibility studies on new businesses in entertainment, art and culture, as well as in retailing. We plan to initiate such projects that are valued at around Bht 10,000 million and which will be completed in the next 3-5 years," Mrs. Chutrakul said.

5. "The fifth element of our plan is to ensure that we have a very strong organisation. We have been reinforcing our leadership talent by inviting on to our team highly qualified people from a variety of disciplines with both Thai and overseas experience. We recently created the position of President specifically to ensure the ability of our support units to drive our business growth. We also have staff exchange programmes with partner companies in ASEAN and other countries, which serve to broaden management knowledge of other cultures and enhance our ability to improve the appeal of our services to tourists in our properties in Thailand. This will also prepare us for business opportunities within ASEAN," she said.
Siam Piwat has a long heritage of pioneering new concepts that amaze consumers, and which are also always commercially very successful and always bring positive recognition for Thailand. Siam Piwat is the first company in Thailand to create the concept of an international standard shopping mall with the opening of Siam Center, forty years ago. Siam Piwat is also the first company to create a five-star hotel in Thailand with the building of the Siam InterContinental Hotel. It also built the first mixed-use complex in Thailand with the building of Siam Discovery and Siam Tower. And, with the creation of Siam Paragon, Siam Piwat delivered a world-class retail phenomenon in luxury shopping and recreation, and made the property an international legend that is a must-visit destination for tourists coming to Bangkok. Many stores of top international and local brands at Siam Center and Siam Paragon regularly register the highest sales per store among their stores in Thailand and the region.