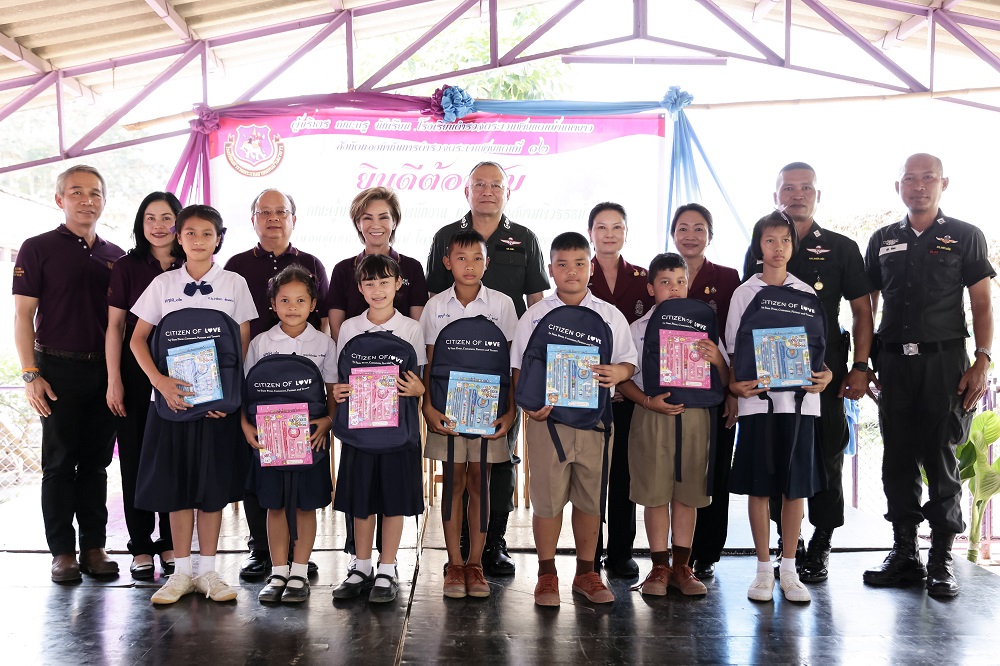 As an organization born under royal benevolence in the land of love and altruism, Siam Piwat aspires to share love and opportunities to everyone to promote a sense of pride and equality. In November, Siam Piwat held a press conference for the launch of the "Citizen of Love" project, in which its customers, business partners, tenants, executives, and employees were invited to come together and provide New Year gift sets consisting of backpacks and school supplies to 26,500 students at 218 Border Patrol Police Schools across Thailand.
Amporn Chotruchsakul, President for Business Support, along with Siam Piwat's executive team and employees who came from Chachoengsao, attended the delivery ceremony of New Year gifts to 438 students at Ban Na Yao Border Patrol Police School in Sanam Chai Khet District, Chachoengsao. The ceremony was presided over by Pol. Maj. Gen. Patipat Suban Na Ayudhya, Deputy Commissioner-General of Border Patrol Police, who received the delivery of backpacks containing school supplies, along with books on the teachings of His Majesty King Rama IX provided by Amarin Printing and Publishing Public Company Limited, to be put in the school's library, with the hope that the students would be inspired by the invaluable wisdom and exemplary conduct of His Majesty King Rama IX.
To bring smiles to the students and welcome the year of 2020, Siam Piwat also brought along snacks and bubble tea for the students, with Krispy Kreme Doughnut Thailand contributing 504 donuts.
In addition, Siam Piwat is planning to complete the delivery of the New Year gifts, which consist of backpacks and school supplies, to students at Border Patrol Police Schools in remote areas across the country by the end of January.