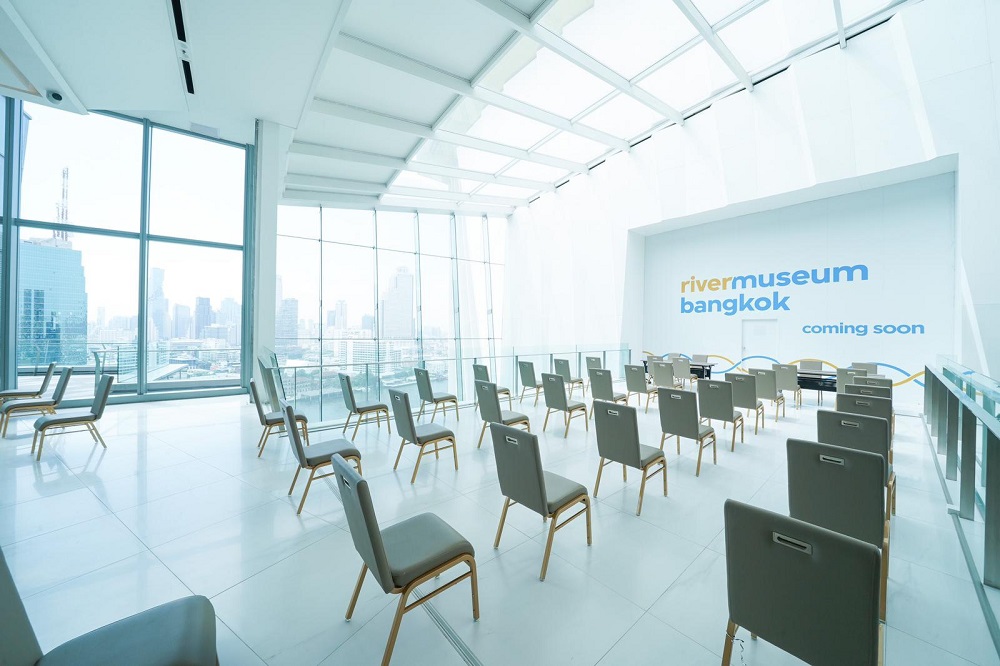 ICONSIAM is collaborating with the Thai government on the national Covid-19 vaccination. In collaboration with the Bangkok Metropolitan Administration and Thai Chamber of Commerce, ICONSIAM will serve as COVID-19 vaccination venue for the Thai citizen. The vaccination site is located at ICONSIAM Art Space, 8th Floor, an open and well-ventilated space with sanitized restrooms. Featured in the background is the scenic Chao Phraya River that offers a sense of relaxation and ease. The site is operated under strict safety measure according to the authorities's guideline.
In full support of the national mission, ICONSIAM dedicated ICONSIAM Art Space on 8th Floor as Covid-19 vaccination venue, that also features elegant Chao Phraya River view. This art space is previously a learning center and art exhibition space that showcases masterpieces of celebrated Thai and International artists. ICONSIAM Art Space, is an open and well-ventilated. Sanitized restrooms along with hand sanitizers are available. Free-Wi-Fi are also on offers plus ICONSIAM staff will be working closely with the medical personnel and support the public. Over 1,000 doses is expected to be inoculated per day.
Furthermore, ICONSIAM is operating under strict health and safety measures according to the government's standard and guidelines. ICONSIAM also located in conveniently accessible location, connected public transportations; car, Skytrain and boat as following;
- Skytrain: ICONSIAM is accessible from Charoen Nakhon Station (G2), , simply transit at Krung Thonburi station and head to Charoen Nakhon Station.
- Boat: Free shuttle boat at Sathorn Pier and Si Phraya Pier. From 9AM – 10PM.
- Car: ICONSIAM provides more than 5,000 parking spaces.
ICONSIAM takes health and safety of all our visitors and staff members a priority by proactively operating under maximum health and safety measures, providing temperature check points, hand sanitizers, increasing cleaning and sanitizing frequencies of the air condition system and spraying disinfectant in the building and all touching surfaces.
ICONSIAM fully supports and working closely with the government to support COVID-19 vaccine rollout to serve the Thai citizen. The Thai Chamber of Commerce and Board of Trade of Thailand are collaborating with leading private sectors to support vaccine rollouts in Bangkok. There are 14 COVID-19 vaccination venues include; SGC, Central Ladprao, Samyan Mitrtown, Thanya Park, True Digital Park, Asiatique, The Mall Bangkapi, Robinson Ladkrabang, Lotus Minburi, Central Pinklao, ICONSIAM, Ptt.gas station Rama2, Themall Bangkhae and BigC Bangbon.
ICONSIAM has the aim of being besides all Thais, fully support everyone who suffer from this crisis and hope to send good blesses to everyone to overcome this pandemic together. For more information please contact: 1338 or www.iconsiam.com