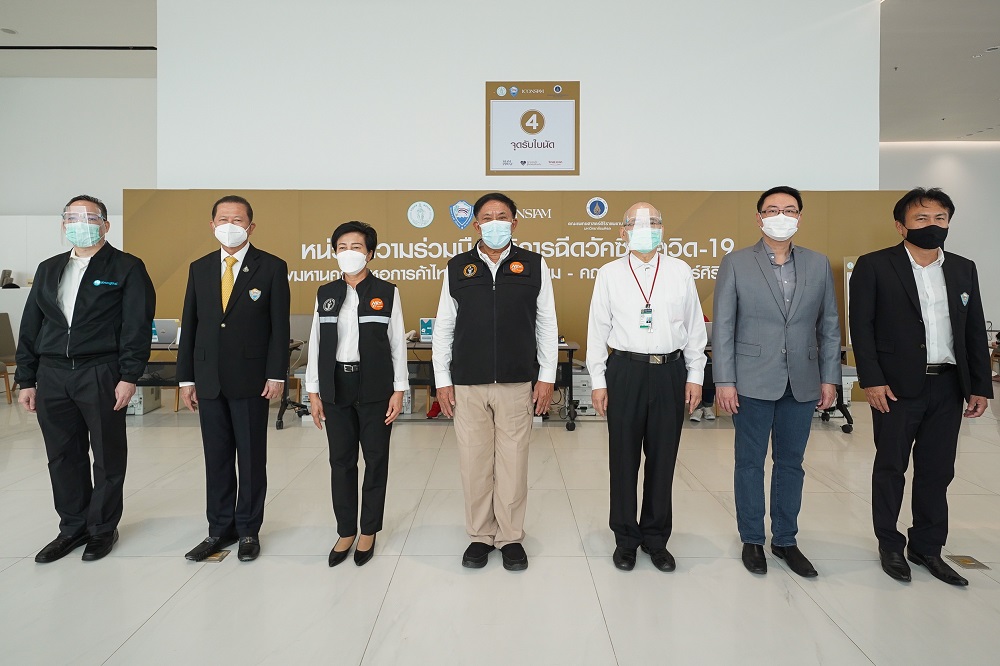 ( 7 June 2021) To support the nation's Covid-19 vaccination agenda, ICONSIAM, in collaboration with government and private sectors will open alternatives vaccination stations at their retail premises, starting 7 June 2021. The immunization will be provided to the public pre-registered via "Mor Prom" or "Thai Ruam Jai, Safe Bangkok" platforms. The operation is efficiently managed with maximum safety measure in practice, to ensure public confidence - with underlying goals to speed up vaccine access and accelerate mass immunization, for the country to together overcome the pandemic crisis.
The public vaccination will roll out on 7 June and will run until 31 December 2021. The service will be provided to people pre-registered via "Thai Ruam Jai, Safe Bangkok" system to accelerate vaccination to residents of Bangkok, which is currently the maximum and strict-Covis-19 control province.
ICONSIAM also fully supports the national inoculation mission. In collaboration with Siriraj Hospital and the Health Department under Bangkok Metropolitan Administration (BMA) and the Thai Chamber of Commerce, non-hospital vaccination station at ICONSIAM art Space, 8th Floor opened on June 7, 2021. Its panoramic Chao Phraya river side location makes this alternative vaccination site the most scenic station, that can offer sense of relaxation and a feast to the eyes for the vaccine recipients. The site is also spacious, well-ventilated with hygienic restrooms on offer. This is the first time that ICONSIAM Art Space will serve other purposes, as a vaccination site, other than its original function as an art exhibition space to showcase creations from local and international artists. The space ensures public safety for the vaccine recipients. ICONSIAM also allocates its staff and volunteers for the operation, provides food and beverages to medical personnel and supports other facilities all through the service.
The public pre-registered, who have chosen ICONSIAM as their preferred location, can conveniently access the premise by Sky Train -the Gold Line, and exit at Charoen Nakhon station. For private vehicles, over 5,000 parking capacity is available. ICONSIAM can also be accessed by boat or use shuttle boat service from Sathorn or Sri Phraya Pier.
Alternative vaccination station at ICONSIAM will run daily from 7 June onwards, from 10.00 -18.00 hrs. The service station will feature waiting areas, registration, verification, blood-pressure measuring, health screening, vaccination, vaccination certificate issue and post-vaccination symptoms monitoring areas for 30 minutes. Ambulances are on stand-by. In case of any possible side-effects, the patients will be immediately treated by doctors and nurses and will be sent to the nearest hospitals. The site is expected serves over 1,000 recipients per day.
ICONSIAM reassures the public's confidence with its safety measures. Big cleaning is done daily at ICONSIAM Art Space vaccination site and the property after the operation hours. In addition to the maximum health and safety measure according to the Ministry of Health's guidelines, ICONSIAM commits to stand by Thais and supports people impacted by Covid-19 with all its best abilities. ICONSIAM strongly believes the spirit and collaborations of all Thais are the key to overcome the crisis.
For more information, please call 1338 or visit www.iconsiam.com