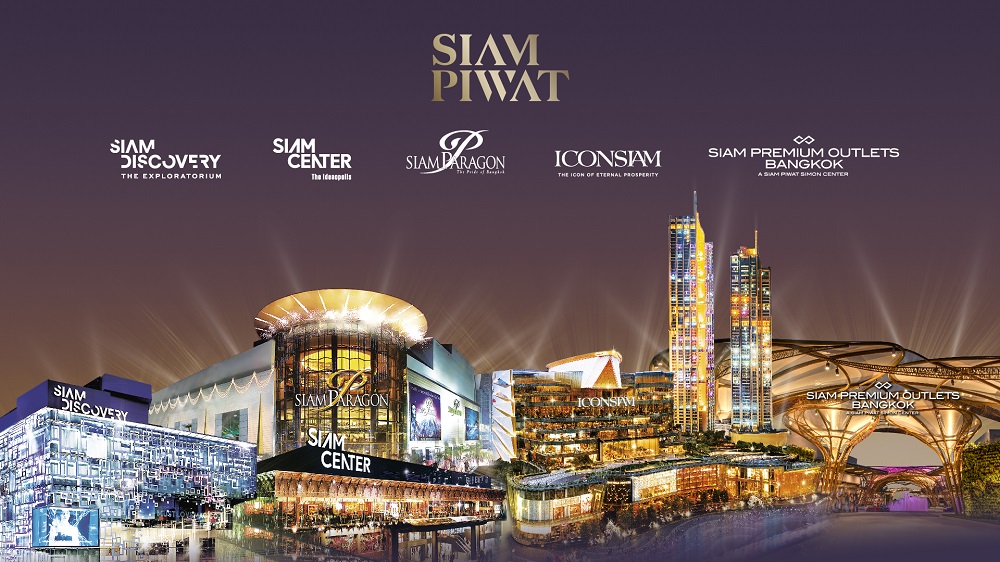 Since the onset of COVID-19 in early 2020, Siam Piwat Group and all our associates and partner organisations have been severely challenged by the unprecedented nature, scale and duration of the pandemic.The challenges have been made all the more severe for everyone in the global supply chain for merchandise and services because of the unpredictability of the pandemic, coming in multiple waves, and the consequent measures that have been imposed and changed, at short notice, on everyone in society.
Throughout the past 16 months, Siam Piwat has been assisting our affected tenants and business partners in all way possible. We have joined forces with the government, private businesses, communities, and a number of individuals to provide assistance covering public health, economic, and social dimensions.Today, Siam Piwat reaffirms to stand by our business partners and all Thais in making preparations for upcoming changes and navigating the crisis together.
Siam United
From the start of the pandemic, Siam Piwat Group has devised and participated in multiple community and social support initiatives under the overall umbrella of our
'Siam United' programme.
Among the projects we have created or embraced are:
"Thais Help Thais" – a project in which Thai people are encouraged to support each other through special promotions and sales, as well as events and marketing promotions.
"Thai Save Thai" – a project under the Ministry of Public Health to promote healthy practices that can minimise transmission and infection by the COVID-19 virus.
"Thais Shop Local for Thais" – a project to stimulate consumer spending to boost the Thai economy.
New Sales Channels
As customers became restricted in their movements and their ability to visit our destinations and stores were curtailed, Siam Piwat accelerated the development and enhancement of new sales channels to give customers alternative ways in which to fulfil their shopping needs and assist our business partners to continue retailing merchandise and services.
During the closures, in collaboration with our partners, we introduced several new sales channels for stores, including:
Call & Shop – a service that enables customers to shop for anything through just a telephone call
Luxury Chat & Shop – where customers can chat with our staff and have luxury items delivered from fashion runways straight to their door
Click & Shop – a 24-hour service that puts at a customer's fingertips an interesting selection of merchandise from various brands in Siam Discovery & Siam Center, and
Ultimate Chat and Shop – a novel and trendy shopping experience that increases the fun of shopping and is easier and more enjoyable than ever.
Preparing for the Future
Siam Piwat is honored to collaborate with the Bank of Thailand and Krungthai Bank to organise a special, interactive session, exclusively for our partners, that will present a broad overview of expectations for the Thai economy in a post-pandemic world.We are privileged to have the valuable time of authoritative Bank of Thailand executives as well as the additional, knowledgeable perspectives of executives of Krungthai Bank. Titled, "Economic Directions: Navigating the COVID-19 Crisis and Preparing for the New Normal of Business", the sessions will also present useful information on financial management at this extraordinary time, as well as review the availability of special liquidity loans for businesses.
Partners can ask questions and receive information that are specific for their needs, too.
We hope this will help our partners to plan better for the future based on informed insights from people with a deep knowledge of the Thai economy and an understanding of the government's policy priorities.
In addition, we have partnered up with Krungthai Bank to provide assistance to all its SME business operators and partners impacted by the COVID-19 by giving them access to soft loans and working capital facilities to improve liquidity, allowing them to maintain their businesses and navigate through this difficult time
Thai Brands to the World
Siam Piwat has teamed up with business partners around the world to take Thai brands and SMEs to global markets and open for them a whole new world of opportunities.
We are collaborating with our international alliances in retailing to introduce retail products to foreign platforms in high-growth markets that will present Thailand's much-loved products in a way that is both fresh and exciting for shoppers.
SMEs, as well as other enterprises, that may never have had meaningful access to international markets will now be able to secure space to showcase their products and brands impactfully, as well as sell them to a wider customer base.
Among the first, high-growth markets targeted are China, Vietnam and Malaysia.
We have selected some outstanding products from stores in our various destinations as the first merchandise in this programme.They include fashion items by a new generation of designers from the Absolute Siam Store, innovative green products devised by Thai creators from Ecotopia, and Thai handicrafts from ICONCRAFT.
New Experiences, New Excitement
Siam Piwat is introducing exceptional new products and experiences from the world's leading brands to fire up consumer excitement in the shopping experience as well as stimulate consumer spending.
At Siam Paragon, just in the past month, many luxury brands unveiled new concepts and unique pop-up stores.Next to them, multiple new brands made their debut with us. These include the renowned 2019 Michelin Bib Gourmand-recipient Tonchin Ramen from New York, one of the world's most admired audio system brands, Bang & Olufsen, and the multi-faceted Paris-meets-Tokyo brand Maison Kitsune x Café Kitsune.
At Siam Center, KIKO Milano, Italy's extraordinary professional cosmetics brand renown for their range of cutting-edge make-up as well as face and body treatments, made a much-anticipated debut.
And at ICONSIAM, we welcomed the opening of the Mega Harborland indoor playground to many cheers.We also celebrated the opening of a dazzling, 1,600 square metre Experience Center that is the first or its kind in Thailand for
China's leading electric and hybrid automobile manufacturer Great Wall Motors.
Powering up Digital Transformation to Enhance Customer Engagement
While undertaking significant physical renovations at our destinations, we are also aggressively powering up our digital capabilities to further integrate the online and offline experiences of customers.
Our corporate DNA is about creating experiences that are not only different but resonate with customers, and it is something for which we have, thanks also to the important contributions of our exceptional tenants, received all of the world's most prestigious awards.
These new capabilities that are being developed will help us gain a deeper understanding of customer behaviours and enable us to utilize customer insights to undertake
data-powered marketing for our destinations and our tenants. They will, ultimately, ensure that our destinations continue to be among the best in the world at generating meaningful and memorable customer engagement.