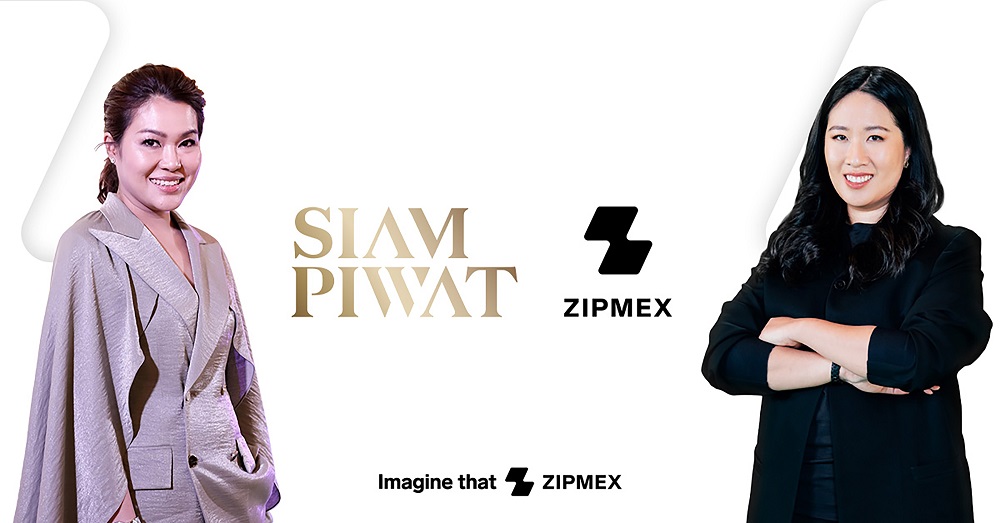 Siam Piwat Co., Ltd., the owner and operator of prestigious world-renowned retail developments, such as Siam Paragon, Siam Center, Siam Discovery, and a joint venture partner of ICONSIAM and Siam Premium Outlets Bangkok, has announced its partnership with ZIPMEX, Asia-Pacific's fastest growing digital assets exchange in Thailand, to deliver the extraordinary experiences and premium service which cannot be purchased in offline world andbring them to lifeonline. Through this partnership, Siam Piwat and ZIPMEX have collaboratively mergedtheirunique and unrivalled potentials to create the revolutionary phenomenon for Thai's retail industry, reinforcing Siam Piwat's position as a though leader who alwaysoffer experiences that are novel yet meet our customers' needs and meet the need ofa new market in digital world.
Saruntorn Asaves , Deputy Managing Director, Membership Management, Siam Piwat Co., Ltd., said: " Siam Piwat is a leader of Thailand's retail and real estate development as well as The Icon of Innovative Lifestyle, consistently deliveringinnovative prototypes and concepts in retail and real estate developmentwhich are never-before-seen in Thailand or even in the world. We have reinforced our strategy"Collaborate to Innovate" by joining forces with leading digital assets exchange and investment platform, and ZIPMEX is the Asia-Pacific's fastest growing platform in this industry which is the only platform in its sectorhaving been granted official authorization to operate in Thailand by the nation's Ministry of Finance and Thailand's Securities and Exchange Commission (SEC). Therefore, this collaboration means the first-ever retail phenomenon anda key milestone in Thailand's retail industry."
"Through this partnership, Siam Piwat hasleveraged our strength enabling us to become the #1 destination in the hearts of Thai and international visitors, which is to deliverpremium andone-of-a-kind global experiences with a full range of best-in-class lifestyle choices that cannot be purchased in offline world, then bring them to life online. All of these will be offered to ZIPMEX users via ZipWorld platform that will expandcustomer base to young generation consumers with high purchasing power."
Proud Limpongpan is the Chief Marketing Officer at Zipmex, Thailand's leading digital assets exchange said: "Currently, it has been widely acknowledged thatcryptocurrency is witnessing its upward trend while seeing its popularity skyrocket, which helpsbolster confidence amongour clients and attract many giant corporates tojointly invest in our platform, thus enlarging our customer base. One of our unique strengths is that we are resolute in providing the maximum benefits and one-of-a-kind experiences that the customers will exclusively gain only from us, allowing them to accessNFT (Non-Fungible Token) more easily. Our aim is to drive Non-Fungible Tokenforward by enabling its representations of physical assets or service on the online platform that meets Thais' lifestyle. We have a wide and comprehensive range of partners who are ready to deliver extraordinary experiences to our customers. Recently, we have collaborated with Siam Piwat, our key partner who share the same value with us, which is to deliver the unrivalled experiences to customers.
Our collaboration with Siam Piwat is the creation of revolutionary phenomenon to deliver "Money Can't Buy Experiences" via ZipWorld platform and through the use ofZipmex Token (ZMT), allowing our clients to be the very firstto access the exclusive collection and participate in both online and offline world that meet their lifestyle.
This partnership will help us extend our reach into the customer base in lifestyle sector and enable ZIPMEX's existing clients to be exposed to new experiences. This is also our first time ever to join forces in such ways with the retail developer, and it is our honour to partner with Siam Piwat in heading towards a cashless Society and a virtual world, which are now global trends.
Saruntorn Asaves added: "This collaboration will enable Siam Piwat to expand our customer base to young generation consumers and investors with high purchasing power in digital world or online trade while reinforcing Siam Piwat's position as a though leader who alwaysoffer experiences that are novel yet meet our customers' needs.