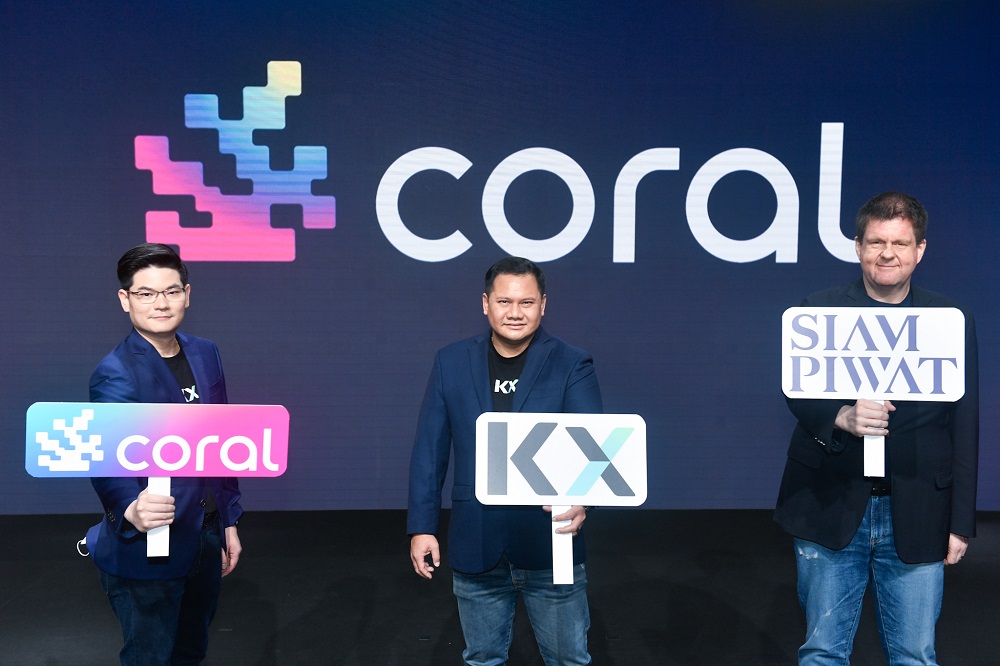 Artists and art collectors have been keeping a close eye on NFTs, or non-fungible tokens, as digital assets that serve as proof of ownership of works of art, from paintings and sculptures to songs, where transactions such as sale and ownership transfer are recorded in the highly transparent and secure blockchain system. This phenomenon has narrowed the gap between artists and creators and art aficionados and collectors, creating an avenue with ample opportunities never before seen in the world of art.
As part of KASIKORN X's (KX) mission to develop startups in decentralized finance and beyond, Coral Platform, an NFT marketplace, has been created in collaboration with Siam Piwat, its first partner, to unlock limitless opportunities for artists and collectors as well as create a hub that brings together and foster art, cultural, and lifestyle innovations, both online and offline, for to Thai and international customers. As such, Coral is not merely an NFT marketplace platform but also a business model driven by technology and community building that will offer fresh experiences to people across the world.
Mr. Axel Winter, Chief Digital Officer of Siam Piwat Co., Ltd., said, "We are very pleased and excited to have an opportunity to support NFTs and co-found Coral. This platform will lead to new developments in the spheres of art, culture, and lifestyle and deliver excellent experiences to everyone who becomes part of this art community, which is a new avenue of opportunities that we are building. At Siam Piwat, we have always supported artists and all forms of creative activities under the concepts of co-creation and creating shared value. Through all these years, we have collaborated with local and internationally-renowned artists to make inspiring art and given opportunities for new generations of artists and students to use all of our venues to create artworks that are not only valuable but also bring benefits in different dimensions."
Mr. Thanaarmates Arriyavat, Head of Venture Builder, KASIKORN X Co., Ltd., added, "Coral Platform will make it easy to create, buy, and sell NFTs, just like regular online shopping. However, what is different is that Coral users can purchase NFT artworks with fiat payment, such as in Thai baht or US dollars, whereas users of other platforms need to go through the hassle of buying cryptocurrency coins first before they can buy an artwork. Currently, there are nine artists on Coral, namely Lactobacillus, Tikkywow, Songsin Tiewsomboon, Ekachai Milintapas, Puntita Meeboonsabai, Benzilla, Pomme Chan, IllustraTU, and Jiggy Bug. The platform is still open for more artists and partners to join. Those interested can find more information at https://coralworld.co, and the platform is expected to go live for collectors towards the end of this year."
This collaboration with KASIKORN X marks an important milestone for Siam Piwat in driving its business under its digital innovation policy, where it seeks to create experiences for customers today through cutting-edge innovation that will revolutionize the retail industry and seamlessly integrate online and offline experiences in order to fully meet a comprehensive range of consumer needs.
With insights into the problems faced by art collectors, artists, and brands, the NFT marketplace Coral Platform is a result of the determination to support and catapult Thai and Asian artists to global popularity. The platform will be open for buyers and collectors towards the end of this year. At the same time, Siam Piwat will also be unveiling the NFT Innovation Digital Walls at Siam Paragon and ICONSIAM, so that visitors can experience and appreciate NFT artworks up close and personal in a way that is completely new and caters to the modern lifestyle.
About Siam Piwat Co., Ltd.
Siam Piwat Company Limited has been a leader of innovation in Thailand's retail and real estate industries over the past six decades and is the owner and operator of several world-class projects, such as Siam Center, Siam Discovery, Siam Paragon, ICONSIAM, and Siam Premium Outlets. Siam Piwat is widely recognized as the Icon of Innovation and acknowledged for its management excellence in the retail business