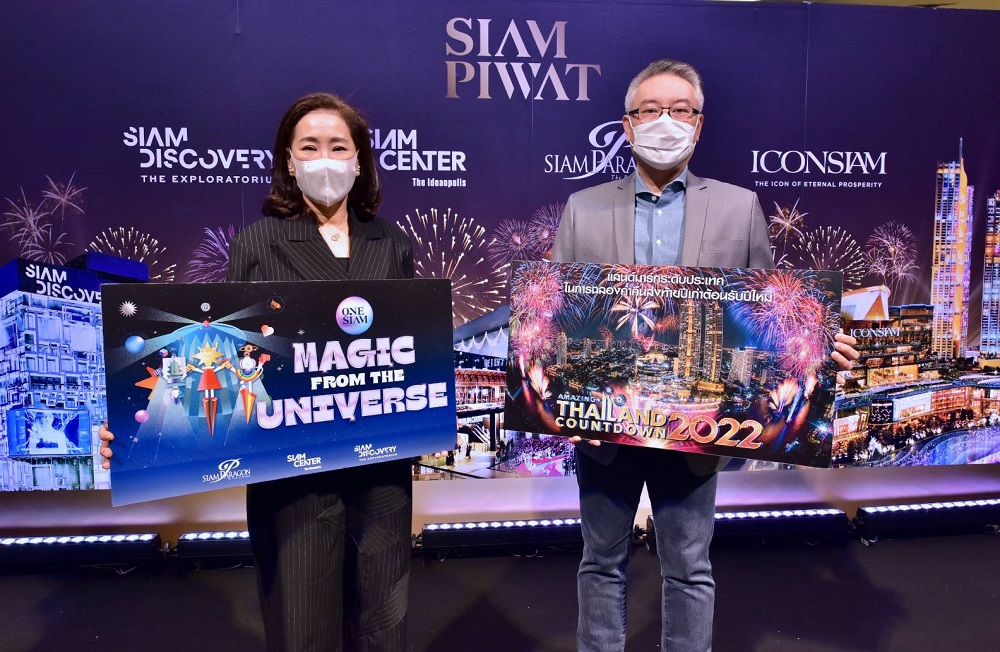 - Discover the wonder of festive celebration with world-class happenings. 'Global Countdown Destination' is the highlight marking Thailand as the top-of-mind countdown destination that attracts international tourists worldwide, while maintaining high levels of health safety measures.
- Expect new and optimized customer-centric experiences through ranges of Thaialnd's stores debuts from top global names that align with the needs of core customer communities.
- Startegically stimulate the economy alongside the country reopening with shopping spree promotion campaigns to indulge locals and international visitors.
Global retail destinations – OneSiam, a synergy of Siam Paragon, Siam Center and Siam Discoverytogether with ICONSIAM, the global landmark by the Chao Phraya riverfront, strategically set to celebrate the festive season alongside the government's effort to revive the economy with the reopening of Thailand to internation tourists. OneSiam and ICONSIAM have readily set full-scheme offestive line-ups that feature world-class events. Led by the "Global Countdown Destination" that has pinned Thailand on the world's map as one of the the top global countdown destinations that attract tourists from across the globe. The year-end celebration also presents new and optimized retail experiences with the debuts ofmany Thaialnd's first stores and attractions. The festive indulgence can definitely be enjoyedwhile maintaining high level of health safety measures.
Mr. Supoj Chaiwatsirikul, Managing Director of ICONSIAM, on behalf of Siam Piwat Group – the company that owns and operates OneSiam and a joint-venture partner of ICONSIAM said "The Thai government has reopened the country and the restrictions on Covid-19 has been relaxed, which aligns with the global recovery. Now that shopping centers can resume normal operating hours, Siam Piwat's shopping centers have seen cheerful number of locals and international visitors returning. Especially during weekends, foorfalls has returned to almost 100%, compared to pre-pandemic period. This reflects visitors' confidence of the Covid-19 control and their confidence to spend time in shopping centers, while maintiaing high level of health and hygience practices. Fashion, IT and gadgets, beauty and food and feverage sections have seen continuous growth. This signifies that Thai economy is moving forward.As the retail leader,Siam Piwat prides itself in playing a key part to stimulate the economy and create positivie vibes for Thais.
The wonder of festive celebration – welcome the New Yaer with world-class happenings and highlight 'Global Countdown Destination' to reinforce Thailand as the global countdown destination for tourists from across the globe.
Reinforcing the 'Global Destinations' recognition from local visitors and international travellers, OneSiam amd ICONSIAM set to fill the last two months of the year with series of world-class events and entertainment.
Mr. Supoj Chaiwatsirikul, Managing Director of ICONSIAM, said "Representing the 'Global Countdown Destination, ICONSIAM, has strategically workedin line with government's tourism recovery plan. We have teamed up with government agencies, private organizations, business alliances, hotel partners, business owners and communities along the Chao Phraya River to organize the phenomenal New Year celebration for Thais and the world. Themed 'Endless Celebration,' the countdown event will pass on posivitiy and optimism to help Thailand get through the Covid-19 crisis. The happening will also draw tourists from across the globe to our country. The celebration is held under Amazing Thailand Safety and Health Administration : SHA standard.
The happenings include:
- The Amazing Thailand Countdown 2022. The highlight of the 'Global Countdown Destination' is Organized by The Tourism Authority of Thailand and ICONSIAM together with government and private alliances. This world-class event is the joint force of the country to reinforce the Chao Phraya River as the key tourism highlight of Bangkok and Thailand. The Amazing Thailand Countdown at ICONSIAM has marked Thailand in the world's countdown landmarks and has earned gobal recognition. International newswire such as CNN, BBC, AP, Reuters, ABC and more has live broadcasted the New Year's Eve countdown at the Chao Pharaya River worldwide. More details on the event will soon be announced.
- Bangkok Illumination 2021 takes place on 10 December 2021 – 5 January 2022. Immerse in the mesmerizing light show and theof display ofunique Thai-inspired christmas trees. Featured also are "ICONIC Multimedia Water Features," Souteast Asia's longest light and soundand multi-media water performace
At OneSiam, the celebration runs under "Magic from the Universe" theme. Visitors will find the galaxy of happiness, surrounded with shining stars to shine the light of hope and happiness. The festive activity is in line with the government's plan to boost the economy, drive tourism and supports businesses.
- Siam Paragon Bangkok Luxurious Celebra-cation Fair on 24 November – 1 December 2021. More than 30 luxurious hotels in Bangkok will offer special accomodations, dinings, spa services deals.
- Thai Osha - Magic of Thai Flavours on 1-5 December 2021. To support food and restaurant business, Siam Paragon, the world-class food destination, rounds up most sought-after restaurants and street food across the country plus the wide selections of restaurats at Siam Paragon, from street food to Michelin-starred, to indulge foodies with deliciousness and special promotions.
- Siam Paragon The Universe of Happiness Celebration 2021 celebrates year-end with special shows all through December. On New Year's Eve on, 31 December 2021, enjoy the music entertainment in the heart of Bangkok at Siam Paragon Countdown 2022 at Parc Paragon.
The ultimate new experiences with ranges of Thailand's store debuts that caters to the needs of segmented communities.
OneSiam and ICONSIAMhave been prime locations for leading international names to debut their first stores in Thaialnd, which are set to be their key magnets and flagship stores, thanks to the trust and confidence of brands and business alliances. The varieties ofstores premeiring in Thailand will deliver new experiences that capture both locals and international visitors.
Siam Center The Ideopolis, has recently teamed up with United nation Development Programme (UNPD) to announce Siam Center as 'DiversCity Building,' to support and empower diversityand inclusiveness. Siam Center also offers the latest trends to delight its core community customers including first Southeast Asia store debuts and Co-Creations with world's leading names to present first and never-before-seen retail concept in Thailand. Now becoming social media buzz is the launch of"THE GUNDAM BASE THAILAND at Siam Center,"first original flagship store in Souteast Asia featuring "Gunpla" (plastic models from the Japanese anime Gundam series), spanning over 360 square meter sapce at Siam Center. There are 15 THE GUNDAM BASE worldwide and Bandai Spirits has chosen Siam Center to debut its latest Southeast Asia attraction, scheduled to open on 11 November 2021.Next newness at Siam Center is"KFC New Concept @ Siam Center." Visitors will be delighted with the new 'Urban Digital Life' concept of KFC, featuring modern interior design and touchless services to serve the new normal lifestyle. Vans Flagship Store at Siam Center, the largest Vans store in Thailand is opening in December.
Siam Paragon unveils the most anticipated name of the year, the lifestyle coffe shop and restaurant CDGRE. A brainchild of the collaboration between celebrated chef Gaggan Anand, the twin chefs of the Michelin-starred Sühring and the famous Thai streetwear brand Carnival. Under the concept "Eat Drink Wear," CDGRE is now open at Gourmet Garden, G Floor, Siam Paragon.
ICONSIAM presents series of its latest magnets inclduing Thailand's first GWM Experience Center by Great Wall Motor," the global leader of EV and hybrid vehicle manufacturer from China. The two-storey space is located on 3 and 4 Floor at ICONSIAM. This December, addtions of new leading stores include Bang & Olufsen (B&O), the Danish global luxury-lifestyle audio brand. "Pacamara Coffee Roasters" will open at The Veranda, G Floor. Coffe lovers will be find premium specialty coffee, specially roasted in-house and selections of coffee beans from selected source by Thaialnd's first coffee sommelier. YUZU SUKIon 6 Floor will serve Kansai style sukiyaki. In 2022, "Mega HarborLand," world-standard indoor playground will open its doors to kids and family. Located on 6 Floor of ICONSIAM, the new playland designed by world's leading toymaker, covers 4,438 square-meter space under the concept "Little Thailand."
Boost the economy with promotions and activities for locals and international tourists.
Miss Chanisa Kaewruen, Senior Deputy Managing Director -Marketing Promotion and Corporate Relations,Siam Piwat Co., Ltd., said "As the leader in retail and shopping malls, Siam Piwat startegicaally focuses on helping to revice the ecomony and create shared values. We have created a Retail Ecosystem that will drivesustainable success for all parties involved - from end consumers to SMES, the communities, the society and the country. During economic recovery, OneSiam and ICONSIAM plays a part in stimulating the consumers spending by allocating our marketing budget on special promotion campaigns.
OneSiam offers special deals from top brands, special price items and credit card privileges. Shopper will receiveSiam Gift Card and special prizes value over 10 million baht."ONESIAM YEAR END SALE 2021"campaign runs from 3 December 2021 – 16 January 2022. Siam Paragon will also celebrate its 16th Anniversary with"Siam Paragon Magical 16th Anniversary Celebration" from 8-12 December 2021 with special performance and more surprises to thank its valued customers.
Siam Discovery the Exploratorium underlines its positioning as the leader of creativity that welcomes everyone to Experiment, Craete and Cultivate. "Siam Discovery Everyday Gift" presents Personalized Gift experience where shoppers can personalized their one-and-only gifts, discover gifts from soecial collaboration projects as well as creative design and eco-friendly gifts. Hype Box will offer new gifting experience as a gifting medium that connects givers and recievers, because gifting is not just about material satisfaction but the fulfilling feeling of sharing. Givers also have an opportunities to share happiness to underprivilege people under "Citizen of Love" project. This charityproject creates sustainable gift giving to the community and the society. Not only givers can send gifts to school children in remote areas, gift made from communities such as craft products at ICONCRAFT, the hub ofThai craftsmanship, will also generate income for the local craftsmen. Green products from Ecotopia, the ultimate eco lifestyle destination, help makes this world a better place. Eco-friendly Christmas tree will also be on display at Siam Disocvery, The Exploratorium.
ICONSIAM celebrate year-end with grand promotion campaign " ICONSIAM WORLD OF GIFTS – Let the Magic Begin," from today to 16 Januray 2022 to wow shoppers with prizes worth over 8.3 milllion bahtsuch asHaval H6 Hybrid Ultra car valued 1,249,000 baht, gold bars, Gift Cards and many more. Vsiitors will also find gift festival offering over 1,000,000 gift items from 1 December 2021 to 2 Januray 2022.
"The festive campaings by global destinations Siam Paragon, Siam Center, Siam Discovery and ICONSIAMruns all through November to December 2021 will definitely boost consumer spending and stimulate the economy in the high season. The celebrations also bring happiness and positive vibes for Thais and foreign visitors," concluded Supoj.