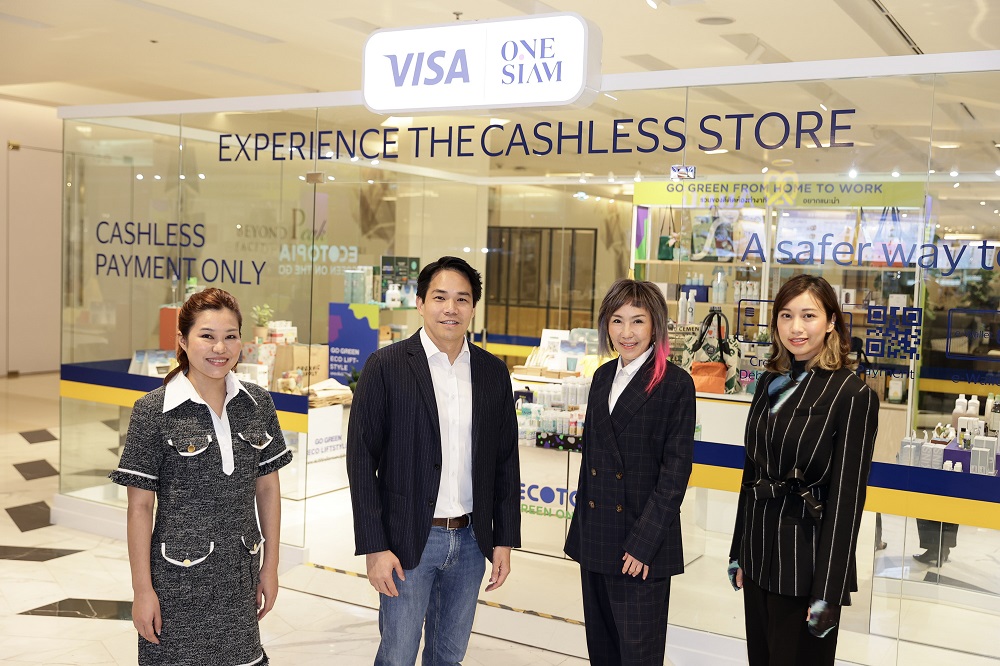 Siam Piwat Co., Ltd., the owner and operator of global retail destinations Siam Paragon, Siam Center and Siam Discovery and a joint venture partner of ICONSIAM and Siam Premium Outlets Bangkok teams up with Visa Thailand to launch Thailand's first Cashless Retail Store - The 'Visa Pop-Up.'Three VISA Pop-Up now open for cashless shopping experience at Siam Paragon, Siam Center and Siam Discovery. With the rise of cashless lifestyle, shoppers can now shop and pay via credit card, debit card, pre-paid card or QR code that ensures easy, convenient and secure payment.
Usara Yongpiyakul, Chief Executive Officer of Siam Piwat Retail Holding Co., Ltd. said about the collaboration that "Siam Piwat, as 'The Visionary Icon', has joined Visa Thailand to introduce the new retail experience catered for changing consumers' lifestyle. This will be a benchmark for the retail future. The 'Co-Creation' with global partner like Visa to launch Visa Pop-Up shapes a new lifestyle and is an introduction to the new retail experience - the 'Digital Ecosystem.'
Visa Pop Up highlights the opportunity for shoppers to browse, shop and enjoy cashless payment via credit card, debit card, prepaid card or QR code. The key concept of Cashless Retail Store iscashierless and touchless service that is easy, convenience and secured which will become the future of payment. Siam Piwat will continue to evolve, expanding cashless payment service to our stores and retail spaces, starting at Siam Discovery.
Suripong Tantiyanon, Country Manager for Visa Thailand, said: "Visa is pleased to be working with Siampiwat to deliver a true cashless experience for customers at Siam Paragon, Siam Center, and Siam Discovery.The pandemic has changed how we live, work, and shop.Consumers across the world and in Thailand are developing a growing confidence in using digital payments instead of cash.Based on our latest insights from the Visa Consumer Payment Attitudes Study[1], more than 4 in 5 consumers in Thailand (81%), said they prefer shops that accept digital payment options instead of cash only. In addition, nearly 2 in 5 consumers (39%) intend to go cashless when the pandemic is over.As the world's leader in digital payments, Visa will continue to work with our partners across a wide spectrum of industries to provide a seamless, intuitive, intelligent and secure commerce experience for everyone and everywhere.
Visa Pop-Up is a Cashless Retail Store that caters to the cashless society and lifestyle. On offer at the stores at each retail properties are items meticulously selected for each target group. Three stores are now open including;
- Siam Paragon, located on the 3 Floor, featuring eco-friendly products from ECOTOPIA, the creative space initiated by green-minded creators.
- Siam Center, 2 Floor, is for the younger generations. The store presents selected and popular products from Loft.
- Siam Discovery, 2 Floor, offers green products from ECOTOPIA and gadgets from Digital Lab.
Explore the shopping experience at Visa Pop-Up now at Siam Paragon, Siam Center, Siam Discovery. For more information, follow Facebook of each destination.