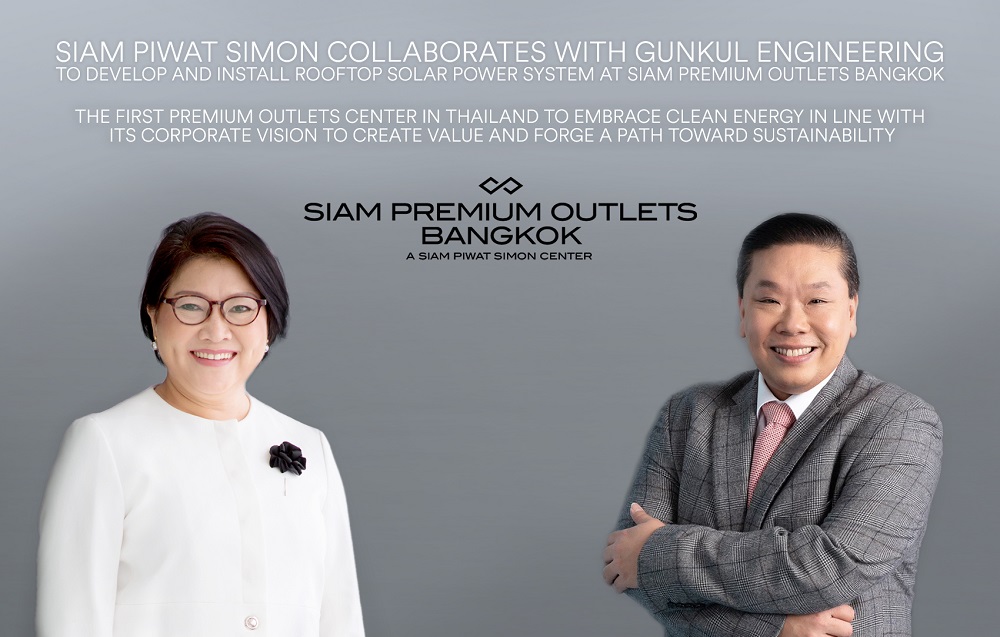 Siam Piwat Simon, a joint venture – that operates the Siam Premium Outlets Bangkok project – between Siam Piwat Co, Ltd, Thailand's leading real estate and retail business developer,owner and operator of world-renowned projects, and Simon, owner of premier shopping and mixed-use destinations across North America, Europe and Asia, is joining hands with Gunkul Engineering Public Company Limited to develop and install a rooftop solar power system which worth over Bt70 million on the 20,000 square meter area of Siam Premium Outlets Bangkok. The partnership reflects Siam Piwat Simon's mission to drive the organization in accordance with circular economy principles in a bid to create value and forge a path toward sustainability.
Ms. Naratipe Ruttapradid, Chief Operating Officer of Siam Piwat Co, Ltd, says: "When Siam Piwat and Simontied up to develop Siam Premium Outlets, both organizations were determined to drive business toward sustainability bysupporting communities, society and taking care of the environment. So we have incorporated the concept of renewable energy into our existing projects. Alternative energy is one of the important aspects of the circular economy principles. It represents a pillar of the Bio-Circular-Green (BCG) economic model that aligns with theSustainable Development Goals (SDGs). In collaboration with Gunkul Engineering, we are developing a power generation system by installing a solar rooftop in the 20,000square meter area of Siam Premium Outlets Bangkok. With that,Siam Premium Outlets Bangkok becomesThailand's first premium outlets centerwith electricity-generating solar panels for use in transforming solar energy into clean energy as a substitution for electric power. The solar rooftop project aims to promote energy and environmental conservation in an effort to minimize pollution.
"Siam Piwat prides itself on highlighting its image as "The Visionary Icon" and a pioneer in new innovations. This is evident in its solar rooftop development and installation project that is being carried out in accordance with the company's policies and guidelines for good practice on taking care of and protecting the environment in all locations where it has business operations. This is achieved through activities that help maintain a good balance in different areas. The company has, for example, engaged in activities to cut greenhouse gas emissions. The company is also focusing on raising the efficiency of how energy is used. There have been activities that promote energy conservation and environmental protection in a bid to alleviate global warming.We have carried out the activities with full capacity and have the determination to adapt these approaches for continuous use in the business context in the future."
Dr Somboon Eua-atchasai, Chief Executive Officer of Gunkul Engineering Public Company Limited (GUNKUL), comments: "Thailand's goal is to move toward a carbon neutral society. Clean energy is the key for unlocking and solving the problems related to the current state of the environment. Thanks to GUNKUL's strengths in the electric and renewable energy systems business and its 40 years' experience in the field, I believe that I can bring the huge potential and the expertise of the company to bear on the scaling up of the business and broadening of the vision of Siam Piwat Simon so that the vision gets clearer and the company is able to bring sustainable growth to the next level. Our expertise builds on trust that we have earned from providing our solar roof systems to different businesses and industries. At present, our private power purchase agreement (Private PPA) projects have a combined production capacity of 100 megawatts."
Siam Piwat Simon believes that the Siam Premium Outlets Bangkok solar rooftop project is a pilot scheme, other energy services will be adopted and will benefit both the business and customers of Siam Premium Outlets Bangkok. It is hoped that these services will help bring about a more fulfilling outlet shopping experience with world-class outlet shopping standards.
With luxury products from over 300 world-class and leading international brands in an environmentally friendly setting, Siam Premium Outlets Bangkok is open from 10.00-22.000.
For more information, please visit our website www.siampremiumoutlets.com. Or check out our Facebook account at SiamPremiumOutletsBangkok, Instagram account at SiamPremiumOutletsBangkok or Line Official: @siampremiumoutlets . For more information,
call 02 0828 998.