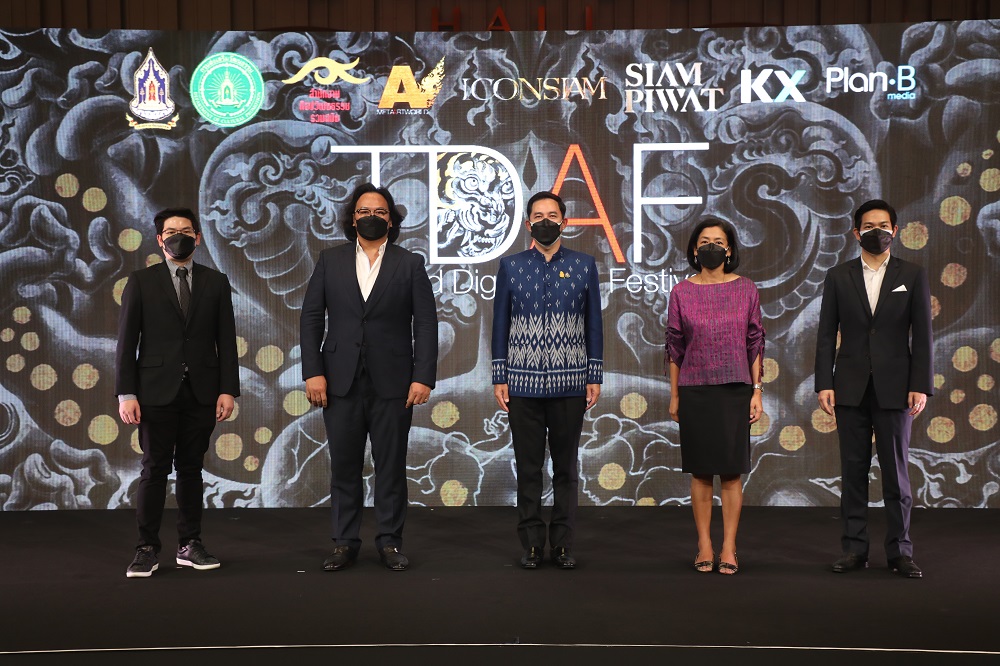 Explore awe-inspiring experience of Thailand's and Asia's first time-ever phenomenal event, "Thailand Digital Arts Festival 2022" (TDAF2022). The iconic chapter of Thailand's art history, yet proves a strong joint force between Siam Piwat Co., Ltd, ICONSIAM Co., Ltd., Baandam Museum by the late national artist Thawan Duchanee and KASIKORN X, creator of Coral platform, a marketplace for Non-Fungible Tokens (NFTs) that offers opportunities in creating disruptive businesses and boundless opportunities for artists and collectors alike, Plan B Media PCL. as a media partner to showcase digital arts on Plan B's digital screens countrywide. Happening March 5-20, 2022, at ICONSIAM.
This is the world's first digital art event that bonds parallel worlds of physical and digital art sphere. The exhibition features physical artworks categorized by artistic techniques and skill level, as well as Non-Fungible Token (NFT) which is a unique digital asset that irreplaceable by anything. NFT, now shaking up the art world, mostly represents in art pieces. Please come appreciate the masterpieces by your favorite artists of both worlds, connect with thought process and unique techniques of over 140 artists through more than 1,400 artworks. NFT collection is also considered as worthwhile investment for all collectors. Please come visit the biggest art exhibition with numerous top artists.
On this occasion, H.E. Mr. Itthiphol Kunplome, Thailand's Minister of Culture presided over the opening ceremony, together with Dr. Doytibet Duchanee, Director of Baan Dam Museum of National Artist Dr. Thawan Duchanee; Mr Thanamet Ariyawat, KASIKORN X Head of Venture Builder; Ms. Mayuree Chaipromprasith, Siam Piwat's President for Corporate Affairs and Communications; along with Mr. Panthep Nilasinthop, Siam Piwat's Chief Customer Officer Division.
Ms. Mayuree Chaipromprasith, Siam Piwat's President for Corporate Affairs and Communications mentioned, "As pioneer in retail of the future, Siam Piwat, under the concept of Co-Creation and Creating Shared Values, has joined forces with top partners from various industries to create a greater commercial ecosystem. The iconic collaboration of Siam Piwat and KASIKORN X through Coral platform creates new digital art experience and promotes Thai Art on the international stages. Over 1,400 of creative artworks are showcased at ICONSIAM and via digital channels in offering boundless opportunities for Thai artist and art industries. "To Siam Piwat, as 'The Visionary Icon', we are dedicated to deliver new experiences for people by bringing together the parallel worlds—the offline and online platforms of creativity—in seamless integration."Customers who are interested in the event can view samples of the artist's artworks in ONESIAM SuperApp, an intelligent platform that brings together a universe of unexpected experiences in one place.
The boundless connection of digital art spheres does not feature only Thai artists, but also 'Thainess', and Thailand to the world. The subsequent impact would positively empower Thailand in all aspects. Inspirations are all around, leveraging from one generation to the next, deriving into different formats. Some artists are already featured in the digital world, while some are just starting. We would feel the never stop self-development and open-minded for new learnings among them. The eagerness to move forward into digital world empowers everyone in art and also other industries to achieve the breakthrough towards upper levels.
In addition, every week there would be NFT Special Forum by NFT artists and creators to share their thoughts and experiences on NFT and all aspects of digital arts. Happening on Sat. and Sun, 12-13 and 19-20 March, 2022.
"Thailand Digital Arts Festival 2022" (TDAF2022) is conducted under the strict preventive pandemic control measures against COVID-19, to have everyone ensured while visiting the event. Mandatory temperature checking is the must prior to enter the event. Hygienic sprays are conducted throughout the event.
Special privilege for TDAF2022 Attendees, receive valued 300baht of shop's discount coupons and free 50 VIZ coins (Equivalent to 50baht) when downloading ONESIAM SuperApp at the Coupon distribution point in the event area.
Explore the First Digital Art Debut in Thailand and Asia, enabling Thai creativity to new opportunities with "Thailand Digital Arts Festival 2022" (TDAF2022). Happening during 5-20 March, 2022, at Charoen Nakhon M. Fl., and ICON Art and Culture Space M. 8, ICONSIAM, Charoen Nakhon Rd. Appreciate Digital NFT artworks starting from today until 20 March, 2022, via 850 screens of Plan B countrywide. For more information, please call 1338 or visit www.iconsiam.com.