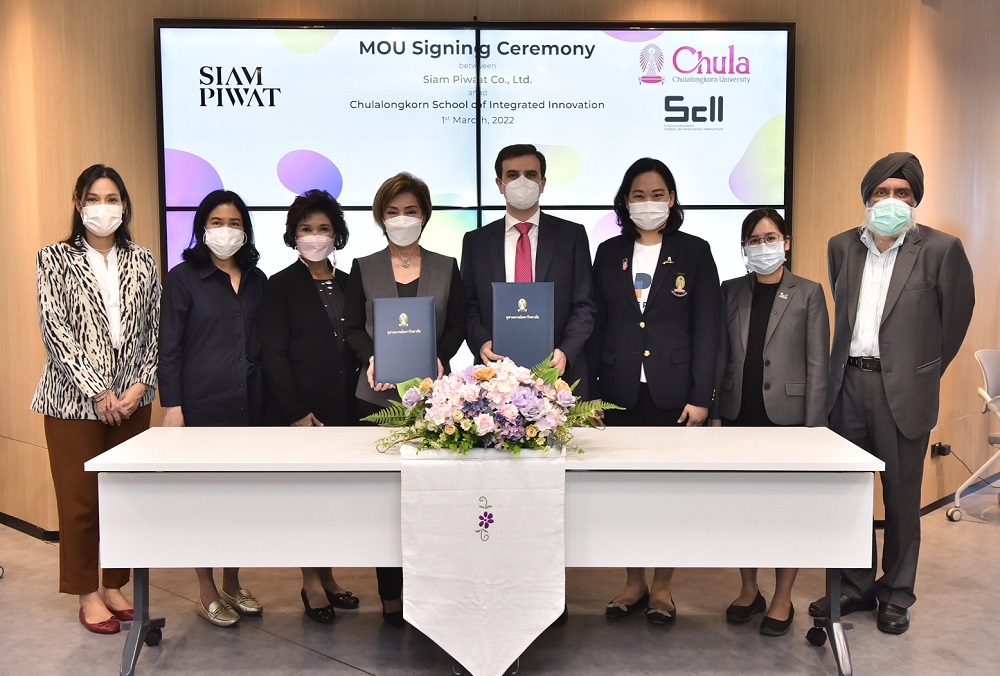 - Siam Piwat is introducing Degree Plus, a future skill development platform, in partnership with the School of Integrated Innovation of Chulalongkorn University (ScII) to develop leaders in support of the creative business of future.
- The university-private organization partnership further advances Siam Piwat's concept of "Collaboration to Win" and helps develop human resources for the development of the Thai economy in the future.
Advancing its Collaboration to Win concept, Siam Piwat Co., Ltd., Thailand's leader of retail and real estate innovation, owner and operator of world-class projects, such as Siam Paragon, Siam Center, and Siam Discovery, and a joint venture partner of ICONSIAM and Siam Premium Outlets Bangkok, has announced a collaborative research and innovation partnership with Chulalongkorn (CU) to develop a new generation of leaders to accommodate future demand in the business sector. Driven by Degree Plus, a future skill platform for human development in the digital era, and the School of Integrated Innovation of Chulalongkorn University (ScII), which strives to create leaders and graduates for the future, this new collaboration will see Siam Piwat and CU joining forces to accelerate human capital development to further advance Thailand's economy.
Ms. Amporn Chotruchsakul, President of Business Support, Siam Piwat Co., Ltd., said, "In an age where technology is playing an increasingly vital role in business, Siam Piwat, as The Visionary Icon, has adjusted its strategies and planned to expand towards new businesses to build a New Economy beyond real estate development, its central sphere in the past, as well as initiated digital transformation to seamlessly integrate offline and online worlds and deliver extraordinary and unprecedented experiencesto customers while also advancing the organization to secure innovation leadership and accommodate future business expansion. However, to turn new business models into reality and co-develop future world-class projects, it is necessary to develop personnel with future knowledge and skills."
"To this end, Siam Piwat has partnered with Chulalongkorn University, which has a network of future skill development consisting of Degree Plus, a future skill development platform, and the School of Integrated Innovation of Chulalongkorn University (ScII). In line with Siam Piwat's Collaboration to Win concept, the research and innovation partnership between the educational institution and the world-class private organization seeks to develop new-generation leaders to meet the demand of the business sector."
Siam Piwat has also invited Assoc. Prof. Natcha Thawesaengskulthai, Ph.D., Vice President for Innovation and New Development of Chulalongkorn University and a personnel development expert, to serve as consultant on human capability development across all dimensions to support business needs in the digital era and join the Human Capital Acceleration Program, which places emphasis on future skills for next-generation leaders.
Assoc. Prof. Natcha Thawesaengskulthai, Ph.D., Vice President at Chulalongkorn University (CU), stated, "This collaboration with Siam Piwat underscores CU's "Research University That Teaches" concept and will be undertaken within a framework consisting of three pillars: education, innovation, and research."
- For education, Siam Piwat and CU will co-develop a curriculum that accelerates capabilities development across all dimensions, where learners can undergo skill acceleration towards becoming future leaders under the guidance of CU faculty and bona fide experts via the new jointly-developed platform Degree Plus.
- As for innovation, Siam Piwat has given students in the School of Integrated Innovation (ScII) to learn from real life experience through hands-on tasks with Siam Piwat's personnel. Promising innovation projects may also be developed into real businesses, which will simultaneously contribute to the development of both human capital and the economy.
- Lastly, the research pillar involves conducting research alongside skill development and innovation project co-development, culminating in the Human Capital Acceleration Project, which seeks to advance the development of the country's future, innovation, and economy at the same time.
This partnership marks a seismic shift for Siam Piwat away from just the current landscape towards future changes in the overall picture and preparation of personnel for the business sector in the future. Homing in on the new generation, this initiative gives students an opportunity to learn and gain hands-on experience via the online platform Degree Plus through a series of key projects to be released soon to develop a new generation of leaders who can make a creative contribution to Thailand.