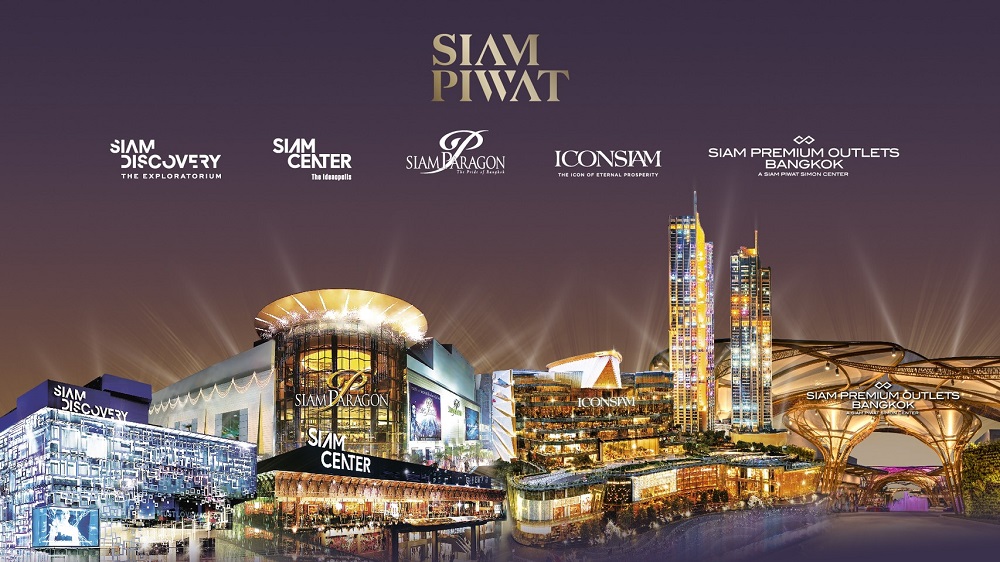 - Total revenues in Q4/2021 exceeded the target by 15% despite absence of foreign tourists.
- Luxury brands reported meteoric sales at Siam Paragon, ICONSIAM and Siam Premium Outlets Bangkok, with top-tier luxury brands requesting to double store spaces, to be opened in early 2023.
- ICONSIAM sales hit record high in Q4/2021, the best quarter throughout its three years of opening.
- ONESIAM SuperApp pushed sales from member customers over the target, with the 2021 sales growth rocketing by over 45%.
Siam Piwat Group,a leading real estate and retail developer, the owner and operator of Siam Paragon, Siam Center, and Siam Discovery, and one of the joint owners of ICONSIAM and Siam Premium Outlets Bangkok, as TheVisionary Icon, announced its success in driving solid sales growth in the fourth quarter of 2021, which exceeded the target by more than 15%, particularly the sales of luxury brands, which skyrocketed during the past two years after several brand name shops expanded store spaces and joined Siam Piwat in introducing new experiences through first-of-their-kind pop-up stores in Thailand to continuously offer limited edition items and special collections, delivering unprecedented and extraordinary experiences to customers. This achievement reinforces Siam Piwat's dominance in Thailand's high spender market and its commitment to further bolster its sales across all digital platforms in 2022 in collaboration with its partners, retailers, and suppliers to co-create sustainable success with the company.
Mrs. Saruntorn Asaves, Head of Shopping Center Business Division, Siam Piwat Company Limited, said, "Siam Piwat posted an outstanding performance and generated revenues that exceeded its target by 15% in 2021, mainly driven by well-adjusted marketing and sales strategies for every platform throughout the entire year. We focused more on high-spending customers by offering services via Social and E-commerce, Call & Shop, Siam Paragon Luxury Chat & Shop and Ultimate Chat & Shop, as part of Siam Piwat's initiatives to help all retailers and partners to sell their products, enabling them to successfully expand their customer base to other provinces. We also collaborated with a variety of applications to expand our omni-channel distribution platform. More importantly, the launch of ONESIAM SuperApp in late 2021 helped drive sales from our members up by over 45% compared to 2020, reflecting the success of our new strategies of driving business with creativity and innovation and creating an ecosystem that positions our four shopping centers as VIZ-Coin driven earn-and-burn destinations and hubs of special privileges, connecting over 1,000 stores and 100 leading business partners across 13 industries to continuously boost sales in 2022.
Despite challenges brought on by the COVID-19 pandemic, luxury brands received an overwhelmingly positive response from Thai customers with high spending power, especially the new generation of name brand admirers. The success has further reinforced the position of Siam Paragon and ICONSIAM as the Destinations of Luxury Brand that offer a complete range of world-class fashion and accessories, luxury watches and jewelry, with several brand name shops keeping larger stock of latest items than their outlets in Hong Kong and Singapore. Amid the COVID-19 crisis in the past two years, these shops made solid sales growth at a rate that ranked among top of the world, mainly because several luxury brands expanded shop spaces at Siam Paragon and well-known brands opened pop-up stores at ICONSIAM to offer limited collection products, which enjoyed astonishing popularity among Thai customers. This resulted in an increase in bookings for pop-up stores for every month; the slots are at present fully booked until 2023. We also joined forces with commercial banks and business partners in our ecosystem, including airlines, hospitals and insurance company, to deliver privileges that cannot be purchased to top-spending customers and deliver experiences that exceed their expectations. Another factor behind the above-target sales in the last quarter of 2021 was the addition of new tenants to ONESIAM – Siam Paragon, Siam Center and Siam Discovery, who further reinvigorated ONESIAM and attracted more customers in the last quarter of the year."
Mr. Supoj Chaiwatsirikul, Managing Director of ICONSIAM Co., Ltd. said, "Throughout its 3 years in business, ICONSIAM has been extraordinarily successful overcoming the challenges stemming from the COVID-19 pandemic. Even though we have been in the grip of the pandemic for two consecutive years, we have successfully built a robust customer base of Thai shoppers, as reflected in the increase in the number of customers in 2021 compared to 2020, and the sales growth of 43% in the fourth quarter, the highest during the past three years since its opening. It is to be noted that the sales increased in all categories of products and services thanks to strong demand from our member customers, who accounted for 40% of the total sales. This indicates that, despite the absence of international tourists, ICONSIAM has successfully built a robust base of Thai regular customers, including those with high purchasing power living in western Bangkok and its vicinity. This achievement has proven that ICONSIAM's vision to help jumpstart exponential economic growth in western Bangkok has been fully realized – amid the COVID-19 crisis.
In 2022, ICONSIAM customers who are VIZ Card members will be able to use VIZ Coins via ONESIAM SuperApp, which should stimulate and increase spending by 15-20%. Another factor that will drive more traffic to ICONSIAM is TRUE ICON HALL, the world-class MICE and entertainment venue, which has already been booked for events for the whole 2022. In addition, the now-operating BTS Gold Line will enable customers from Bangkok and areas in the vicinity to travel to ICONSIAM more conveniently. ICONSIAM's growth is also projected to receive a major boost if Thailand reopens and welcomes more tourists later this year.
Siam Premium Outlets Bangkok also recorded outstanding performance and above-target sales and received favorable response from Thai customers all over the country, mainly because various luxury brands have chosen Siam Premium Outlets as the location for their first and only shop in Thailand. Due to a constant stream of visitors and a high spending rate per person, coupled with the fact that several luxury brands have expressed their interest to open more shops, Siam Piwat is looking into the possibility of phase 2 expansion.
The remarkable performance of all of Siam Piwat's shopping centers in late 2021 demonstrates the strength of its powerful customer base in the high-spending market amid the COVID-19 crisis and speaks to the success of its marketing strategies and the launch of ONESIAM SuperApp in late 2021, which acted as a key catalyst that drove spending and penetration into the generation Y and Z customer base. In 2022, Siam Piwat aims to grow sales from member customers by 30% as well as move forward at full speed with its plans to expand its premium world-class ecosystem towards more businesses in collaboration with over 100 leading companies across 13 industries through the ONESIAM SuperApp, which will not only help expand the customer base and deliver services to more high-spending customers, but, as users can avail themselves of a diverse range of rewards through VIZ Coins, will also fulfill the lifestyle needs of affluent customers in all dimensions. In conclusion, all of these reflects Siam Piwat's vision as the Visionary Icon and its potentiality with strengthened capabilities of teamwork, which leads to the new business creation and consistently overcome every crisis.