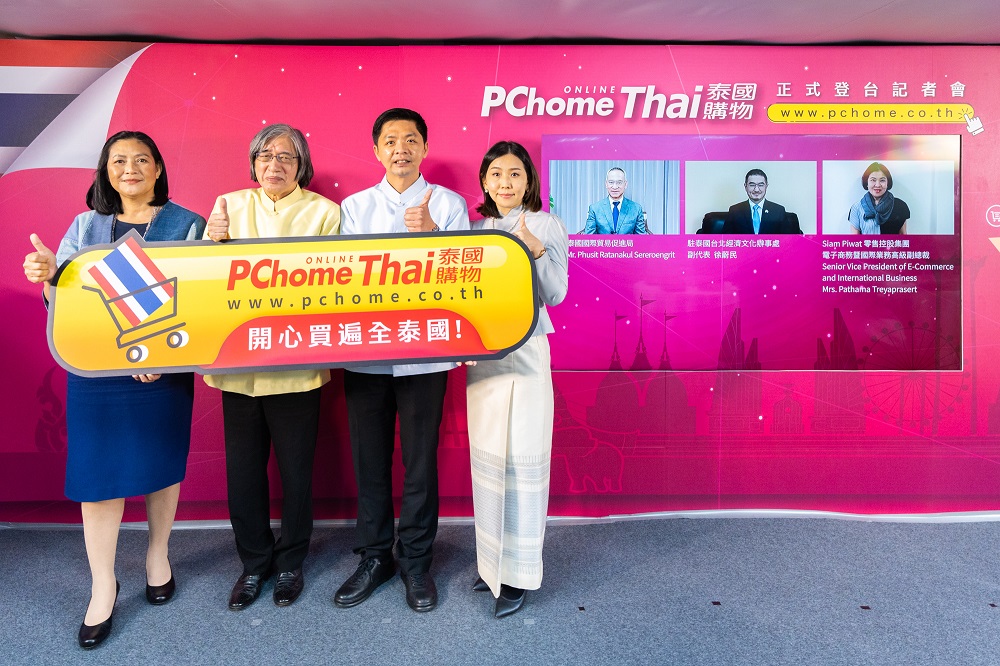 Siam Piwat Retail Holding Company Limited, a retail innovator under Siam Piwat group, in its mission to present the best of Thailand alongside the best of the world, spreads its wings and continuously makes a foray into international markets with a robust high-spending customer base, with a goal to achieve over 100% growth in 2022. To kick off 2022 and launch its new endeavor, Siam Piwat has entered into an agreement with Taiwan's largest e-commerce group, PChome, to debut three Thai SME brands on its e-commerce platform in order to expand its overseas presence in the forms of franchise, e-commerce, and dealership while building international recognition for Thai brands.
Ms. Usara Yongpiyakul, Chief Executive Officer - Retail Business Group, Siam Piwat Co., Ltd. in her remark on this partnership, said, "In line with Siam Piwat's goal to drive business growth in all dimensions in 2022, the retail group has planned to accelerate growth, placing emphasis on expanding to overseas markets and penetrating customer bases in countries with strong economic growth and purchasing power. We continuously forge ahead and expand to Taiwan after having joined hands with Pavilion Group, owner and executive of high-end shopping centers in Malaysia to launch theconcept store early this year. We are ready to introduce our products by our SMEs in collaboration with our network partners who are industry leaders. As we consider SMEs local heroes, the goal of this initiative is to open doors for other small businesses with potential while also advancing the Siam Piwat's retail group and the Thai economy.
The partnership with PChome, Taiwan's largest e-commerce group, is set to connect the best of Thailand to the best of the world. The three Thai SME brands selected for its appeal to international customers, especially the Taiwanese, to spearhead this venture are ICONCRAFT, Absolute Siam ,and Ecotopia. Quality Thai products from these three brands, which boast remarkable variety and promise to make an impression on both shoppers and receivers, will now be conveniently available on PChome's online platform, which has a wide user base and will serve as a gateway to Taiwanese and Southeast Asian markets for Thai SME products.
ICONCRAFT: Launched by Siam Piwat as a hub of inspiration and Thailand's largest center for artisanal products nationwide that presents local wisdom from a new perspective through handicrafts, ICONCRAFT serves as a gateway to modern trade for over 800 craftsmen and small entrepreneursnationwide and offers a stunning array ofproducts that showcase Thai wisdom in the new perspective, ranging from jewelry, souvenirs, home décor, Thai design pieces and artworks, and lifestyle products all the way to daily life items, fragrances, food, and snacks.
Absolute Siam: As a trendsetting store offerings one-of-kind contemporary and bold fashion products by Thai designers, Absolute Siam features fashion collections and items and souvenirs brought to life through collaboration between leading Thai designers as well as exclusive products never before seen elsewhere. Housing over 60 noteworthy fashion, art, and technology brands, Absolute Siam is a trendsetter that seeks to inspire people and constantly present new ideas and design through its products and services in its own unique way.
Ecotopia: "Ecotopia" is an eco-conscious community of like-minded people who believe 'Together, We Co-Create a Better World'. Siam Piwat creatively co-created "Ecotopia" with 12 Eco Co-Creators and the new generations to present new eco-centric experience that is more approachable and practical. "Ecotopia" reflects Siam Piwat's Co-Creation' business model to create shared value, which is the company core vision of all of its retail developments.
To celebrate the debut of these Thai SME brands on PChome, Siam Piwat is releasing an exclusive bundled package featuring limited edition items from the three brands under the Thai name "Chok-di Mee-Suk" – a common yet touching and auspicious Thai blessing for luck and happiness – or "Happy-Go-Lucky" in English. The Chok-di Mee-suk bag bears a text that combines a common everyday expression with a positive meaning and popular Thai typography from the 70's-80's in contemporary colors and features a pha khao ma pattern (traditional Thai pattern) printed with a modern technique for a contemporary feel, embodying the Thai-with-a-twist design concept.
Siam Piwat has supported various Thai brands such as Graph and Fill in the bag, enabling themto make their forays into international markets. Shortly after the debut, other brands such as Anona ,Smell lemongrass, Awa Decor, Thai butterfly and Chui have become Top brand on PChome platform.
Mr. Hung-Tze Jan, Chairman of PChome Online Inc, said: "PChome Thai has been deeply involved in the Thai e-commerce market for many years. It has built the largest local Taiwanese product website in Thailand to help Taiwanese brands and small and medium-sized enterprises develop a new southward direction. This year, it will expand the layout of two-way cross-border e-commerce, selling popular Thai brands and products to Taiwan. PChome Online Group has been committed to expanding the cross-border ecosystem in Greater East Asia in recent years and the Thai market has played a very important role. The development of cross-border e-commerce in Greater East Asia has added abundant growth momentum."
For over 10 years, Siam Piwat has been working with various government agencies to develop the capabilities of Thai designers to propel them to the global stage. For the current initiative, Siam Piwat and the Department of International Trade Promotion, Ministry of Commerce (DITP) have been collaborating to expand business opportunities for SMEs and assist them by joining forces with retail partners overseas to have products by Thai SME businesses that are favorites among foreigners featured on high-potential platforms in other countries. A variety of outstanding products from the brands will be chosen to be introduced to online and offline sales in Asian countries with strong economic growth and purchasing power.