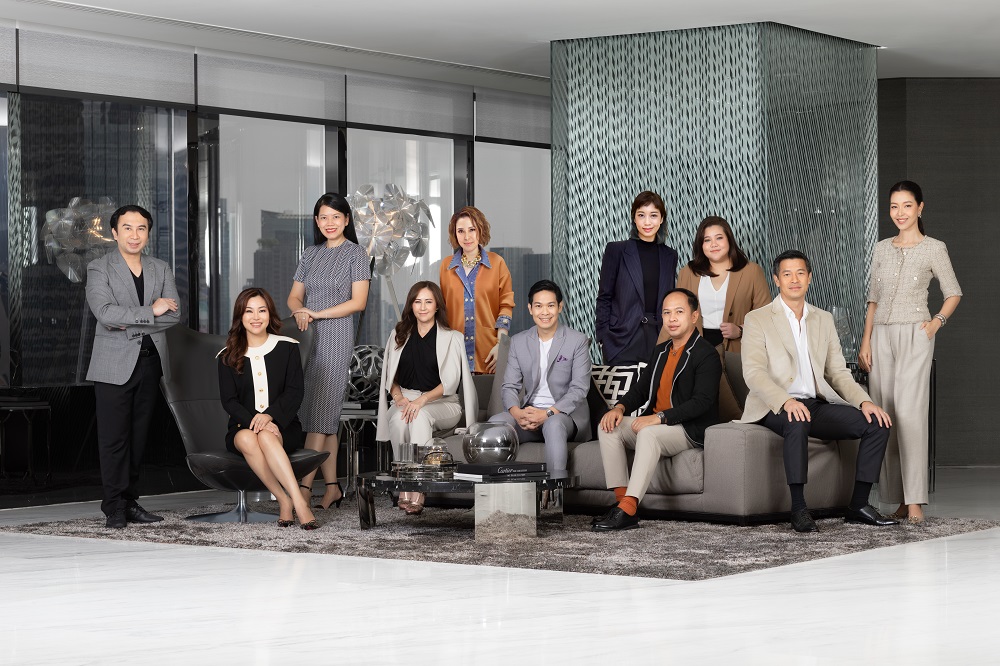 Siam Piwat forges ahead to drive the organization toward creative powerhouse, unveiling 11 BU Creators (creative executives of the business group) with outstanding potential in innovation and new ideas to build on the strength of a powerful customer base to create unique experiences that connect both online and offline platforms. The move is a dynamic adjustment to cope with changing business environment, under the vision of The Visionary ICON aiming to better meet the diverse needs of customers. It is also an opportunity for new generations to participate and show their potential and present ideas to elevate experiences that exceed expectations, in order to overcome the challenges of the business world and continue to grow sustainably without limitations.
Panthep Nilasinthop, Chief Customer Officer, Siam Piwat Company Limited: Extraordinary Experience Creator – ONESIAM SuperApp, who takes a major role in cultivating innovation and new ideas through the ONESIAM SuperApp platform and collaborates with leading companies from a variety of industries to deliver more customized customer experiences.
"We have developed ONESIAM SuperApp that transcends all limitations to deliver unprecedented experiences on a single platform. The key to success in the digital world is to create a new generation team ready to deal with changes and always open to new experiences and learning new things."
Saruntorn Asaves, Head of Shopping Center Business Division, Siam Piwat Company Limited, as Extraordinary Experiences Creator – ONESIAM, who builds on success with a strong customer base to play a leading role in driving customer relationship management strategies to create beyond-expectation customer experiences. The success enables ONESIAM, which combines the potential of 3 shopping centers, Siam Paragon, Siam Center and Siam Discovery, to continue to create excitement and an impressive destination for both Thai customers and foreign tourists.
"Siam Piwat's shopping centers are always number one in the hearts of customers because we understand and deliver experiences which exceeds their expectations. We create and differentiate brands, and always drive business with creativity and innovation."
Siriporn Haruethaivinyoo, Division Head - Corporate Partnership, Supremo Company Limited: Partnership Creator who specializes in connecting and collaborating with various global partners to cultivate limitless creativity in all dimensions in the parallel world of both offline and online platforms. Synergizing with partners will create a new form of unprecedented collaborative innovation to provide differentiated values to better serve customer needs and enhance the strength toward sustainable success in the future.It is one of the driving forces to connect Siam Piwat's global premium business ecosystem, allowing businesses to expand without limits, both in Thailand and on the world stage.
"Joining forces with business partners in all dimensions for sustainable mutual success is the heart of the driving force that propels Siam Piwat into a new world that can limitlessly expand new businesses without borders. We have strong partners from all over the world who are ready to collaborate and innovate unique customer experiences and jointly provide world-class services with us."
Auradis Snidvongs, Group Head - Corporate Relations and CSR, Siam Piwat Group: Relationship Creator who plays an important role in creating experiences that enhance strategic relationships and good corporate image and collaborates to drive sustainable business operations covering all dimensions, both in terms of community, society and environment, focusing on the synergies and cooperation of the organization and various partners to continue creating new and ground-breaking activities.
"Siam Piwat is a role model of business leadership for the 'Co-creation' and 'Creating Shared Values" concept. These are key challenges to build our business models so that all our operations can sustainably contribute to and benefit society and the environment."
Michael Tang, Managing Director of Siam Piwat Simon Company Limited: Luxury Premium Outlets Creator who curates the new and different experiences of luxury premium outlet, the first and only in Thailand. Providing a variety of luxury and designer brands at value prices., Siam Premium Outlet is the destination to greatly fulfill customer needs and received an overwhelmingly response from Thai customers.
"We have created a new concept for Thailand's first and only premium outlets to deliver completely novel experiences. We deliver luxury and value for everyday savings."
Thanaporn Tantiyanon, Group Head - Siam Paragon: World-Class and Luxury Experience Creator is the leader in creating world-class luxury experiences that makes Siam Paragon an amazing shopping center and a tourist destination for customers from all over the world. It is committed to providing exclusive and trendy experiences which cover trend-setting products, services and marketing activities that cater to global trends and shopping customer behavior.
"A rapid strategic adjustment to keep up with the world and never stop to build on creativity to generate new ideas make us a dominant player in the high spenders market in Thailand. This allows Siam Paragon to maintain its spot as the number one shopping center in the hearts of customers."
Ek-kawit Chaiwaranurak, Group Head: Siam Center & Siam Discovery: Idea Creator for Extraordinary Experiences who is behind the success of Siam Center to occupy its position as a trend leader, the center of trendy and modern shopping. As a birthplace for all circles, from fashion, art, technology and lifestyles, it showcases all Thai designer brands and houses the flagship stores of well-known brands, both domestic and international. Siam Center is the heart of the revolutionary fashion industry with the concept of Ideaopolis, the city of trendy ideas, the center of imagination and limitless creativity.
"New ideas are the starting point of making a difference for the Siam Piwat Business Group. They allow Siam Center to dominate its position as the hub of the trendiness. We don't just offer products and services, but we also give our customers a very special experience of being first and unique."
Pawina Gajaseni, Director of Siam Discovery Business Group: Personalized Experience Creator is the leader in creating experiences that meet the pursuit of identity and uniqueness. Siam Discovery is not just a shopping center, but also a place that offers a unique experience and inspiration. It is the center of ideas. It is always ready to respond to various trends and changes. The Discovery Lab presents products under themes and stories based on people's interests and unique tastes. Ecotopia, Asia's largest source of eco-friendly products, has recently allowed Thai brands to expand their customer base to international markets under the concept of DiscoverSiam, promoting Thai products to grow from Local Heroes to Global Heroes.
"Managing an in-depth Customer Centric experience allows Siam Discovery to present products with themes and stories based on people's interests, needs and unique tastes for everyone to find and discover their true self. Own and express what you want to be."
Sopida Kitikomolsuk, Group Head of Marketing Events and Business Relations, ICONSIAM: Global Event Creator is a world-class event creator and one of the dream teams that participated in the concept design of ICONSIAM City Opening and Countdown Fair, through collaboration with the 7 best leading organizers in Thailand, which has never been seen before, as well as a world-class team that uses drones for a spectacular show by the Chao Phraya River. The project was a phenomenon, the first of its kind in Thailand, making ICONSIAM the Talk of the World overnight. The project was a successful showcase of Thailand on the global stage.
"We are committed to delivering unprecedented experiences to our customers in every dimension. Dare to think big, dare to do new things, always do what others think it's impossible. As a result, ICONSIAM became the Talk of the World and was known all over the world overnight."
Supris Netekien, Group Head – Public Relations, Supremo Company Limited: Brand Reputation Creator is an experienced communicator that illustrates the world-renowned success stories and co-creates a variety of talk-of-the-town phenomena, ranging from the opening of the new look of Siam Center, The Ideaopolis, and Siam Discovery, the Exploratorium. That makes ONESIAM group's shopping centers become Global Destinations that people around the world dream of visiting.
"Being first in the hearts of customers doesn't just happen from being aware of the information around them. However, it stems from the experience of customers when they are with us, both inside the shopping centers and experiences that can be felt anywhere, anytime and have confidence that we are good friend in sincerity."
Nuttha Phijitplakas, Group Head – Integrated Marketing Communications, ICONSIAM: Content Creator for Extraordinary Experiences, an experienced creator who drives Thailand to the world stage, designs communication messages to create awareness and create Brand Vision with the customer-centric principle. A balanced collection of content, including art, local traditions, innovations, world-class architecture, a superior shopping experience, and entertainment, makes ICONSIAM a brand that is in the hearts of Thais and foreigners alike and makes Thailand famous and dignified on the world stage.
"It is our pride, as the ICONSIAM team, to show our Thai identity to people around the world. ICONSIAM reinforces its status as a Global Destination while being able to deliver a good experience for Thai customers. It is successful in terms of sales and acceptance among Thai customers over the past year."