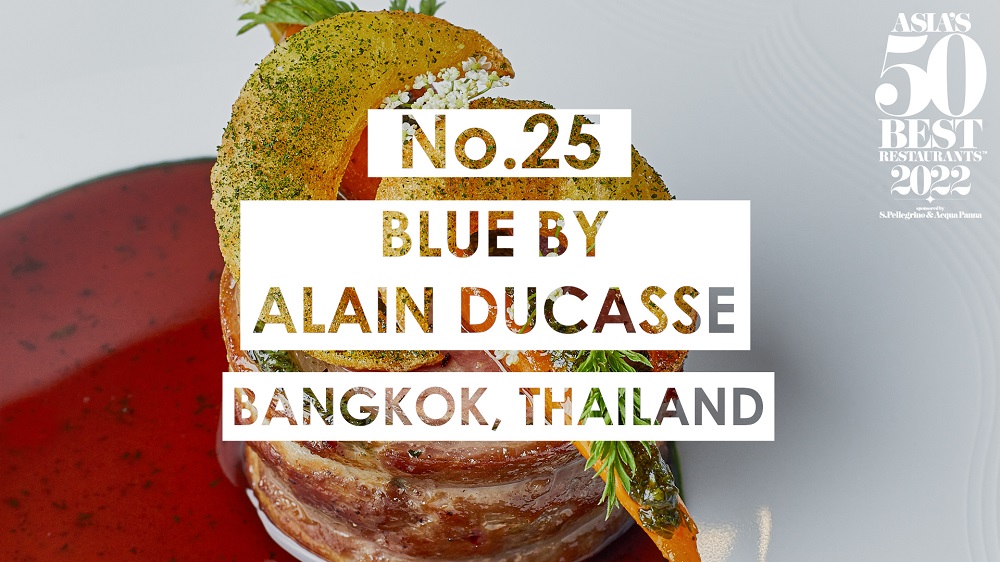 Siam Piwat Co., Ltd., the owner and operator of prestigious retail development and a joint-venture partner of ICONSIAM has marked a new milestone for Thailand's restaurant industry as Blue By Alain Ducasse owned by ICONSIAM is ranked No. 25 on list of Asia's 50 Best Restaurants 2022, the annual list which celebrates the best restaurant in Asia. Blue By Alain Ducasse is also awarded one Michelin star in the 2022 Michelin Guide Thailand, for the second consecutive year, which reflects the determination of Blue By Alain Ducasse staff and reinforces ICONSIAM affirmative commitment to deliver the unprecedented experiences.
The 10th edition of the Asia's 50 Best Restaurants list was revealed via a series of live events held in Bangkok, Hong Kong, Macau and Tokyo, celebrating the restaurants under its list across the region. The ranking is a result of votes cast by the Asia's 50 Best Restaurants Academy, an influential group of more than 300 food writers, critics, chefs, restaurateurs and regional culinary experts.
Sarahneeya Chakkaphak. Managing Director of Siam Rivea Co., Ltd. and Senior Vice President -Food Business and Attraction Development of Siam Piwat said "It is our pride that Blue By Alain Ducasse, which is one of our businesses built upon the commitment to deliver the unprecedented and first experiences, can serve as a source of reputation that further leverages Thailand's position as a global culinary destination. This accolade amplifies Siam Piwat's resolution to create the unrivalled and unprecedented experiences while also reinforcing the devotion and hard work of all our staff."
Asia's 50 Best Restaurants listing describes Blue by Alain Ducasse that "not just another outpost of the big Ducasse franchise. Executive chef Wilfrid Hocquet has trained in many prestigious kitchens around the world, including the legendary Le Louis XV – Alain Ducasse à l'Hôtel de Paris in Monte Carlo, Monaco. At Blue, you can expect imaginative, yet disciplined cooking, and seamless, polished hospitality, staying true to Ducasse's unwavering standard."
"At Blue, premium French produce is paired with local delicacies, using both classical and modern French techniques. Recipes requiring microscopic precision, such as guinea fowl pithivier, foie gras on black pepper sablé and the classic baba au rhum, represent the pinnacle of Ducasse cooking taxonomy," it added.
Opened in November 2019, Blue by Alain Ducasse has become one of ICONSIAM's key components. It is the contemporary French restaurant by the mentor chef Alain Ducasse, who was recognized with 21 Michelin stars located on the Chao Phraya River bank, in ICONLUXE, ICONSIAM. Blue offers splendid panorama views, exquisite contemporary and traditional French culinary with the great wine list.
Being ranked No. 25 on list of Asia's 50 Best Restaurants is the second international accolade which Blue has received in 2021, which pinpoints our priorities on consistently delivering unprecedented experiences. Previously, ICONSIAM has also garnered 13 global awards in various global competitions.