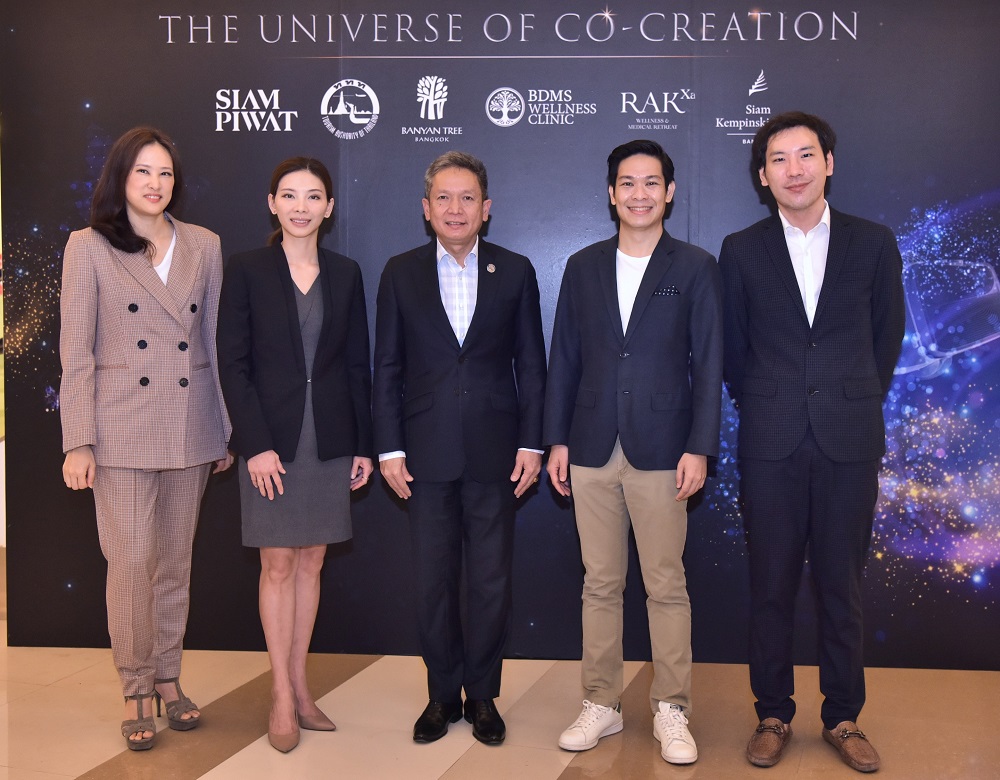 - Siam Piwat proactively expand its business ecosystem to more industries, emphasizing its 'Collaboration to Win' strategy, through new partnership with hospitality and wellness segments to capture wellness traveler market.
- Special visitor privileges is on full offer to welcome the increasing numbers of local and international visitors to Thailand as well as growing numbers of shopping center visitors.The offers features privileges, packages and top-class services both on-ground and online via ONESIAM SuperApp mobile application.
Siam Piwat Co., Ltd. has continuously strengthened its business ecosystem with an aim to offer fulfilling customer experience and, at the same time, enhance shared success between its business partners. Siam Piwat is a leading retail and property developer, the owner of prestigious retail destinations including Siam Paragon, Siam Center and Siam Discovery and a joint-venture partner of ICONSIAM and Siam Premium Outlets Bangkok. The company reinforces its 'The Visionary ICON' mission statement with the creation of premium business ecosystem.The company has formed a new partnership with The Tourism Authority of Thailand (TAT) and top-notched hospitality and wellness names including Banyan Tree Bangkok, Siam Kempinski Bangkok, RAKxa, and BDMS Wellness Clinic. The partnership marks another key milestone of 'The Universe of Co-Creation," Siam Piwat's core business strategy to build a business ecosystem that create shared values through 'Collaboration to Win' practice.
Panthep Nilasinthop, Chief Customer Officer of Siam Piwat, said "Under Siam Piwat's 'Collaboration to Win' strategy, we now welcome partners and alliances, locally and globally, from over 13 industries. Our ecosystem has been a success - a global and a strong collaboration that offers limitless opportunities.
The recent partnership with the hospitality and wellness sector is developed based on shared intertest of our customers. Today, numbers of discerning consumers are seeking an opportunity to travel and being able to maintaining their holistic well-being and healthy lifestyle. These group of travelers arealso high-spenders. For our collected data, travel, health and beauty-related contents accounts for65 percent of total content views on our ONESIAM SuperApp, which presents a very high potential to optimize these data and turn this group ofusers into customers for hospitality and wellness services. Siam Piwat is focusing on catering to the needs of our customers. We, then, is seeking partners who could offer what our customers need and could deliver experiences beyond expectation that applied to both ONESIAM SuperApp users and shopping center customers. Our goals is made possible thanks to the support from TAT, Banyan Tree Bangkok, Siam Kempinski Bangkok, RAKxa, and BDMS Wellness Clinic.
Siripakorn Cheawsamoot, TAT Deputy Governor for Marketing and Communications, said "TAT envisions change towards stronger and sustainable tourism growth. The campaign 'Visit Thailand Year 2022: Amazing New Chapters' will offer unique travel experiences under 3Ex concepts including Experience, Expectation and Extraordinary through three travel themes including Nature to Keep, Food to Explore and Thainess to Discover. Each will be marked by colours and theme representing regions of Thailand.
In 2022, Thai tourism is expected to generate a total revenue of over 1.28 trillion Baht, with 656 billion Baht from the domestic market (160 million trips) and 625 billion Baht from the international market (10 million tourists). The average expenditure for domestic tourists is estimated at 4,100 Baht per person, and for foreign tourists at 62,580 Baht per person.
To achieve the goal, communication to target group is crucial and members of leading retail destinations under Siam Piwat are high-spenders on shopping and travel. This is an ideal opportunity for TAT to Co-Create great story-telling contents on ONESIAM SuperApp. The stories are created by TAT's Marketing Service Department to distribute on ONESIAM SuperApp in order to raise awareness on Thailand tourism. The content will feature these following topics: 1. BGC and RT travelling 2. CBT travelling 3. Historical-related travel and 4. Unseen new series.
Manop Lobunditkul - Director of Sales Marketing, Banyan Tree Hotels & Resorts, said "Banyan Tree Bangkok sees great potentials in VIZ members. This new customer base is major and we expect to generate more sales via ONESIAM SuperApp. First we will focus on crating awareness rather than drive sale, so we could understand user interest, their pattern of spending and products they are interested in. We prioritize on the Travel community. The Banyan Tree Bangkok will offer special accommodation deals together with spa treatment or dining choices to VIZ members. VIZ members can also enjoy river cruise dining with Saffron Cruise accompanied with Exclusive Drink."
Chanida Buranasilpin - Director Of Sales Marketing of Siam Kempinski Bangkok, said "The continuous collaborations with Siam Piwat Group have been a success and we are certain that the expanded partnership on ONESIAM SuperApp platform will proof another accomplishment and will be the next level of collaboration. Siam Piwat's VIZ members have high purchasing power and live a similar lifestyle of our hotel's target group, especially the community that focuses on (Travel), dining (Feast) - dining and beauty and health (Glow) which are major communities on ONESIAM SuperApp. We are in full capability to serve these communities, from high-end accommodation for perfect staycation for Travel community, Michelin-starred dining experience at modern Thai restaurant Sra Bua by Kiin Kiin to indulge the Feast community or world-class spa service at Kempinski the Spa.
ONESIAM SuperApp will be an effective platform to boost sale, in addition to the hotel's existing channels. We trust in Siam Piwat's ability to develop the platform to become a popular and successful for a shared success and to offer our customers the limitless experiences. Siam Kempinski Bangkok has selected best offers for accommodations, dining, beverages and spa and over 65 percent discount. New packages will be offered every quarter together with at least one special deal for products or services or limited edition offers available exclusively at ONESIAM SuperApp.
Jira Thawornpradit M.D.,Director of RoyalLife Wellness Bangkok. BDMS Wellness Clinic, said "This year BDMS Wellness Clinic is expanding our target group to Young Generation who love to enhance good health and well-being. The Covid-19 pandemic has urged people around the world to taking better care of their health in terms of nutrition, food supplement, sleep, exercise and health check-up, and so does the young generation. We are delighted to join Siam Piwat's Ecosystem which covers numerous young generation users. We offer special privileges for VIZ members including discount for dietary supplement, health packages, preventive health-check-ups, personalized vitamins packages. We will also offer educational contents such as healthy lifestyle, quality sleep, plant-base diet and more that serve the needs of young generation's lifestyle.
Siam Piwat's ecosystem has been strengthen through the collaboration of numerous partners in various industries to together create a shared value that will bring sustainable success and limitless opportunities.Many leading organizations realize this great potential of this ecosystem and want to be a part of this business powerhouse to foster new opportunities and success.