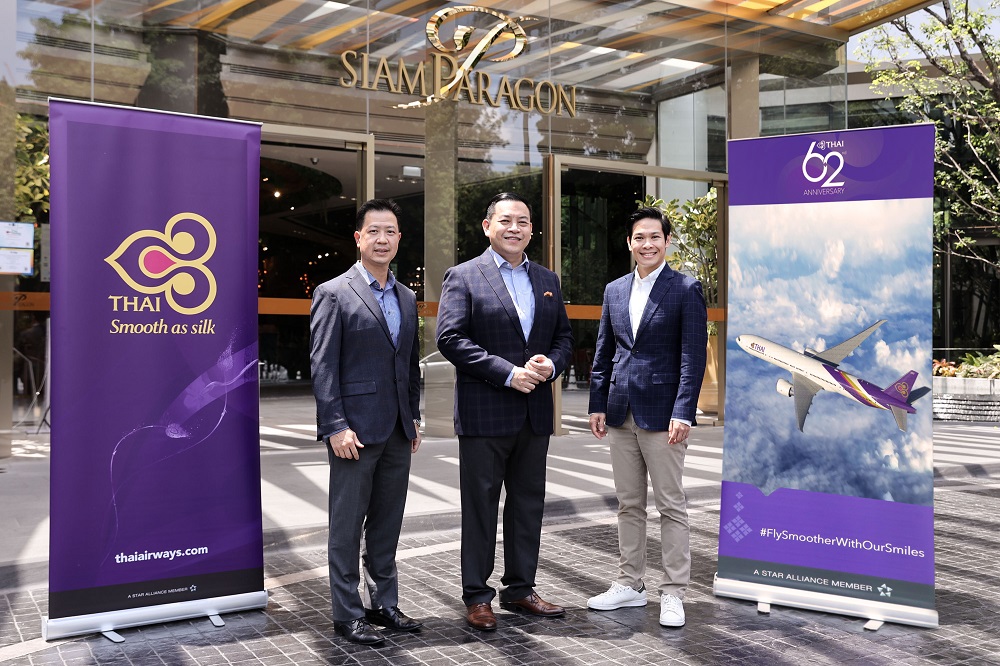 - Siam Piwat and Thai Airways join forces to leverage premium business ecosystem. Thai Airways services and products are now on offer at ONESIAM SuperApp platform and on-ground at ONESIAM retail properties – the 'Luxury Lifestyle Destination.'
- Travel now linked with customer journey, an experience at anytime anywhere - the solutions that caters to lifestyle of ONESIAM and Thai Airways customers. Exclusive privileges are on offer year-round.
Siam Piwat Co., Ltd, a leading property and retail developer – the owner and operator of Siam Paragon, Siam Center, Siam Discovery and a joint-venture partner of ICONSIAM and Siam Premium Outlets Bangkok further strengthens its premium business ecosystem and reinforce its 'Luxury Lifestyle Destination' positioning. Siam Piwat join forces with Thai Airways International PCL, Thailand's national airline that offers standout service with Thai identity, connecting Thailand to the world, to form a business synergy, in line with Siam Piwat's 'Collaboration to Win' strategy. Under this vision statement, the two leading organizations now works in tune to amplify the business ecosystem for a sustainable shared success. Now Thai Airways services and products are available on ONESIAM SuperApp platform and on-ground at ONESIAM retail properties. In addition, exclusive privileges will be on offer year-round.
Mr. Panthep Nilasinthop, Chief Customer Officer of Siam Piwat, said "Siam Piwat focuses on strengthening our world class and premium business ecosystem. We create and deliver new experiences both in the actual and the virtual world. Our goal is to be customers' top-of-mind for local and international shoppers. Over a period of time, we have successfully built a strong partnership network that incorporates leading business alliances in Thailand and internationally, as part of our 'Collaboration to Win' strategy. The synergy spans over businesses in more than 13 industries that together join force to further strengthen this successful ecosystem that present limitless opportunities.
As a 'Luxury Lifestyle Destination,' every ONESIAM platform and retail premises will offer our target shoppers the right products and services that caters to their needs. Based on our collected data of consumer behaviors, especially on the close look on their lifestyle, we have found that our customers are keen travelers and always have a trip or more planned. The collaboration between Siam Piwat and Thai Airways is formed to bring the best of both business leaders to customers. In addition, the collaboration syncs both companies' customer databases which allows an even better customer journey that shoppers can experience anytime, anywhere at ONESIAM SuperApp.
- Content features photos and stories of tourism attractions around the world stimulating travel demands and enhancing personal experiences.
- Royal Orchid Plus (ROP) offers special privileges through ONESIAM SuperApp for members who receive ONESIAM membership status together with 150 VIZ Coins (10,000 entitlements) to use for online shopping and at shops in the department store (terms and conditions apply). Many more discounts from branded stores will be offered throughout the year.
- THAI Shop will provide a variety of THAI products through ONESIAM SuperApp where customers may conveniently surf and go online shopping.
In addition, customers will find it even more convenient to purchase air tickets online via ONESIAM SuperApp. The service will soon be available.
Mr. Kittiphong Sansomboon, THAI Director of Customer & Marketing Department said "The collaboration between THAI and Siam Piwat will offer our ROP members with privileged experiences through creative innovations. The special services and marketing promotion under this campaign are a part of THAI ROP Exclusive Offers project that focuses on partnership with business alliances to enhance air travel experiences at every contact point of our customers' journey. In addition to this campaign, ROP members shall earn further privileges in upcoming offers under the project."
The multi-faceted collaboration between Siam Piwat and Thai Airways is a synergy of two business leaders that bring limitless opportunities. The two parties together create and deliver top-level experiences to customers of both companies. This is an ideal Co-Creation that paves ways to new opportunities and new growth engine, opens doors to more business opportunities and leverages the level of competitiveness in the industry. The exchange of knowledge and know how effectively supports business growth, the expansion of existing customers and reaching to new customers.