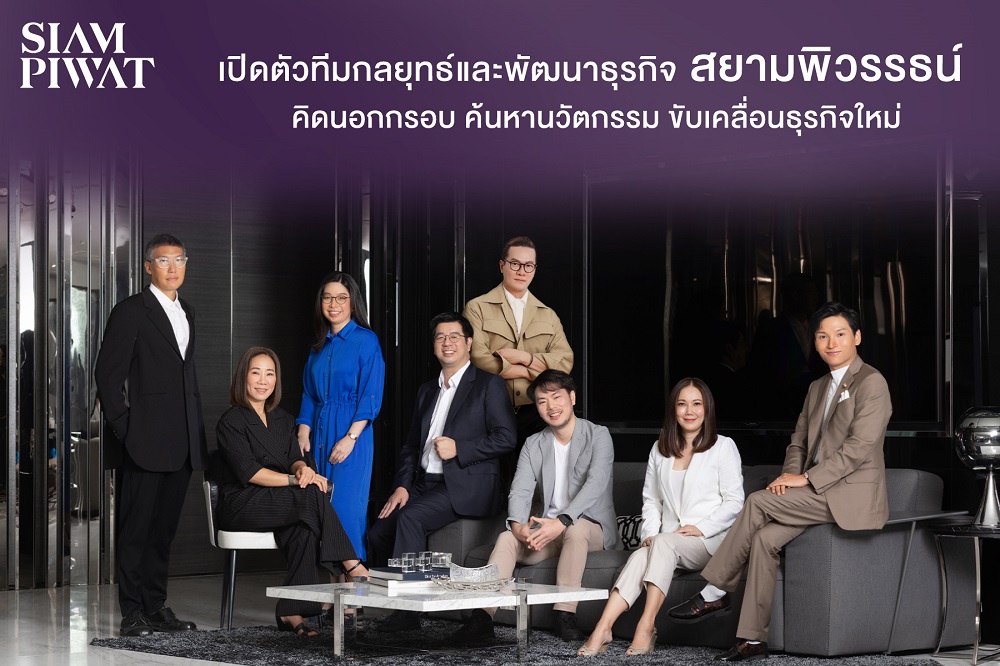 Overcoming limitations to make impossible possible is a core DNA of Siam Piwat, enabling the organization to always deliver extraordinary experiences.In the challenging business world, Siam Piwat has continuously stepped forward to drive the organization with creativity and innovation. Developing business strategies and innovation, a team of Think Tank and Business Development (called Business Creators) work together to cultivate new ideas, think outside the box, and build on the existing strength to create new business models through collaboration with global partners. This approach is linked to create a new form of experiences, such as a connection to digital asset, and deliver borderless experiences in the parallel world of online and offline platforms, in order to serve the customers of the future without limits.
Chanisa Kaewruen, Head of Corporate Strategy Group: An out-of-the-box thinker, the leader of Think Tank, plays an integral role in driving inspiration, and cultivating cutting-edge innovation in every dimension, with the aim to build consumer relevancy and connect business opportunities to create mutual benefits with retailers and business partners for extensive growth.
"Siam Piwat is the leader in creating customer experience and building a platform to introduce novelties for both real and virtual worlds. We have run business with creativity to create the first experience to our shopping centers, enabling us to win various global awards.As the competition of the business world is changing, we can't stick to our previous success. We have to think beyond the retail business, bringing innovation and technology to be a game changer, fulfil the extraordinary experiences in the new world.We have to look for new growth engine and expand our success to create a new way to generate revenue that will drive the business to grow continuously."
Sarahneeya Chakkaphak, Business Development - Special Business Division: formulates strategies for Siam Piwat's food business and mainly oversees Blue by Alain Ducasse, which is a brand that was created especially for ICONSIAM. Working from scratch, she works in close collaboration with the teams in Paris and developing the teams at Siam Piwat to take on the very challenging role of supporting a French fine dining restaurant. Behind the glorious recognition that Blue by Alain Ducasse has achieved is the team work of very passionate individuals who are relentless about being better every day.
"The process has been a tremendous learning which without Siam Piwat's track record and vision for the extraordinary, there would be no opportunity to be involved in such projects. The validation of our efforts to-date is a testament that we are making a difference to Bangkok as a world's top dining destination and that we are a part of an award-winning team."
Salawit Suviporn, Creative Innovation Strategist (Think Tank):develops business solution with innovative ideas through collaboration with world-class business partners and support business units to offer new services andexperiences that never happened before, ranging from Future Lab project and Metaverse project, especially the recent partnership with ZEPETO, 3D Avatar platform, to celebrate the first Metaverse Songkran festival to create the extraordinary experiences in the parallel world of virtual and offline seamlessly.
"Innovative strategist is to use creativity as the starting point and scout for new ideas, new players and move forward to the new kinds of borderless businesses. Now, Siam Piwat is stepping into the Metaverse and aiming to expand customer base to Global Citizen. It is the real challenge to prove our capabilities once again."
Ponrawut Buranakit, Business Development – Strategic investment and New Economy: formulates business strategies related to investment and new economy. He is the keyman to work closely with Think Tank to cultivate investment strategies and new businesses, study business feasibilities, negotiate and collaborate with partners to bring idea to become a real business that can be monetized. These include creating new business model with connection to digital assets and a new type of business.
"Looking for new opportunities to help Siam Piwat move beyond the main business model is to look for something new and different to create the universe of unlimited experiences, and develop them into reality, business that can be monetized.This is a great jigsaw to help Siam Piwat achieve its ultimate goals in terms of reputation, revenues and sustainable growth."
Joseph Teoh, Business Development & Strategist: Seeks business opportunities to cater to the group's major customer base of high-spenders while developing business strategies to strengthen the organization. With a strong background in managing luxury fashion and global brands, Joseph possesses a deep understanding of consumer insights and trends, enabling him to leverage innovative ideas to achieve exponential growth.
"As the retail world continues to evolve exponentially in both the digital front and consumer engagement, our aim is to ensure we build adaptable business models and creative solutions that meet the needs of our global partners and affluent customers."
Sivaphorn Eamkeo, Partnership Strategist: a member of Think Tank team specializes in developing partnership collaboration strategy and plays a major role in connecting new ideas and creativity with business partners and retailers to deliver new and unique experiences in areas including health, well-being, beauty and technology, in order to create a better life for all.
"Doing business for the future that will help us cope with a rapid change in the current world is to connect new ideas and make it happen. Therefore, forming a right partnership is the key strategy to fill the gap and share ideas to do what never happened before to achieve business goals more effectively."
Armaj Sombunjaroen, Creative Brand Strategist: An innovative think tank emphasizes on building brands with new trends. He cultivates new concept and ideas to respond to changing global trends and amplifies the ideas with organizational strategies to create new businesses that enhance corporate image and support continuous business growth.
"Doing business in Siam Piwat's way is to catch new trends and create new business opportunities. Siam Piwat believes in creating a strong brand value which connects to people needs and revenue-generating businesses, which leads to an image of being the number one in customers' minds".
Amorn Mongkhonkaewsakun, Creative Content & Design Strategist: formulates content and develops brand story by leveraging his experiences in design and architecture to create business strategies, including new store concept, and creative marketing campaigns, as well as integrating the concept ofsustainability in businesses. These include the launch of Ecotopia brand to promote environmental sustainability and ICONCRAFT brand to promote social sustainability, which helps support small SMEs and craftsmen in the provinces, and the promotion of creative economy through foreign business expansion. He also develops content and communication strategies for OneSiam SuperApp to make it more interesting.
"Past experiences as designer and architect help understand consumer behavior trend in advance, and design functions to cater the future needs of consumers creatively to leverage businesses in both the real and online worlds towards the sustainability because beyond spending is lifestyle that cares for the world."