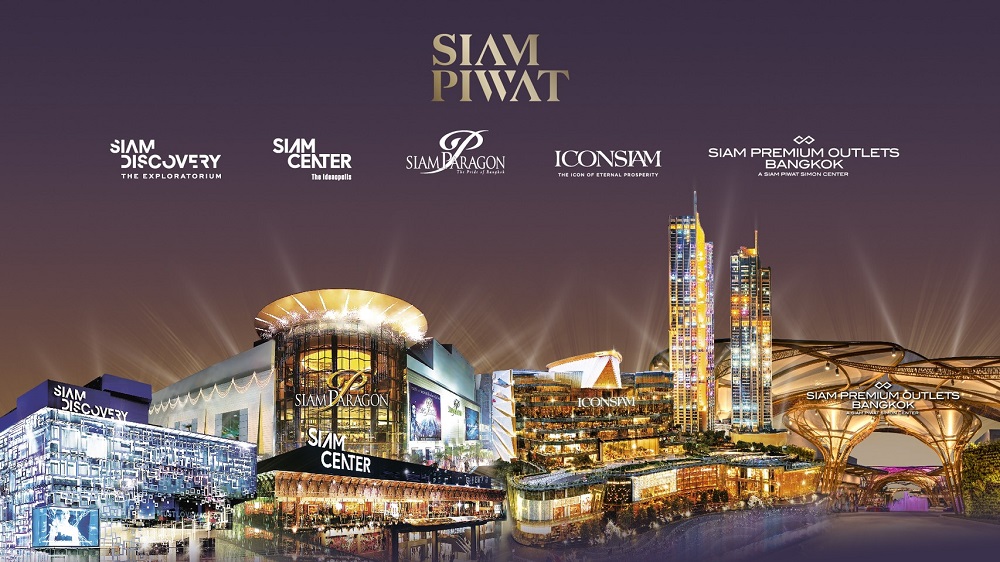 Siam Piwat Group, a leading premium real estate and retail developer, the owner and operator of world-renowned projects, such as Siam Paragon, Siam Center, Siam Discovery, and co-owner of ICONSIAM and Siam Premium Outlets Bangkok, is one of Thailand's leading companies stepping up the efforts to support the environmental management through promoting circular economy principles. These include encouraging people to adopt a new and balanced lifestyle in line with the concept of using resources valuably, and being environmentally friendly, in order to preserve and protect nature to last forever. As the World Environment Day is observed on 5 June every year to mark the importance of environment, Siam Piwat sets its sight on model projects applying the circular economy principle and performance as follows:
1. The "Siam Piwat 360° Waste Journey to Zero Waste" Project aims to develop a waste management system throughout the whole chain, promote environmentally friendly conducts, encourage reusing, recycling, and upcycling process to create additional value for waste, with an emphasis on efficient and valuable resource management. The project is a collaboration with Unilever Thailand Group, Kao Industrial (Thailand) Co., Ltd. and Tetra Pak (Thailand) Co., Ltd. to put in place waste drop-off points for customers and the public to drop off cleaned and sorted waste, from June 2021 – present. There are 2 drop-off points or Recycle Collection Centers in Siam Paragon, namely, Point 1: Tour bus Parking Area, G Floor, North Side and Point 2: Exit 4, G floor (Bangkok Bank side). In addition, Siam Piwat's environmental committee was set up to further examine the separated waste thoroughly and clean any uncleaned plastic waste.
2. Greenhouse Gas Emission Reduction project: Although in the retail and shopping center business, the vast majority of greenhouse gas emissions come from indirect greenhouse gas emissions from energy use, Siam Piwat still emphasizes and encourages activities that help reduce greenhouse gas emissions, such as the project to install automatic doors to reduce the workload of the cooling system. Another major projects include switching to more energy efficient chiller system, changing the lighting system to LED, reducing waste sent to landfills to reduce methane emissions into the atmosphere. For these projects, Siam Piwat has collaborated with VGREEN, Kasetsart University, to assess the amount of greenhouse gas emissions from corporate activities according to the standards of the Thailand Carbon Neutral Network, which is equivalent to the international standard ISO 14064-1, enabling Siam Piwat to receive its carbon footprint certification.
3. The "CE Model Pathumwan" project (1 Mar. 21 - 30 Nov. 22): Siam Piwat collaborates with Plastics Institute and Chulalongkorn University, to research and develop a business model with the aim of driving Siam Piwat to become a model retail business with comprehensive waste management under the concept of Circular Economy. The project defines Siam Piwat as an important target area for studying consumer information, lifestyles, consumption behavior, and behavior regarding sorting and disposing of waste. The research results will be analyzed and utilized to create a concept for developing a business model on plastic waste management in urban society.
Performance:
In the past year, the amount of waste that went through the waste management process totaled at:
1. Paper / magazine flyers: 1,489 kg
2. Clear plastic bottles: 776 kg
3. Hard plastics: 233 kg
4. Aluminum: 121 kg
5. Flexible plastics: 209 kg
6. Multilayered plastic sachets: 351 kg
7. Milk / juice / coconut milk cartons: 418 kg
8. Glass bottles: 1,193 kg
All waste is systematically brought into the management system and sent off to be recycled into raw materials, which some of them used for upcycling process. Some of these processed products are put back on the shelves at "Ecotopia" at Siam Discovery, a retailer of environmentally friendly products.There is also a drop off area for plastic waste that cannot be recycled to be passed on to Wongpanit Suvarnabhumi to be recycled into renewable fuel (RDF) to generate electricity This activity is aimed not only to create added value to seemingly worthless plastic waste, but also creates a truly zero waste management system.
Performance (2015 – present):
Total amount of greenhouse gas emissions reduced by 14,600 tons of carbon dioxide equivalent, which is equivalent to planting 858,800 trees.
ICONSIAM chooses materials, equipment and indoor technology in its construction systems that support the most efficient use of energy, installing innovative solar rooftops to utilize clean solar energy instead of electricity. From 2019 onwards, this has helped reduce the shopping center's total greenhouse gas emissions by 996 tons of carbon dioxide equivalent, which is equivalent to planting 57,921 trees.
Furthermore, the solar panel installation projects will be extended to the rooftops at Siam Premium Outlets Bangkok in the near future.
Performance in 2021:
- Organizing an online forum entitled "Siam Piwat: On the Path to Comprehensive Plastic Waste Management"
- Organized From Pieces to Business: Let's Close the Loop activity, giving students an opportunity to participate in a contest to present ideas that lead to an innovative business model for the environment and setting up booths to educate companies about plastic waste and plastic products management.
- In the future, the Company plans to create a Digital platform to develop a system that connects to the "Siam Piwat 360° Waste Journey to Zero Waste" project to invite customers to drop off sorted waste to claim points and receive various rewards.
In the past year, even though Thailand had to deal with the Covid-19 pandemic, Siam Piwat still stands strong in continuously and seriously driving various environmental projects through "Siam Piwat unites to fight COVID-19", such as the "Separate PET Bottles, Help Doctors" project, in collaboration with Less Plastic, which invites customers and the public to take part by donating used clear plastic (PET) bottles. A total of 1,442 kilograms of plastic bottles were donated, which were used to produce approximately 2,884 sets of PPE. Siam Piwat has set up drop off points for used cardboard boxes to be recycled into SCGP field hospital beds sent to recipients across the country. A total of 100 beds, 100 beds, and 30 beds have been produced from the cardboard collected at the drop off points at One Siam, ICONSIAM, and Siam Premium Outlets Bangkok, respectively.
Siam Discovery organized annual activities during the holidays, setting up an environmentally friendly Christmas Tree for the 11 consecutive years under the concept of "Circular Living X'mas Tree 2021" under a collaboration with PTT Global Chemical Public Company Limited or GC to supply used HDPE plastic bottles for the tree. The public was invited to join the holiday festivities in an eco-friendly and sustainable way. After the event ended in January 2022, Siam Piwat and GC jointly donated the opaque plastic bottles used as the main material to the YOUturn project to be recycled into garbage bins that were donated for further public use.
As the environment is a matter of concern for everyone in the world, Siam Piwat continues to take care of the environment to take part in creating a balanced world that must be achieved in parallel with its business operations in all dimensions continuously and sustainably.