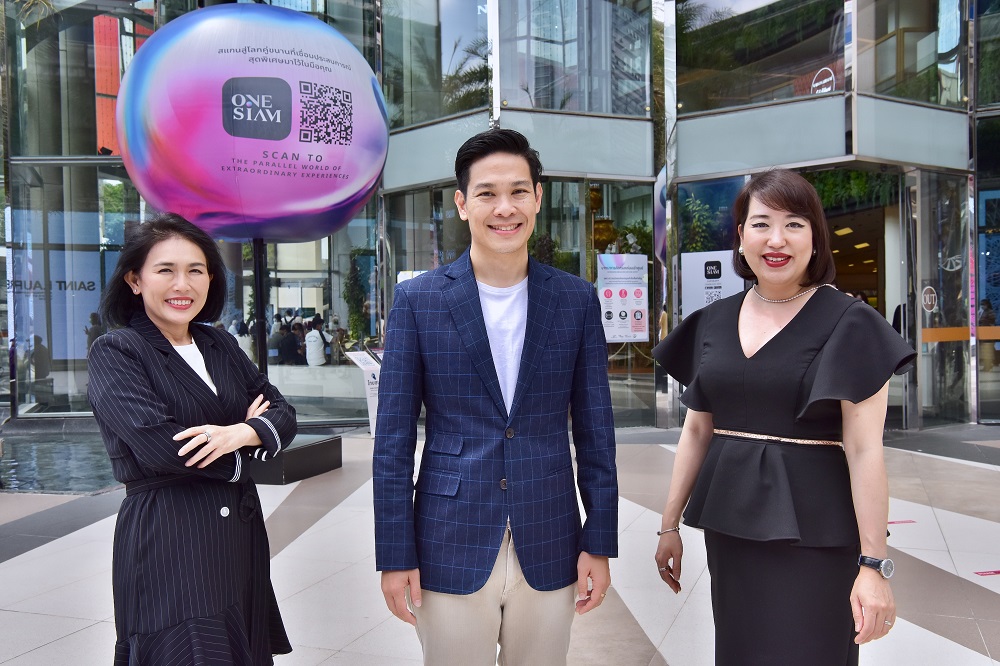 - Siam Piwat continues to fortify its business ecosystem under 'Collaboration to Win' strategy, now partners with RAKxa and Siam Kempinski Bangkok to fulfill experiential tourist and wellness travelers.
Siam Piwat, a leading property and retail developer – the owner of global retail destinations including Siam Paragon, Siam Center, Siam Discovery and a joint venture partner of ICONSIAM and Siam Premium Outlets Bangkok reinforces its 'Visionary ICON' mission statement with the latest expansion of its premium business ecosystem. Recently joined the 'Universe of Co-Creation' are RAKxa and Siam Kempinski Bangkok, marking another major milestone of this interconnected ecosystem. Under Siam Piwat's 'Collaboration to Win' business strategy, the joint force will create sustainable shared values to all involved.
Mr. Panthep Nilasinthop, Chief Customer Officer of Siam Piwat Co., Ltd., said "Following our 'Collaboration to Win' roadmap, we have created a thriving premium business ecosystem that spans over broad ranges of industries through integrated partnership with leading business partners, both in Thailand and internationally. These collaborations have tremendously provided limitless business opportunities.
Hospitality and wellness industries share very similar target customers with Siam Piwat. These group of customers are also one of the company's prioritized demographics. Today, numbers of tourists and wellness-conscious travelers are increasing constantly and they also spend simultaneously on shopping. Based on the collected data from ONESIAM SuperApp, users show great interest in hospitality and wellness products and services. To best cater to customer need and interest. Siam Piwat selectively collaborates with business partners to enhance customer experience and deliver engaging customer values as well as benefits to both ONESIAM SuperApp users and on-ground customers at ONESIAM shopping centers and ICONSIAM.
Ms Dusadee Tancharoen, Managing Director of RX Wellness Co., Ltd. – the developer of RAKxa wellness and medical retreat said "RAKxa offers preventive and holistic wellness service under the concept "Fully Integrative Wellness & Medical Retreat." We specialize in integrative wellness approach that encompasses scientific wellness together with holistic wellness including traditional Thai, Chinese Indian medicine and energy healing, all practiced by teams of medical experts. We design personalized wellness programs for optimal wellbeing for each individual. All through the programs, our guests will be treated with menus from health-conscious chefs and professional nutritionists, unwind and relax amid the tranquil privacy of private villas nestled among nature, with the ultimate goal of optimal physical and spiritual well-being. Our major customers are both locals and international travelers. RAKxa sets to become a 'World Class Medical Wellness Destination', a global landmark of wellness tourism."
The partnership with Siam Piwat and joining its ONESIAM SuperApp platform is definitely a new marketing opportunities and sale channel, not only in terms of revenue but also creating greater and sustainable shared values that branches from the integrated global ecosystem. ONESIAM SuperApp users are high spenders, especially VIZ cardmembers. VIZ Loyalty program members who love to travelers and those who are health-focused are correlated with RAKxa products and services. We are confident that RAKxa could serve the needs of these customers and leverage customer values to ONESIAM SuperApp users. Not only users with 'Travel' preference, the shared target group also covers 'Feast' (dining) and 'Glow' (beauty and well-being). In addition, RAKxa offers special privileges for ONESIAM SuperApp users including two free physical treatment voucher RAKxa GAYA or spiritual enchantment RAKxa JAI valued THB4,000, for every purchase of ONE-DAY WELLNESS PACKAGE. This holistic treatment focuses on rebalancing that starts from consultation with medical professionals, health experts and physical therapists followed by in-dept check-up and analysis. The package is also accompanied with healthy choices of lunch, afternoon tea and snacks. Varieties of treatments specially developed by RAKxa are also on offer, offering the optimal and sustainable health benefits.
Mrs Chanidapa Buranasilpin, Director of Sales and Marketing of Siam Kempinski Bangkok, said "Our continual collaboration with Siam Piwat has been a great success and we are certain that the expansion to ONESIAM SuperApp platform will also be a new and next-level achievement. VIZ members have high spending powers and their lifestyle aligns with our hotel customers, especially the Travel, Feast (dining) and Glow (beauty and wellness) communities, which are major communities in ONESIAM SuperApp. We are certain that we could cater to their needs and preferences. We offer luxury accommodation experiences ideal for a perfect staycation for the Travel community. Our modern Thai cuisine Michelin-star dining experience at Sra Bua by KIIN KIIN caters to the Feast preference while our first-rate spa at Kempinski the Spa serves the Glow community. ONESIAM SuperApp will be an efficient sale channels that boost sale, on top of the hotel existing channels. We trust Siam Piwat and its ability to develop this platform that will successfully create share values. Siam Kempinski also offers privileges featuring accommodation deals, dining and spa treatment with over 65 percent discount. The deals will be refreshed quarterly and there will be a minimum of one highlight or limited-edition product and service exclusively on ONESIAM SuperApp in every quarter as well.
The amplification of Siam Piwat's integrated ecosystem, with the collaboration of broad varieties of leading business partners will bring shared successes and shared values as well as limitless opportunities. The joint force of these new partners will better serve customer needs and preferences as well as deliver greater customer values.