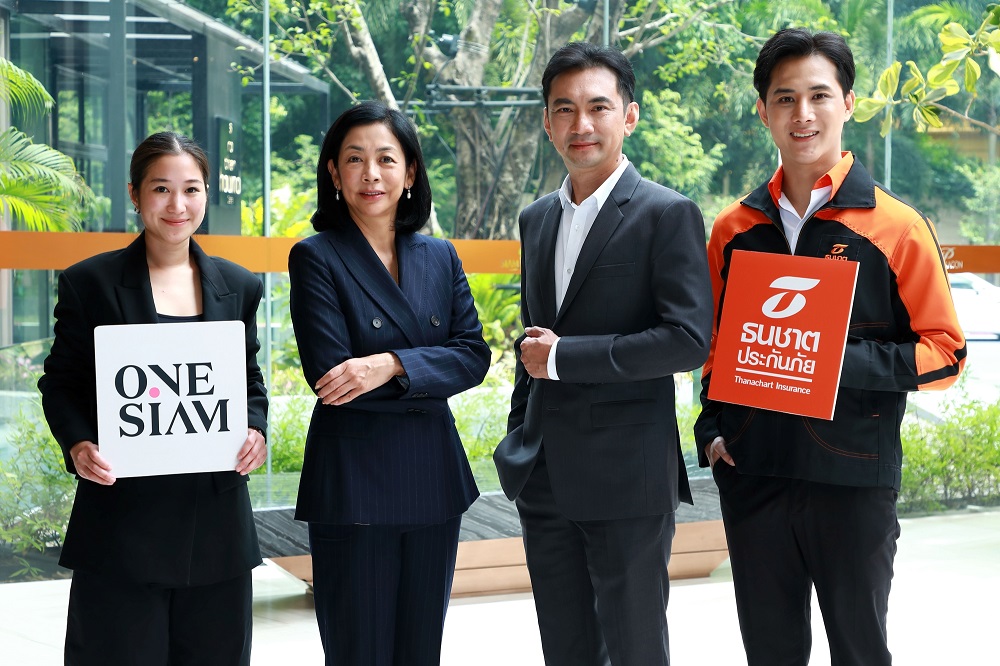 - Strengthening Siam Piwat's business ecosystem, Siam Piwat joins force with Thanachart Insurance to tap larger high-spending consumer segment.
- Thananachart Insurance tailors exclusive insurance policies and privileges to ONESIAM and ICONSIAM's customers and ONESIAM SuperApp users.
Siam Piwat Co., Ltd., a leading property and retail developer – the owner and operator of ONESIAM global retail destination that consists of Siam Paragon, Siam Center, Siam Discovery and a joint venture partner of ICONSIAM and Siam Premium Outlets Bangkok, joins Thanachart Insurance PCL., a leading non-life insurance company for greater shared success. The integrated collaboration not only strengthens Siam Piwat's ecosystem but also creates shared values for both parties, according to Siam Piwat's 'Collaboration to Win' strategy. The joint force offers exclusive insurance privileges to customers of both organizations - shoppers of ONESIAM and ICONSIAM, ONESIAM SuperApp users, together with Thanachart Insurance members, a fulfillment of their luxury lifestyle.
Mrs Mayuree Chaipromprasith, President – Corporate Affairs and Communications, Siam Piwat Co., Ltd. said "Siam Piwat is a truly co-creative platform – both offline and online. Our expertise falls especially on the high-spending customer segment. We have pioneered a new luxury experience that goes beyond material satisfaction, but more towards customer fulfillment. Our customers' needs and preferences are met with unique offers, exceptional services as well as satisfaction and delight that we have delivered. We also professionally provide services and optimized results. We have been proactively enhancing our ecosystem through collaborations with broad ranges of business partners in various industries. The partnership between Siam Piwat and Thanachart Insurance marks a new customer experience, unique to the non-life insurance industry, and is a privilege that is convenient and a completion to luxury lifestyle. The offers are exclusive to ONESIAM and ICONSIAM shoppers and this collaboration also enables us to reach high-net-worth insurance customers.
Today, footfalls at ONESIAM are comparatively as many as pre-Covid 19 period. Siam Paragon welcomes over 100,000 – 150,000 visitors a day. Siam Center and Siam Discovery see more than 70,000 – 100,000 shoppers a day and traffic at ICONSIAM reaches over 80,000 -120,000 per day. Also, numbers of tourists have been increasing. At the same time, ONESIAM SuperApp has registered over 350,000 users. The mobile application actively delivers new experiences, products, services and engaging daily contents. The application also offers O2O activities which connects online and onsite experiences and privileges. ONESIAM SuperApp platform has the full capability to engage all the Co-Creation and collaboration with extensive list of business partners from various industries. The collaboration with Thanachart Insurance marks a major move that further strengthen Siam Piwat's ecosystem, in terms of the ability to to cater to the needs and preferences of high spending customer segment, anytime and no matter where they are. In addition, our joint force is also an integrated cross-expansion of customer database to create an interconnected privileges from Siam Piwat's VIZ loyalty members and Thanachart Insurance's clients.
Mr. Kongsak Hansawangsin, Chief Insurance Product Officer, Thanachart Insurance PCL, said "Luxury customers are seeking experiences from products and services that are unique. This segment mostly owns luxury vehicles and super cars which are a reflective symbol of their upscale lifestyle. Thanachart Insurance can definitely serve their needs as we are a leading and distinctive non-life insurance company that can cater exclusives car insurance offers to luxury car owners.
"We offer extensive protections, even more than top-tier car insurance policies do, that features full accident coverage and special services ranging from conveniently requesting a claim via LINE application, 24-hour emergency service, Meet & Care – a personal butler for your car who will professionally oversee all the maintenance, ensuring highest service standard. Customers will also enjoy special deal such as 10-month installment plan with participating credit cards," said Mr.Kongsak.
Thanachart Insurance is further enhancing Siam Piwat's ecosystem with special offers to VIZ members including Type 2+ Car Insurance that covers collision, stolen, dagame cause by fire or flood, Travel Protect insurance for travelling aboard or Happy PA For Child - a personal accident insurance that covers four most prevalent illness found among children. These products show how Thanachart Insurance can cater to every customer segment of Siam Piwat.
The collaboration between two industry leaders - Siam Piwat and Thanachart Insurance does not only reinforce the ecosystem but also marks a new milestone of both businesses and an amplification of Siam Piwat as 'The Visionary ICON.'