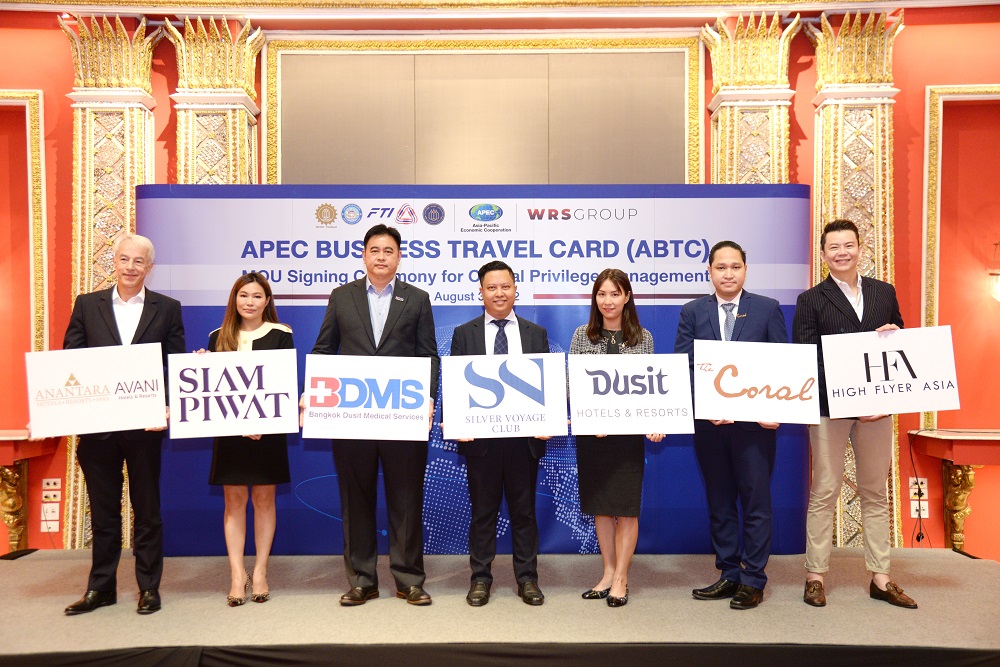 Siam Piwat, a leading retail and real estate developer, is among seven business alliances of WRS Group to jointly create world-class premium privileges and benefits for APEC Business Travel Card holders.
The Joint Standing Committee on Commerce, Industry and Banking (JSCCIB) of Thailand signed the MOU to appoint WRS Group to manage the world-class privileges of the APEC Business Travel Card (ABTC) in order to match the premium lifestyle and travel for both domestic and international travels of APEC businesspeople.
APEC Business Travel Card holders will enjoy most of the privileges apart from travelling smoothly since the card includes a "Business Visa" that allows holders to travel between 19 APEC economies easily. The 19 APEC economies include Australia, Brunei, Chile, China, Hong Kong, Indonesia, Japan, South Korea, Malaysia, New Zealand, Peru, the Philippines, Papua New Guinea, Singapore, Thailand, Taiwan, Vietnam, Mexico and Russia. In addition, the holders will be privileged to prioritized through the 'APEC Lane' at the immigration of participated international airports.
Siam Piwat, a leading retail and real estate developer who owns and operates Siam Paragon, Siam Center, and Siam Discovery, and one of the joint owners of ICONSIAM and Siam Premium Outlets Bangkok, Thailand's famous world-class shopping destinations and the centre of retail businesses in Thailand. They offer exquisite and divine experiences in all aspects to inspire and endlessly give life value to people. By offering privileges with no boundary only within the shopping malls, they go beyond for the most unique and incredible experiences for Thai and international cardholders.
All details of the new version of the APEC Business Travel Card (ABTC) with the best world-class privileges throughout the membership life, information on membership tiers and all privileges will be revealed in APEC CEO Summit 2022, November 16th-19th, 2022.