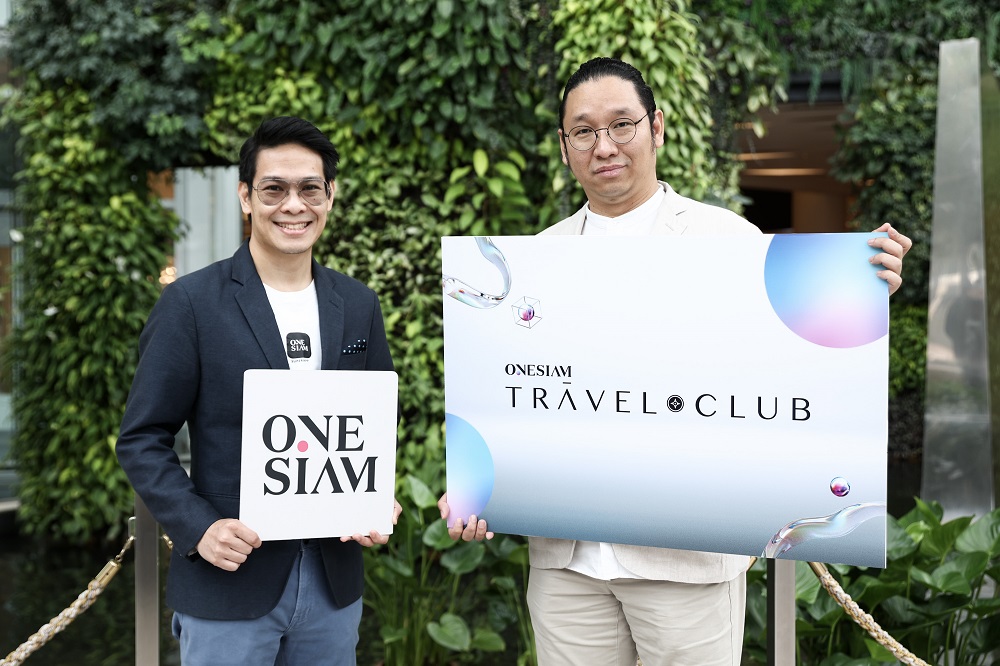 - ONESIAM application has built upon its success to become a community for every segment of luxury lifestyles especially tourism by unveiling ONESIAM Travel Club as a community for travel buffs and luxury relaxation.
- ONESIAM has teamed up with Numpaichai Co., Ltd., a consulting firm for online marketing of tourism business, to offer privileged deals from leading hotels across the country that create specific promotions catering to the target groups who are looking for never-before-seen luxury experiences.
- The unveiling is based on the theme "ONESIAM Travel Club Presents Travel with Mom" by gathering together lists of promotions by leading hotels that are ideal to become gifts for all moms and family members.
ONESIAM SuperApp is the one and only luxury application featuring interesting content to meet diverse lifestyles, products, and services with special promotions while also serving as a CRM platform in the digital world to collect VIZ Coin to be used equivalently to cash for shopping at ONESIAM retail destinations and at the application. To build upon its success, ONESIAM unveils "ONESIAM Travel Club" serving as a luxury community lifestyle offering an array of special promotions for accommodations, spa treatments, and restaurants in luxury hotels all over the country. By joining forces with Numpaichai Co., Ltd., a consulting firm for online marketing of tourism business, the application will gather together the leading hotels' accommodations and a variety of services to deliver extraordinary experiences with irresistible prices and many privileged benefits for the customers who are willing to pay for their aesthetics of lifestyles and exceptional experiences.
Mr. Panthep Nilasinthop, Chief Customer Officer of Siam Piwat Co., Ltd., says "Driving on Collaboration to Win strategy by partnering with allies and partners in diverse industries to create the world-class ecosystem of success and reinforce the effective business beyond all boundaries, Siam Piwat has thus built up a strong team of business partners both in local and international levels. The current trend in the attention of the target group of ONESIAM Group is Hospitality & Wellness and there is an increasing number of customers whose passionate life is traveling and have continual purchasing behaviors. ONESIAM SuperAPP, therefore, creates a community titled "ONESIAM Travel Club" at the application to become a center of content and special offers on traveling. It is an honor to have Numpaichai Co., Ltd., a leading firm in the tourism business, meticulously selects special deals that have never happened before from luxury hotels across the country for the ONESIAM application which now has been downloaded by over 350,000 people."
Mr. Kasom Vichuladda, managing director of Numpaichai Co., Ltd., adds that the local travel business this year has a tendency to grow constantly, and his firm Numpaichai which is a consulting firm for online marketing of tourism business realizes that the expansion of customer base who has purchasing power is a vital business strategy of this year. By teaming up with ONESIAM SuperApp which has worked with potential partners in different business fields to create the ecosystem and uncommon experiences for the target group, this is a good opportunity for his firm to expand channels for the hotel partners to reach the new target group who have purchasing power.
"Our firm Numpaichai has expertise in planning business strategy for the tourism industry. According to current trends, we realize that business planning is very important for any business industry to provide particular offers catering to the target group's specific interests. This will help complete the customers' diverse needs and also enhance exceptional sentiment. We carefully select very attractive deals from leading hotels all over the country and curate distinctive promotions to meet the needs of our customers who are looking for a "Luxury Experience". Among the participating hotels providing enticing deals for ONESIAM Travel Club are Baba Beach Club Hua Hin, Baba Beach Club Natai, Devasom, Mason, Paradee, Pimalai, Silavadee, Sri Panwa, and The Tubkaak. Any hotels wishing to become partners of ONESIAM Travel Club can contact onesiamtravel@gmail.com," says Mr. Kasama.
In Thailand, the celebration of Mother's Day falls in August, and ONESIAM Travel Club which will unveil in August, 2022, comes with a related theme "ONESIAM Travel Club Presents Travel with Mom". A fine selection of hotels ideal for all moms and family members is provided and each travel package comes with Pool Villa accommodation, spa treatment, and special dinner for a complete luxury experience.
ONESIAM Travel Club at the application ONESIAM serves as a perfect companion for the community of travel buffs by constantly curating content and inviting offers. The application ONESIAM is now available for download and you will not miss out on special things ready on your mobile screens anyway and anytime.