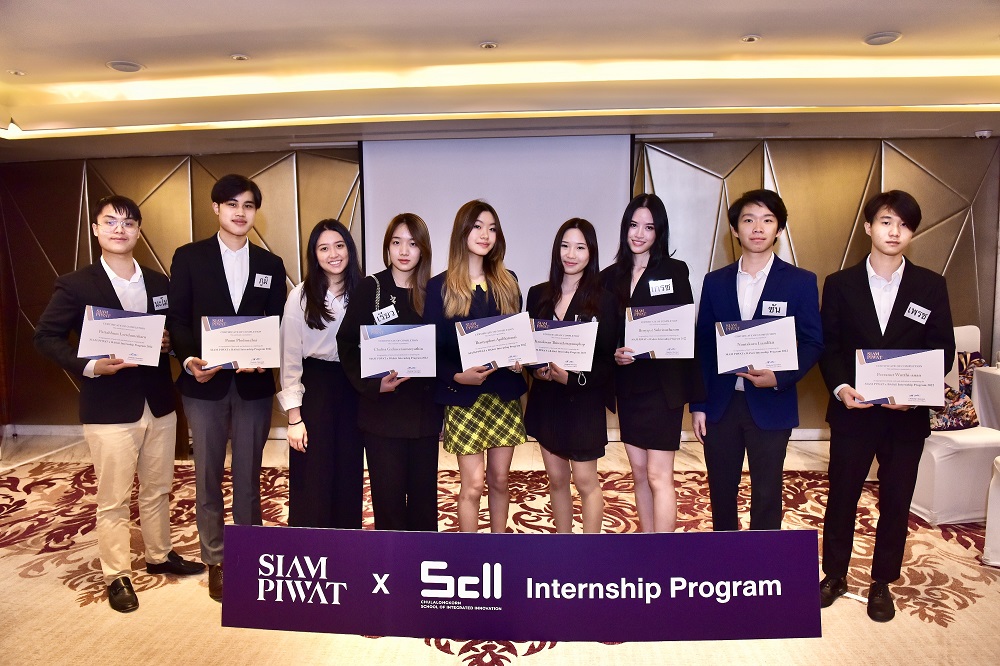 - An opportunity for next generation to join Siam Piwat's business development team and platform and nurture a driving force of Thailand's economics' future.
- A collaboration between Siam Piwat and School of Integrated Innovation (SCII), Chulalongkorn University to shape next generation leader to become invaluable assets for innovative businesses and organizations for an on-the-job training with Siam Piwat's team of professionals.
Siam Piwat Co., Ltd, a leading property and retail developer – the owner and operator of global destinations Siam Paragon, Siam Center, Siam Discovery and a joint venture partner of ICONSIAM and Siam Premium Outlets Bangkok, offers opportunity for new talents to join a 'Next Generation' team. This opportunity aims to prepare for the future and fast-pacing business development and nurture driving force of retail industry to reinforce and boost the country's economy. The exclusive internship program called "Siam Piwat x BAScii Internship Program 2022," open doors for university students to advance their potentials through on-the-job training with Siam Piwat's team of professionals who are key parts to build the company's many global destinations.
Chanisa Kaewruen, Head of Corporate Strategy Group, Siam Piwat Co., Ltd. said " At Siam Piwat, we take pride in being a 'Visionary Icon.'The integrated people development is our key focus, which not only include Siam Piwat's own human capital but also all stakeholders in the business ecosystem. We support and promote entrepreneurs at all levels through an exchange of knowledge, know-how, technology and experiences towards new forms of business development. We also work closely with designers, artists, creators and SMEs entrepreneurs and offer them a platform to present and promote their products and services at our global destinations. The supports also extend to stakeholders who share values with our businesses such as presenting Thais' creations to the eyes of the world.
As a business leader, Siam Piwat's envisions preparing new generation for the fast-changing business world. We have, therefore, partnered with Chulalongkorn University who has cultivated a network of developing future skill together with School of Integrated Innovation of Chulalongkorn University (ScII) who has developed integrated research and innovations to nurture next generation leaders that are in demand among businesses and industries. The collaboration also enables Siam Piwat to reach and engage with new talents and inspire then to pursue a career with us."
Nurturing young talents are Siam Piwat's key focus as they are to become tomorrow's driving force on business development and the country's economic scene. Siam Piwat's curated "Siam Piwat x BAScii Internship Program 2022" has welcomed 10 talents from Chulalongkorn's sophomore to senior students from Bachelor of Arts and Science in Integrated Innovation to join a two-month internship program from June – July 2022. The young talents had an exposure to on-hands experiences from Siam Piwat's management levels, project leaders and teams of professionals in Corporate Strategy, Shopping Center Business Units, Customer Experience, Retail, Strategic Investment and New Business Development. This mentored-project based internship enhance teamwork, know-how, skill development and practical advices. The participants also played a part in the company's key projects, developed and presented their special project plans which CEO and high-level management joined to offer in-dept ideas and advices.
Worapruch Wattanasuwan and Pattabhum Lertdumrikarn, the students participated in the Siam Piwat x BAScii Internship Program 2022" said "The experience with Siam Piwat is very invaluable. I am proud and much appreciated for this internship program. Siam Piwat's owns a warm corporate culture. I really enjoy the work and the real-life working experience." Nontakorn Liamlikit said "It is a great decision to join the internship program with Siam Piwat. Now I have a clearer picture of work in real life. It is fun, challenge, exciting and tired at the same time. All these feelings are truly priceless lessons. I feel my perspective in doing business has advanced greatly and, from now on, my visit to shopping centers will never be the same."
Gen Z girls Kanokwan Thiwathittayanuphap, Thanyaphon Apilikitsmai and Benyapat Sukvirasthanon who joined the marketing communication team said "The experiences on end-to-end work process and working as team are very valuable. We met new people and learned new things everyday. We have opportunities to work with experienced team in a great team environment. We feel useful and valued." Chalisa Gidmeerasmeeyothin who joined OneSiam SuperApp team said "I am honored to be a part of the organization development and part of the assigned work. I was warmly welcomed by the team and they always supported me. Siam Piwat is a big organization and I have learned many things I've never knew before.It is a very on-hand experience and I am thankful that Siam Piwat has taken such good care of us."
Thanathep Preedawiphat said "Siam Piwat is a true 'Visionary Icon.' My first impression is Siam Piwat is willing to take risk and always take a step further. I gained so many practical skills, studied consumer behavior closely and, most importantly, I practiced critical thinking and creative problem solving skills. Peeranut Wutthi-anan said "Siam Piwat is a large-scale organization and has many talented staff. I was in an environment that encourage learning and understanding the real-life perspective. The mentor and the team have taught me so much and help shape a great mindset and I am ready to create good impact to the society. Poom Plodmechaisaid "I am very impressed with my mentor. I have learned from my assigned work and earned practical experience from doing and problem solving. I am very impressed that Siam Piwat put importance on new generation and willing to listen to us. I do appreciated Siam Piwat."
Siam Piwat has paved way to develop high potential next generation in terms of'Education – Innovation – Research.' For education, Siam Piwat and Chulalongkorn has co-developed a curriculum that focuses on multi-dimensional development of well-rounded human resources. The students will learn Skill Acceleration to become future's leaderfrom Chulalongkorn's leading professors and experts in the fields. For Innovation, SCII students will learn from on-the-job experience, working hand-in-hand with Siam Piwat's team. The high potential innovative projects will have a high chance to become a real business which will benefit both human and economic development. Research is dedicated to researching on skill development and innovative co-projects which gave birth to 'Human Capital Acceleration'projects that fast-track the future generation development, innovations and economy at the same time. Assoc. Prof. Natcha Thawesaengskulthai, Ph.D., Vice President for Strategic Planning, Innovation and Global Engagement, Chulalongkorm University is overseeing the "Human Capital Acceleration' project that focuses on key future skills for next generation leaders.
This is a very important role that a large organization and industry leader that value the young generation and give them opportunities, supports and development to nurture next generation to be a driving force for future development of business, society and the country.