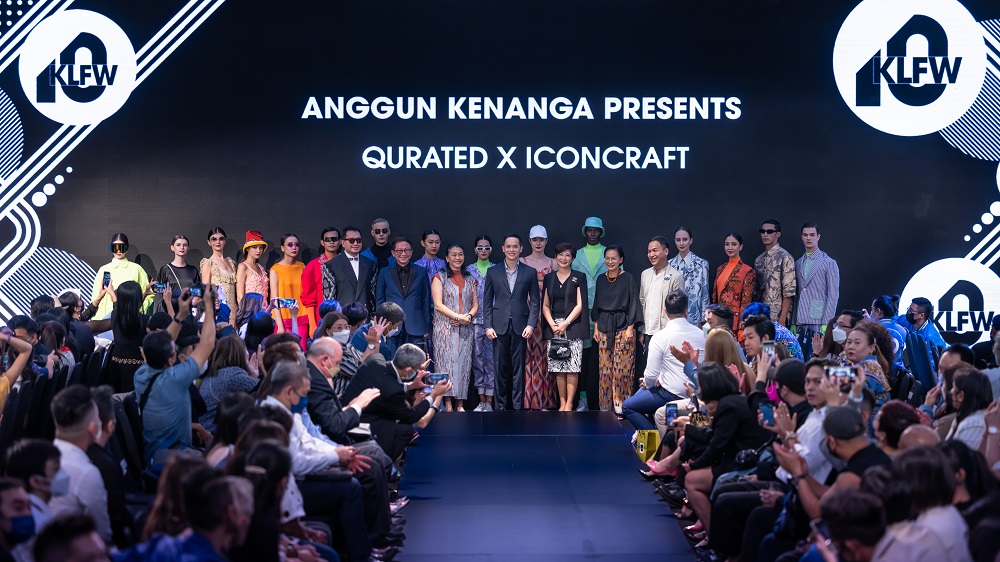 Siam Piwat joined forces with the Department of International Trade Promotion (DITP), the Ministry of Commerce, to bring Thai designers onto the global stage by launching Qurated X ICONCRAFT, a special project to create fashion show "Sawasdee KL", a gorgeous and exclusive multi-brand collection designed to showcase a local wisdom and craftsmanship to Malaysian fashionistas as it makes a successful debut at Kuala Lumpur Fashion Week in August 2022.
ICONCRAFT is one of the three brands opened in Pavilion Bukit Jalil recently from Thailand's award winning and leading real estate and retail developer, Siam Piwat, under the collaboration with Pavilion Group, owner and operator of high-end department stores in Malaysia.
Siam Piwat, owner and operator of world-class projects such as Siam Paragon, Siam Center, Siam Discovery and a joint venture partner of ICONSIAM and Siam Premium Outlets Bangkok, launched ICONCRAFT as a hub of inspiration that showcases the height of Thai craftsmanship to the world and present local wisdom in a new perspective. It is a door of opportunity for over 800 Thai craftsmen, designers and local communities across Thailand and seeks to forge path towards modern trade and promote Thai brands to be known and recognized on the global stage.
Mrs Parisa Chatnilbandhu, Senior Director of Retail Concept Shop, Siam Piwat Co. Ltd. said "ICONCRAFT has a mission to promote Thai craftsmen and local wisdom in a new angle of creative craftsmanship. With an aim to support the innovation capabilities and quality development for Thai artisans, we have collaborated with both domestic and international strong partners to open opportunity for Thai craftsmen to excel to their upmost capability and ultimately to share wonders with craft admirers. Sawasdee KL helps ICONCRAFT to achieve this."
Qurated X ICONCRAFT intends to create and introduce new perspective of Thai inspired fashion to upstage into Malaysian fashion scene in the capital city, Kuala Lumpur. This collection is the works of 40 talented designers who have been incubated to create fashion collection, Sawasdee KL, for Spring / Summer 2023. As part of Qurated Fashion Incubation Project in collaboration between ICONCRAFT and the Department of International Trade Promotion of the Ministry of Commerce, the project recruits Thai
design apprentices selected from across Thailand to go through intensive seminars and workshop series conducted by famous fashion experts and gurus who also acts as the advisory board. The apprentices have been well-trained about fashion trends, market analysis, brand awareness, collection design process and digital marketing.
"Sawasdee KL" collection is exclusively created. Every single design has its own story, and it is all about Thailand, highlighting a vibrant city like Bangkok and the upcountry beaches such as in Krabi, mountains in Chiang Rai and paddy fields in Sukhothai. Every piece is inspired by Thai culture, wisdom and incorporates the soul of designers. The colors of this collection tell of the well-being, energizing and cheerful persona of Thai people. Experimental coloring technique such as tie-dye is hybridized with neon color block to produce new color spectrum; strong and aggressive batik coloring is sweetened with pastel shades that emanating soft radiance; indigo tie-dye is topped up with screen printing that captures the modern urban street style; block printing originated from the Hmong hilltribe up north of Thailand, breaks out from its traditional patterns and is replaced by hipster motifs.
The material used are no ordinary as they are created, weaved, and tailored from contemporary ideas but made from traditional intertwined with modern techniques. Well-known luxurious Thai silk such as 'Mud Mee' are created in young and Bohemian style fashion; crochet craft extended to extravagant dresses, mini bags and clutches. In addition, Qurated X ICONCRAFT also involves sustainable and natural materials such as hemp, rattan and palm leaf fibers are all used to create fashionable accessories.
Sawasdee KL fashion show by Qurated X ICONCRAFT was well-received by fashionistas at Kuala Lumpur Fashion Week on 19 August 2022. On top, exhibitions will be held in two locations including Pavilion Kuala Lumpur from now until 28 August 2022 and thereafter to Pavilion Bukit Jalil during 29August 2022 to 30 September 2022. Thai fashionistas can follow via Facebook and Instagram at @DiscoverySiamOfficial. For more information about ICONCRAFT products created from Thai wisdom and innovative crafts, such as jewelry, crafted souvenirs, home décor crafts, Thai art and design crafts and lifestyle and everyday crafts, please visit ICONCRAFT 4th and 5th floor at ICONSIAM and 3rd floor at Siam Discovery.