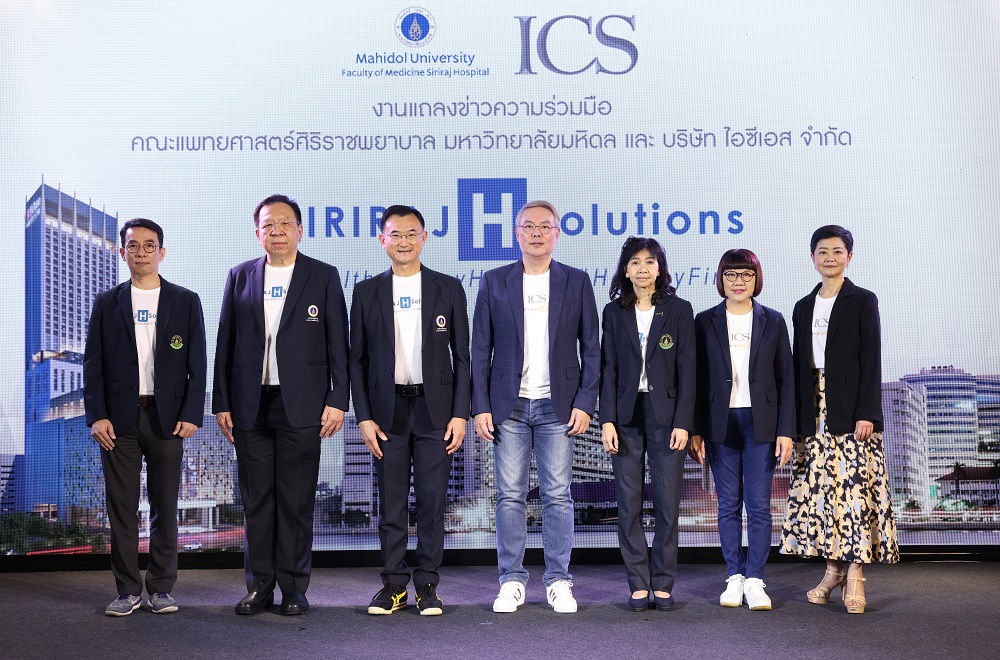 Prof. Apichat Asavamongkolkul, Dean Faculty of Medicine, Siriraj Hospital, Mahidol University, Clinical Professor Visit Vamvanij,M.D.Director of Siriraj Hospital, together with Mr.Supoj Chaiwatsirikul, Managing Director of ICS Co., Ltd. held a press conference to unveil a new projected named Siriraj H Solutions – Thailand's first comprehensive health service centre outside the hospital and the first time inside the shopping centre.
Located at ICS Mixed-Use Lifestyle Town, a major extension of the ICONSIAM -a global shopping destination along the Chao Phraya River - the centre is operated under the concept of 'smart medical centre with easy accessibility'. It focuses on healthcare before illness and provides personalised medical services from a location conveniently and is accessible by multiple transportation ways – by car, boat and rail.
Prof. Apichat Asavamongkolku, Dean of the Faculty of Medicine, Siriraj Hospital, Mahidol University said the Siriraj H Solutions, a centre for Preventive healthcare and life-balance integration and a result of collaboration between the university and ICS, is the first innovative medical service that open inside the shopping centre under with the concept of 'Decentralized Health Centre' system. It is gearing towards providing easy and convenient access for a patient which is matching the lifestyle of the new generation who cares about health.
The facility emphasises the concept of 'Healthy First,' connoting that success in all areas of life must begin with good health. The Faculty of Medicine, Siriraj Hospital, strives to become a model to induce Thai people to pay greater attention on their physical and mental well-being before getting sick so that they can live life to its fullest potential. At the centre, a team of medical personnel from the Faculty of Medicine, Siriraj Hospital, will act as a 'Health Coach' with innovation and technology certified to medical standards. They will provide bespoke personalized health care services and integrating treatment data seamlessly, according to Dr Apichart.
Meanwhile, Clinical Professor Visit Vamvanij,M.D. Director of Siriraj Hospital noted that the Siriraj H Solutions' goal is all about 'Happy-Healthy-Holistic' – being a proactive health centre that provides innovative check-up, preventive treatment, mind and body balance, enhancement and therapeutic, and revitalised and anti-ageing. A team of doctors and medical personnel will work as health coaches to design a programme best suited to both physical and mental health care according to individual lifestyles for all ages from a convenient access site thanks to its location in a shopping centre, and free from hassles and restrictions of travelling to the location.
The centre will help fulfil life balance with integrated medical services at one stop with specific clinics dedicated to health check-up, male health, female health, stress relief, physical therapy, child and adolescent health, skin and beauty, exercisers and Sappayasathan (comfortable in dharma), he stated.
The Siriraj H Solutions is expected to officially open for service in 2023. However, visitor could come to an event to learn more about the centre at Watthana Hall, 3rd Floor, ICONSIAM There are many activities in the event to introduce to wide-ranging services that the centre will provide through exhibition booths at ICONSIAM including:
- Health check-up
- Siriraj applied Thai traditional medicine
- Recommended diagnosis with Thai traditional medicine
- Using Thai herbs for medicinal purposes
- Stretching technique to prevent Office Syndrome
- Recommendation of food according to the host element
- Rehabilitation and physical therapy
- Demonstration of neck, shoulder and shoulder pain treatment with shock wave and PMS machine
- Aesthetic consultation on skin diseases, skin health, hair, thin scalp andhair loss
- Comprehensive nail care
- Preventive education and self-care by Siriraj Diabetes Centre and Nursing Department, Siriraj Hospital
Mr.Supoj Chaiwatsirikul, Managing Director of ICS Co., Ltd. said the establishment of Siriraj H Solutions on ICS's premises provides people with more convenient access to medical services while responding to the needs of customers who come to the location for several purposes. That corresponds to the behaviour of the new generation who want to manage time constraints under their preferred lifestyle within easy reach and not having to go places to meet their needs. Beyond that, with the location of ICS that could be accessed by car, rail, and boat, this supports people to come to the centre more convenient than before.
The Sriraj H Solutions - a centre for Preventive healthcare and life-balance integration - will cover the entire fifth floor of the ICS building, with an area of more than 3,000 square metres. The centre's establishment represents a major synergy between the two leaders in their respective fields - ICS in retail business and the Faculty of Medicine, Siriraj Hospital in state health care in medical service. Furthermore, it is a millstone of improving quality of life of the people in Thonburi area, enabling many to be able to access the healthcare service under the concept of 'integration' with more convenience and speed than before" added Mr.Supoj.
The ICS Mixed-Use Lifestyle Town is a new project providing wide array of services including a shopping centre, office building and a hotel situated on a prime location and connect to ICONSIAM and Charoen Nakhon Golden Line sky-train Station. ICS is expected to serve more than 40,000 people per day.