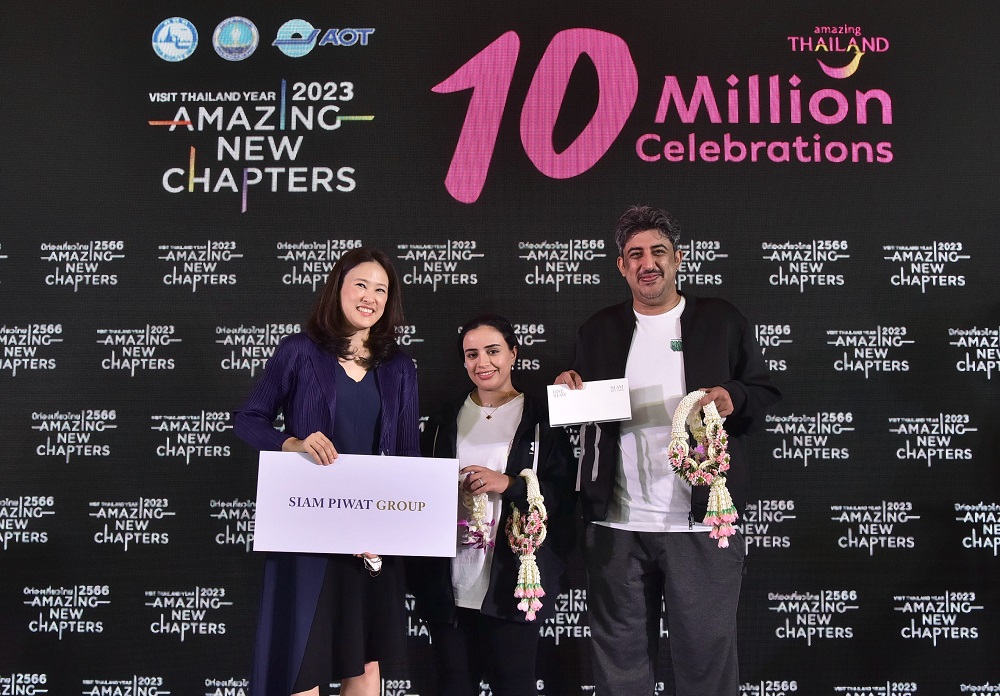 Siam Piwat Group, a leading property and retail developer - the owner of global destinations; Siam Paragon, Siam Center, Siam Discovery and a landmark along the Chao Phraya River ICONSIAM, as well as the only original premium outlet in Thailand Siam Premium Outlet Bangkok, joined the "Amazing Thailand 10 Million Celebrations" to mark the 10 million tourists travelling to Thailand and welcomed the 10 millionth visitor of year 2022. The event was organized by the Tourism Authority of Thailand (TAT), Ministry of Tourism and Sports, on December 10, 2022 at Suvarnabhumi Airport. Siam Piwat's five destinations are recognized as key tourists magnets and world-class shopping and lifestyle destinations.
Mrs. Tanavan Arkaleephan, Senior Director, Tourism Marketing Department, Siam Piwat Co., Ltd. said, "Thailand has seen a continuous increase of foreign tourists, especially during the peak festive season which international tourists are celebrating their holidays. The increasing numbers of tourist is also fueled by the the government's country reopening meausres and the cooperation between authorities and private sectors. Being a 'Land of Smile,' is also one of the factors international tourists and shoppers have preferred Thailand as their top-of-mind destination, with its warmth, smiling nature and Thai hospitality. One Siam which is a synergy of Siam Paragon, Siam Center. Siam Discovery as well as ICONSIAM and Siam Premium Outlet Bangkok, have been collaborating with various sectors to welcome visitors and deliver ultimate experiences, that contributes to returning visits to the country.
The TAT's "Amazing Thailand 10 Million Celebrations" that highlighted the welcome of the 10 millionth tourist of 2022 at Suvarnabhumi Airport was inaugurated by Prime Minister General Prayut Chan-o-cha, Minister of Tourism and Sports Mr. Pipat Ratchakitprakarn, TAT Governor Mr. Yuthasak Supasorn. Siam Piwat Group participated in the event and gave special prizes to this year's 10 millionth traveler, including shopping vouchers and shopping bags. Moreover Siam Piwat Group also gave welcome pack for passengers from the same flight from Saudi Arabian Airlines, flight SV 846, and tourists from other flights totaling more than 700 people.
For the year-end festivity, ONESIAM, ICONSIAM and Siam Premium Outlets Bangkok join forces to welcome tourists with a variety of celebrations. Siam Paragon, Siam Center. and Siam Discovery have formed a global collaboration with global brand, "SMILEY®" in the campaign "ONESIAM Siam SMILEY®" Celebration Infinite Happiness," that emphasize being the 'land of smiles' that offer happiness and warm welcomer Thai and foreign shoppers. ICONSIAM organizes a world-class event under the theme "ICONSIAM Magical Enchanted Celebration" which highlights the New Year's Eve countdown event, "Amazing Thailand Countdown 2023", marking the Chao Phraya River as a global destination and earned Thailand's a world recognition where the country rings in The New Year with the spendor of the Chao Phraya River. Siam Premium Outlet Bangkok presents the festival of happiness under the theme "The Journey to Celebration", with live music performances will be presente every weekend and long holidays in December.
It is a pride for Thai people that foreign tourists choose to visit Thailand and Siam Piwat Group is dedicated to support and promote Thai tourism, to drive Thailand as the top-of-mind destination.