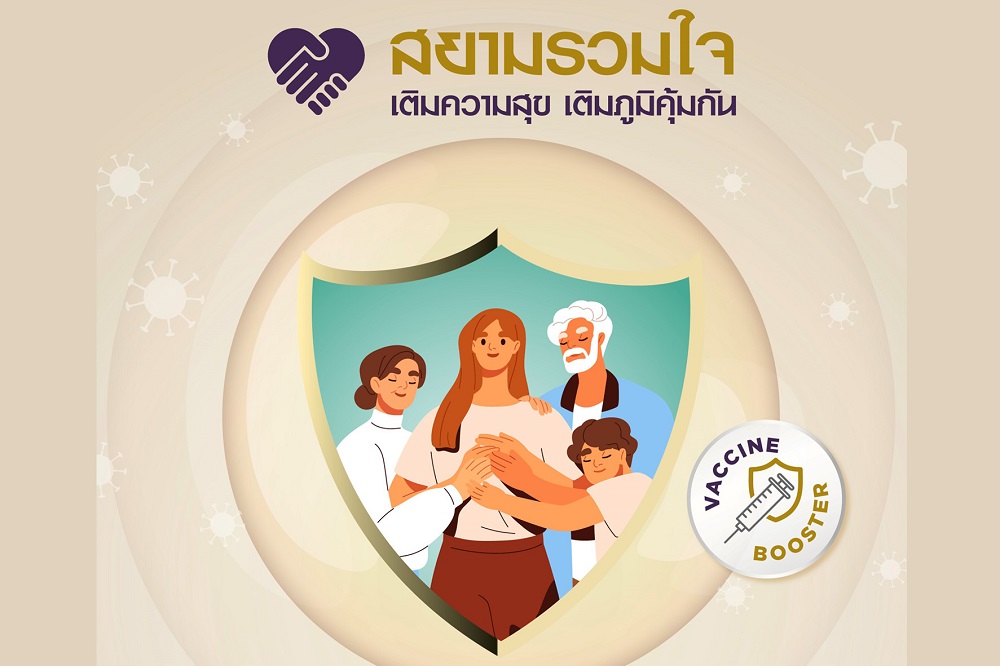 Siam Paragon and ICONSIAM, in collaboration with the Department of Disease Control under the Ministry of Public Health, Samitivej Hospital, and Thonburi Hospital, are opening public vaccination sites to offer booster shots to interested members of the general public as part of the Siam Ruam Jai vaccination project from December 19 to 26, 2022 in Meeting Hall 10 at True Icon Hall on the 7th Floor of ICONSIAM and in Meeting Halls 5-6 at Royal Paragon Hall on the 5th Floor of Siam Paragon. The vaccination sites accept walk-in visitors, with effective management and maximum safety measures in place to ensure a convenient and safe vaccination experience.
In support of the project, Siam Paragon and ICONSIAM have prepared the venues for public vaccination at Royal Paragon Hall and True Icon Hall, both of which offer ample space. As the vaccination sites will be able to accommodate a large number of visitors while still adhering to physical distancing guidelines and maintaining strict compliance with disease prevention standards thanks to an efficient management system, visitors can be assured of maximum safety.
For this collaboration, Samitivej Sukhumvit Hospital will be providing medical professionals and equipment working for the venue at Siam Paragon and Thonburi Hospital for the venue at ICONSIAM. The services will be carried out with the same level of quality and standard as at the hospitals, with measures put in place to ensure the safety of the vaccine recipients and prevent diseases, maintain the quality of the vaccines, and provide care to patients in case of allergic reactions and emergencies. Medical professionals will also be stationed at the sites to deliver prompt care as necessary. The Department of Disease Control will serve as the central unit and allocate Pfizer and AstraZeneca vaccines for the free vaccination. Each site is expected to be able to vaccinate approximately 500 visitors daily, or a total of 1,000 people across both locations.
Those interested in receiving a Pfizer (for those aged 12 and over) or AstraZeneca (for those aged 18 and over) vaccine can walk in to either location daily from 10 AM to 5 PM.
- December 19-26, 2022, at Meeting Hall 10, True Icon Hall, 7th Floor, ICONSIAM
- December 20-26, 2022, at Meeting Halls 5-6, Royal Paragon Hall, 5th Floor, North Side, Siam Paragon (Open at noon on December 20 and open from 10 AM to 5 PM from December 21 to 26)
For more information, please contact ICONSIAM Call Center at 1338 or Siam Paragon Call Center at Tel: 02-610-8333.
The collaboration between two private sectors aligns with the government's mission to give the general public prompt and widespread access to COVID-19 vaccines and help Thailand navigate and overcome this crisis.