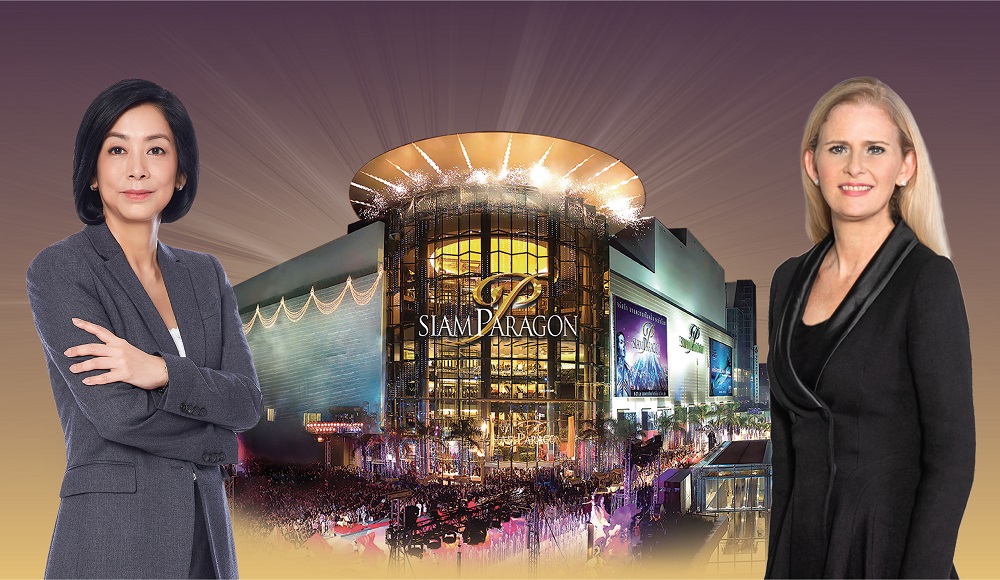 - Siam Paragon has launched a transformation project to redefine the 'global legendary landmark in the heart of Bangkok', to new heights of excellence and meet new lifestyle needs of the future.
- Siam Paragon will create a global prototype of a platform where the best of the best from every field can come together and co-create world-class projects and experiences that exceed all expectations.
- The transformation will seamlessly bridge the physical world, the digital world, and the Metaverse to present the incredible and exciting lifestyles of the future.
- Siam Paragon has generated record-high revenue in 2022, with over 50 percent growth from the previous year. The leap successfully surpassed its pre-covid market value in 2019, despite a significantly smaller number of international visitors. Luxury brand growth has climbed to world's top ranking in sale. The success reinforces Siam Paragon's strong leadership of affluent shopper segment.
Siam Paragon, a world-class destination, has officially launched a transformation project to redefine the 'global landmark in the heart of Bangkok' to new heights of excellence and meet all the lifestyle needs of the future, reinforcing its positioning as one of the most-visited 'global landmark destinations'. Commenced in the end of 2022, the 3,000-million-baht investment project will take 18 months to complete, with a projected completion date in mid of 2024. The transformation is unveiled together with the achievement of soaring revenue in 2022, which beat the target and surpassed the pre-covid sale in 2019. The luxury segment has led the jump in sale and recorded world's top ranking. The robust success amplifies Siam Paragon's strong leadership of high-net-worth shoppers segment.
Ms. Caroline Murphy, President – Sales and Business Relations of Siam Piwat Co., Ltd., stated, "Over the past 17 years, Siam Paragon has established itself as a global destination that has earned the top-of-mind position among Thai and international visitors alike. As a vital part of Bangkok's DNA, Siam Paragon has been meshed into every heartbeat of this metropolis and has breathed vibrancy into the daily life of people in Bangkok. It is also the ultimate microcosm where visitors from across the globe can come and experience the latest lifestyle trends of Bangkokians."
"Siam Paragon has been a platform for retailers, including luxury brands and local entrepreneurs, to showcase the best of the best. As reception for luxury products has been phenomenal and some of the world's highest growth in sales has been achieved here, Siam Paragon has established itself as a bona fide destination for luxury items. In addition, many brands have opened pop-up stores in our venue to offer limited collections, thus generating buzz and experience beyond expectations for customers, reinforcing Siam Paragon's leadership in the affluent customer segment in Thailand. Furthermore, Siam Paragon has been ranked as the world's 6th most checked-in destination and the only venue in Thailand and Asia to place on Facebook Review's list of top-ten global destinations, making it truly a global legendary landmark."
"Siam Paragon has recorded a high achievement in 2022, with values of revenues exceeded the target sale – a 50 percent rise from a year earlier. The accelerated growth also surpassed the pre-Covid-19 in 2019, despite a significantly less presence of international tourists. Luxury segment has led the leap in sale and reported soaring profits that ranks world's top performance in three successive years. Luxury brands have prioritized Thai market as their key target to offer special concept stores or unveil latest collection in South East Asia and Asia. The focus also accelerates the surging demand from luxury store for expansion and additional locations. The solid need is in line with Siam Paragon's new investment plan that enable the coming of more luxury labels and new brands with over 100 names now in the waiting list. The newcomers will include brands that will make their debut in Thailand and brands that will be available exclusively at Siam Paragon. These factors clearly reinforce Siam Paragon as the true global 'Luxury Destination.'
Ms. Caroline added, "We will build a new global prototype of a platform where the crème de la crème from every field can come together and co-create world-class projects and experiences that exceed all expectations. This new project is called "The Next Level Evolution," in which we will create yet another phenomenon in the retail business as we transform Siam Paragon, a world-class landmark in the heart of Bangkok, to redefine excellence and cater to all lifestyle needs of the future. The game-changing transformation of the 500,000 sq.m. destination in the middle of Siam will also place Thailand firmly on the global stage once again and enable it to win over the world."
From 2022, Siam Paragon's has been reenergizing its 'Paragon Department Store' which scheduled to complete in 2023. Siam Paragon is investing more THB 3,000 billion for the transformation of the 'global landmark in the heart of Bangkok'. Renovation has been ongoing in sections since the end of 2022 and is expected to reach completion in the mid of 2024, or 18 months from now.
Vision for the Transformation of Siam Paragon
Ms. Mayuree Chaipromprasith, President of Corporate Affairs and Communications, Siam Piwat Co., Ltd, described the vision for the transformation of Siam Paragon. "We believe in the ecosystem that we have created and in its the boundless potentials. From the collaborations of various industries, together we will co-create new phenomena. We are putting away traditional real estate development playbooks. Siam Paragon will no longer be a shopping center but a global platform where experts from all fields, including architects, engineers, interior designers, art and tech gurus, as well as luxury brands across the world and Thai entrepreneurs can engage in co-creation. The platform will also seamlessly connect the physical world and the digital world through OneSiam SuperApp and the Metaverse to fulfill lifestyle needs for all visitors and deliver world-class experiences beyond expectations in all dimensions."
"Siam Paragon is highlighting the idea of co-creation on this platform to bring about sustainable development and business growth. This is where everyone will collaborate to redefine excellence. Many entrepreneurs have already launched highly successful flagship stores, and for this next level, we will work with them to bring to life the one-and-only ultimate iconic stores in Thailand."
"Each day, Siam Paragon welcomes visitors from all over the world. We are placing a strong emphasis on fostering Siam Paragon as an ideal community for citizen of the world. We have been conducting our most in-depth and broadest study on the largest group of customers to get insightful data. These date will be cultivated to best resonate with their needs and wants, their passions and broad spectrum of their interests, to deliver distinctive and engaging experience. As part of this major transformational changes, we will create an immersive community interaction where customers will be a part of this key milestone. We will soon introduce 'The Wall of Wonders' campaign that features a shared community space where locals and international customers can share their ideas on interactive walls what they would like to see and experience at Siam Paragon. We will integrate those ideas from people from around the globe into our space, to create thriving varieties that caters to each community with cutting-edge technology to meet multi-dimensional lifestyle in a fascinating way. The 'Wall of Wonders" campaigns will soon be announced," said Mayuree.
The Pillars of Siam Paragon – The Next Evolution
To rise to new heights of excellence and meet all lifestyle needs of the future, Siam Paragon – The Next Evolution will be built upon five pillars as follows:
1. Universe of the World's Excellence
To complete this ultimate transformation, Siam Paragon is relying on co-creation and collaboration with visionaries from every industry to bring about the greatest phenomenon of the 21st century, deliver groundbreaking innovations never before seen in the retail industry, and ultimately elevate Siam Paragon to a global legendary destination that sets a new benchmark of excellence.
2. Gateway to the Next Frontier Where the Digital World Meets the Physical World
Siam Paragon will become a new global prototype of a co-creative platform that seamlessly bridges all the five physical senses with the imaginative power of the digital and virtual world to present lifestyles of the future in a way that goes above and beyond all expectations and deliver physical experiences that mesh perfectly with the eye-popping wonder of the virtual world – a new key magnet that will draw visitors from across the globe to Siam Paragon.
3. Celebration of Inclusive Luxury
Over the past 17 years of operation, Siam Paragon has established itself as the leader in Thailand's highest spending consumer segment and as a destination that boasts the most comprehensive range of luxury brands. The new historic transformation of Siam Paragon will redefine luxury for all, regardless of age, gender, or walks of life, across every sphere, from fashion, lifestyle, dining, travel all the way to technology, finance, and other personalized experiences. This will mark the first time ever in the world that everyone can access and experience luxury in every facet of life and reward themselves.
4. Pioneering Quality Life Experience
As an integral part of this transformation and the development of a prototype for future lifestyles, Siam Paragon will be co-creating a large space with its partners to bring art, technology, and nature into the venue to contribute to a cleaner world, improve energy efficiency, cater to sustainability-minded lifestyles, and ultimately enhance the well-being and the way of life for communities and the world, all this in a way that goes beyond the bounds of imagination. Visitors will be able to spend their time in Siam Paragon as their second home where they can take in nature, in an environment with excellent temperature and hygiene management and one of the best greenhouse gas management systems in Asia.
5. The Paragon Community of Global Citizens
Siam Paragon strives to rise to new heights and deliver both in-store and digital experience beyond expectations, which will further strengthen Siam Paragon's capability to expand its customer base to global citizens and achieve sustainable growth. Siam Paragon is creating new 'cluster' spaces, that offer products, services and activities that serves the needs of different communities. By engaging customers and fostering a sense of ownership of that communities, customers can share ideas, interests, create opportunities, discover new technologies and business opportunities from where ever they are.
Siam Paragon is in the process of considering more world-class concepts to feature for the first time in Thailand and the world, thus concluding all the exciting highlights of Siam Paragon – The Next Evolution.
"Researches have shown time and again that Siam Paragon has always been the number one destination for Thai and international visitors and has become a familiar part of the lives of Bangkokians of all generations. Through the long-standing and close relationships with its customers, fostered through billions of visits, Siam Paragon has developed a truly unique character. Therefore, while we are going ahead with a major transformation to rise to the next level of excellence and meet all lifestyle needs of the future, which is full of promise of so many exciting offerings, we recognize the necessity of preserving our essence, which gives Siam Paragon its distinctive identity and has earned Siam Paragon a special place in the hearts of all visitors that cannot be replaced by any other development project," concluded Caroline.