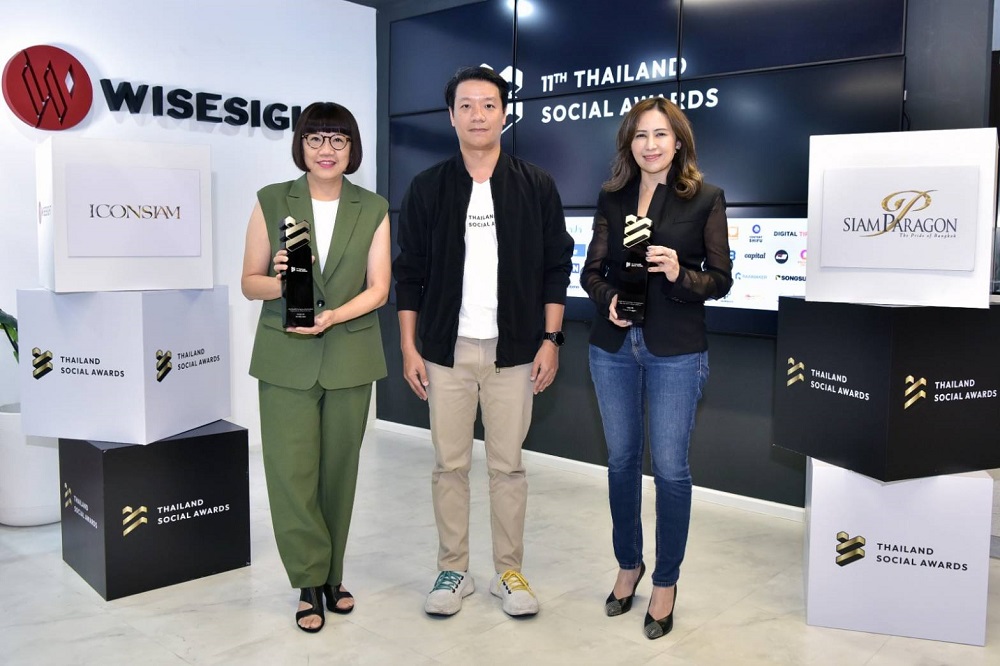 Siam Piwat Group, a leading real estate and retail developer, is reinforcing its success as the developer of world-class destinations as Siam Paragon has won the Best Brand Performance on Social Media Award in the Shopping Center and Department Store Category and ICONSIAM has been named one of the five finalists at the Thailand Social Awards, hosted by Wisesight (Thailand) Co. Ltd.
The accolades reflect the strength of Siam Piwat Group as the Visionary Icon in delivering unparalleled and unique experiences across its shopping centers though both online and offline platforms that have won over the hearts of social media users.
Ms. Thanaporn Tantiyanon, Head of Business Unit, Siam Paragon, said, "I'm very pleased and proud that Siam Paragon has been named the winner for Best Brand Performance on Social Media in the shopping center and department store category. This award underlines Siam Paragon's success in delivering to its customers experiences beyond expectations across all dimensions through a diverse array of marketing activities, events, and product launches for many world-class brands across various industries. This has enabled Siam Paragon to maintain its top-of-mind position and strong presence among social media users. Currently, Siam Paragon is undergoing a major transformation that will elevate this world-class landmark to new heights of excellence and into an epicenter of lifestyles that will cater to lifestyle needs across all aspects of the future in a more comprehensive manner."
Ms. Suma Wongphan, Executive Vice President, ICONSIAM Co., Ltd., stated, "This social media accolade testifies to the success of our plans to carry out marketing activities through extraordinary experience and deliver services that truly resonate with the customers. By analyzing both data from the platforms as well as data obtained by monitoring online media, we have gained insights into each group of customers and been better able to deliver more tailored and personalized content, services, and promotions. In addition, the fact that ICONSIAM has been selected as the venue for various world-class conferences, seminars, and entertainment activities by world-renowned artists has significantly heightened the engagement rates among our customers and those interested in our brand and marketing activities on social media. This has played a vital role in placing us on the list of the top five brands with the best social media performance. This award highlights our success and aspiration to establish ICONSIAM as a world-class destination and represent Thailand by showcasing the unique essence of Thainess to the world and bringing together the finest offerings of Thailand and of the world to this global landmark by the Chao Phraya River."
Mr. Kla Tangsuwan, CEO, Wisesight (Thailand) Co., Ltd., said Siam Paragon has been named the winner of the Best Brand Performance on Social Media Award in the Shopping Center and Department Store Category at the Thailand Social Awards this year. The selection process involved the collection of data from the social media accounts of more than 2,000 brands, with data from over 80 brands specifically gathered for the Shopping Center and Department Store Category. The data was then analyzed by a team of 18 consultants. The metrics were based on both the brands' own social media channels and how the brands were talked about elsewhere. The four main platforms that served as data sources were Facebook, Instagram, Twitter, and YouTube.
"In this year's ranking, Siam Piwat's shopping centers have claimed two spots on the list. Siam Paragon, with an exceptional score among its competitors, has secured the top spot for the best brand performance on social media in the department store and shopping mall category, while ICONSIAM has been named as one of the five finalists in the same category."
The Thailand Social Awards is the largest social media award program in Thailand, hosted by Wisesight (Thailand) Co. Ltd., a social media analytics service provider. The award ceremony was organized in True Icon Hall at ICONSIAM on February 22, 2023. Held for the 11th consecutive year, the award program seeks to celebrate the creative use of social media, elevate the social media business, and recognize brands, influencers, and personnel with outstanding performance and marketing capabilities on social media in different categories based on concrete metrics.