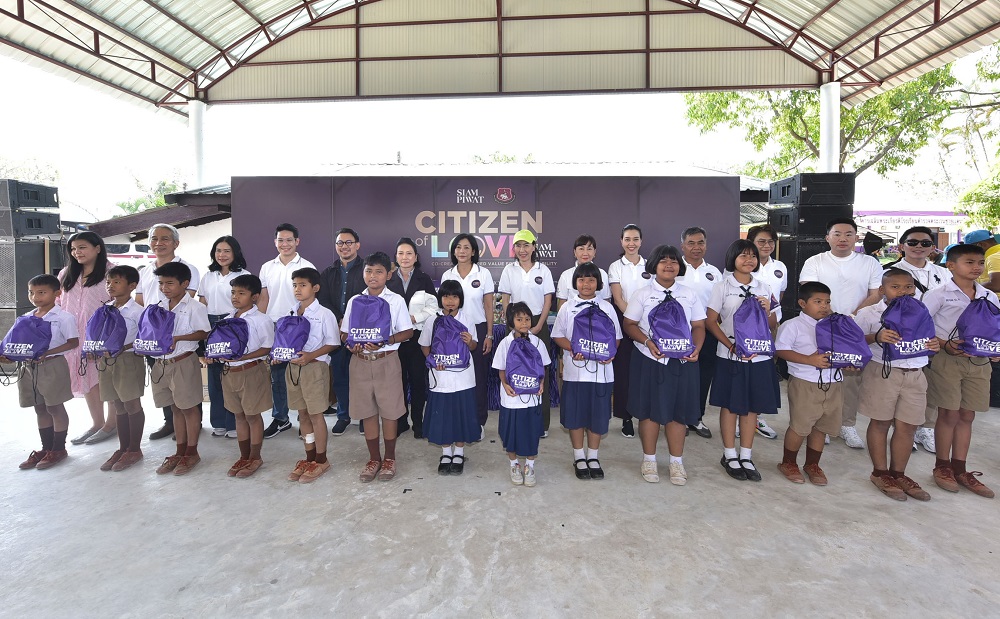 Siam Piwat Group, the owner and operator of prestigious world-renowned retail developments such as Siam Paragon, Siam Center, Siam Discovery, a joint venture partner of ICONSIAM as well as Siam Premium Outlet Bangkok, is determined to operate the business to bring benefits to society at large and be part of efforts to help elevate the quality of life of Thai people for over 64 years.
To carry on its corporate social responsibility and happiness sharing activities, Siam Piwat together with Border Patrol Police Headquarters and Loft jointly launched "Citizen of Love by Siam Piwat" project, which is held every year to encourage the public to donate gifts, educational supplies and unused stationery to students in remote areas. The activity called "Gifts for Them: Power of Giving, Let's Offering Education Opportunities" which was held from 14 December 2022 to 31 January 2023, received strong support from business partners and customers.
To make the project perfectly meet the objective, Siam Piwat Group made a trip to deliver all donations received from the project to students in five Border Patrol Police Schools in remote areas in Sa Kaew province. The delivery ceremony which was held on 17 February at Baan Kao Sarapi Border Petrol Police School in Aranyaprathet district, Sa Kaew also packed with many activities including lunch meal, hair cut service and edutainment activity. Renowned artist, Somnuek "Parn" Klang Nok also joined the trip to facilitate a special drawing class for the students.
The highlight of activity that delivered smiles and happiness to the students was a surprise clip from alternative rock duo Paper Planes, the favorite idol of teenagers, milk teeth youth, with Thanva "High" Katesuwan and Nakarin "Zen" Khunpakdee boosting up the students' energies with their warm and inspiring messages.
The delivery ceremony was also packed with food, snacks and necessities with kind support from business partners. The happiness caravan included Krispy Kream Doughnuts, Mali condensed milk, toys from Play Mobi, Playmore's gummies and candies, Carson socks, snacks from European Food, soft drinks from Lin, Mae Pranorm chili paste, and Tra Choo Tra Chang fish sauce.
"Citizen of Love by Siam Piwat" is held every year with a mission to operate a business that benefits the general public, communities, and society for over 64 years. The project is part of its efforts to help elevate the quality of life by providing opportunity and fostering equality in society which will ultimately promote the country's sustainable development.