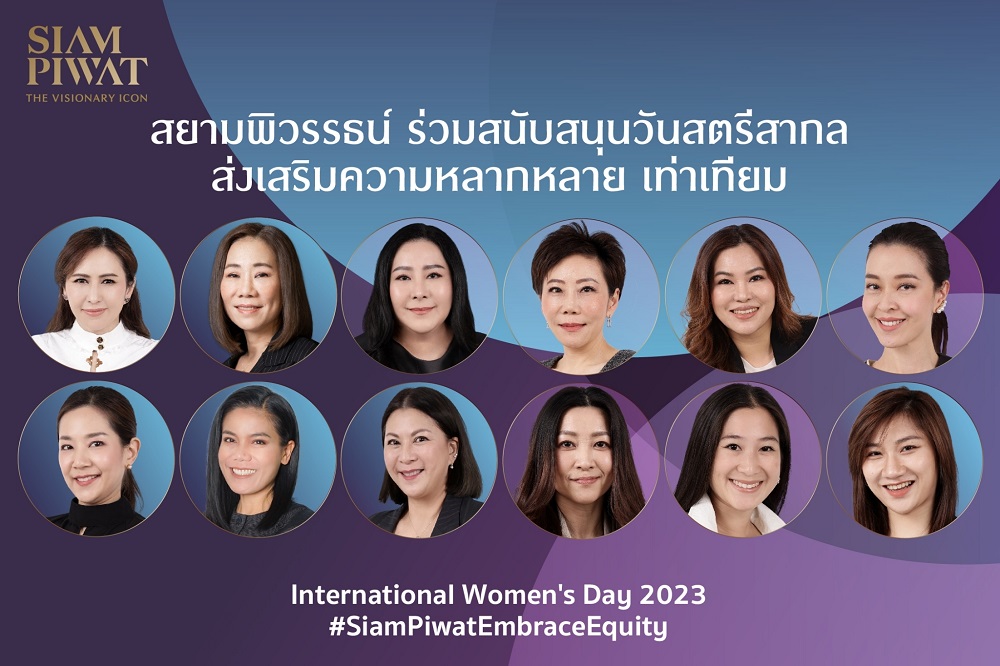 Siam Piwat joins in supporting International Women's Day (IWD) on March 8, 2023 to reinforce its commitment to diversity and women empowerment under IWD's main campaign, #EmbraceEquity. The company strives to become a role model in fostering diversity and equality as well as open doors of opportunity for all groups of stakeholders to thrive on its well-growing platform and contribute to sustainability in all dimensions.
Siam Piwat, the leading real estate developer of world-renowned projects, such as Siam Paragon, Siam Center, Siam Discovery, ICONSIAM, and Siam Premium Outlets Bangkok, is helmed by a management team comprising over 67% women, under the female leadership of Chadatip Chutrakul, Chief Executive Officer of Siam Piwat Group, who has steered the business to surpass every limitation and overcome every crisis – a success affirmed by awards from international organizations, such as the UN Women 2022 Thailand Women's Empowerment Principles (WEPs) Award for Gender Equality in the Workplace and the Excellence in Women Empowerment Strategy Award from the HR Excellence Awards 2022. All of these achievements stem from Siam Piwat's commitment to equality and diversity and its earnestness in translating the commitment into practice. Let's get to know the strong women playing major roles in driving Siam Piwat towards growth and progress.
Gunyarak Piyakhun, First Executive Vice President, Division Head - Marketing & Business Intelligence, Siam Piwat
"In the modern business world, it's important to keep an open mind and listen to the views and ideas of people of all genders and ages. We are well aware that diversity resonates with importance and demands that we continue to strive towards progress. In today's era of openness and inclusivity, we need to respect the opinions of women, men, and the LGBTQ community equally."
Yuparat Boontham, First Executive Vice President, Division Head - Process Development,
Risk Management and Compliance, Siam Piwat
For a business to grow steadily and sustainably, it must have an efficient work process, an appropriate risk management system, and good corporate governance. Women play key roles in designing clear and transparent guidelines and implementing them in compliance with regulations. Women have excellent crisis management skills. They are decisive and straightforward but also flexible and detail-oriented. These attributes enable the organization to readily cope with and promptly adapt to every situation.
Saruntorn Asaves, Division Head – Shopping Center Business, Siam Piwat
"The various shopping centers under Siam Piwat Group, which have become the talk of the world and secured their spots as global destinations, are driven by the efforts of all sectors and draw from the potential of top female talents, who contribute attention to detail and depth. We welcome people of diverse generations and genders and offer them a platform where they can all express themselves, learn, grow with the company, and work together to deliver the ultimate world-class experience."
Chanisa Kaewruen, Head of Creative and Innovation, Siam Piwat
"We are a company that values diversity, and we're ready to adapt to the modern world by fostering a corporate culture that allows the new generation, regardless of gender, to contribute their ideas, especially women, who are full of creative energy and are capable of developing new strategies in order to continuously create experiences beyond expectations."
Auradis Snidvongs, Executive Vice President, Group Head – Corporate Relations / Corporate PR and CSR, Siam Piwat
"Siam Piwat has many projects and activities that demonstrate its commitment to business conduct that creates net positive impact for people, communities, and society by improving quality of life, providing opportunities, and creating equality for people of all groups in society, especially underprivileged women. We continue to reinforce our commitment to diversity and equality every year."
Thanaporn Tantiyanon, Group Head – Siam Paragon
"The most important aspect of managing a shopping center that is a world-class landmark and destination for people from all over the world is creating an experience that exceeds expectations for every customer group. By looking to innovations and new forms of activities as well as building both online and offline platforms that appeal to people of all generations and promote diversity and gender equality, Siam Piwat's shopping centers have been able to maintain the top position in public perception to this day.
Parisa Chatnilbandhu, General Manager – Retail Concept Shop, Siam Piwat
"Siam Piwat's business ecosystem is a collaboration with business partners who are ready to move towards the goal of sustainable mutual success with creativity without leaving anyone behind. Our platform provides opportunities to a large number people, especially female entrepreneurs, many of whom have delivered value through products and projects that have enabled them to build careers, generate income, and create pride for themselves and their families."
Kalyakorn Sineetanun, Senior Vice President, Group Head – Center of Excellence, Siam Piwat
"Working in HR in the modern world, it's the combination of science and art for personnel management to create a happy work environment and develop their knowledge and skills to unlock their full potential. In the aspect of diversity, we also prioritize gender equality and women's rights in order to provide an inclusive well-growing platform for everyone to demonstrate their talent and have the opportunity to grow creatively alongside the company."
Wadee Pinyosap, Senior Community Share Values (CSV) Department Manager, ICONSIAM
"ICONSIAM was born out of a modern retail business concept that aims to create shared value with all parties. Therefore, we place importance on co-existing with neighboring communities and cooperating with all sectors in caring for the environment. We have also opened the best areas of ICONSIAM up for communal use, and, most importantly, we strive to enhance the existing potential of our neighbors even further. Our feminine attention to detail helps us understand the people, communities, and society around us, enabling us to participate in truly creating value for society."
Thanujdee Seriwathanophas, Customer Journey Strategist, Siam Piwat Co., Ltd.
"Creating a memorable customer journey and a good experience requires profound understanding of customer needs. Siam Piwat provides an opportunity for its personnel to learn and pioneer new things. The company not only provides a platform for women to showcase their talents but also offers opportunity for people of all genders to continuously develop and learn, enabling them to expand their ideas into new services that better meet the lifestyles of people in today's world."
Chanissa Smathivat, Assistant Department Manager Section Head – Customer Services Support, Siam Paragon
"Working in customer service at a shopping center gives us the opportunity to welcome hundreds of thousands of customers per day and to meet and assist a great number of people. The heart of customer service is to create a good impression and satisfaction for customers in all dimensions. We value customers of all genders, ages, races, languages, and cultures who step foot in our venue so that they may walk away with smiles and happiness."
Duangjai Jangsanit, Assistant Section Manager Designer, Engineering and Project Construction Division, Siam Piwat
"Working in a company that is the Icon of Innovation like Siam Piwat requires me to always come up with new designs and styles to meet the needs of customers. It's a platform that allows everyone to exercise their imagination and creativity and brings out the full potential of women."