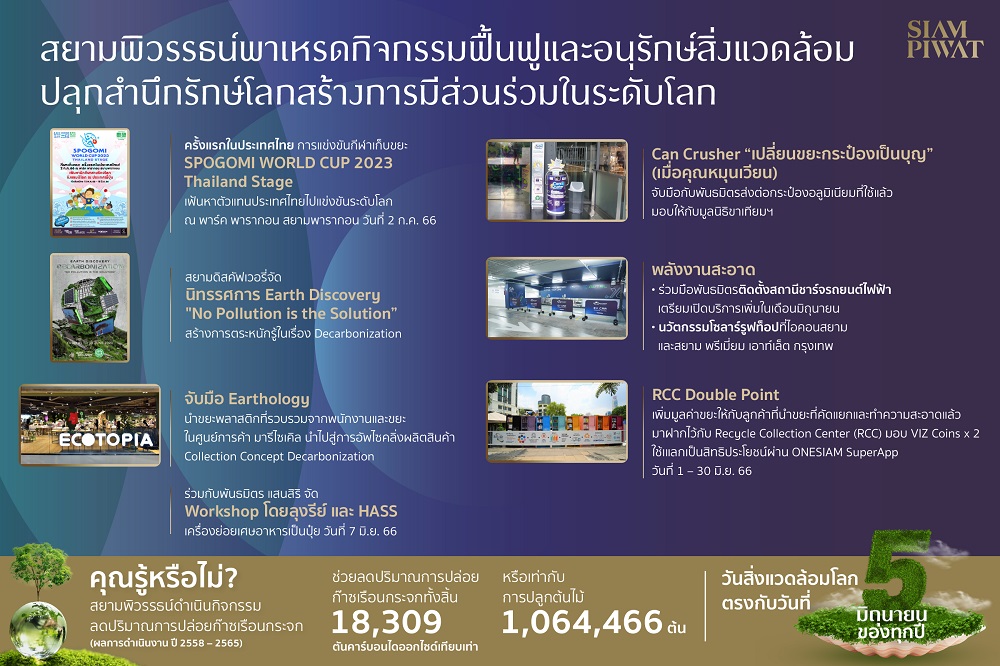 To reinforce its position as a model of sustainable business, Siam Piwat Group, a leading real estate and retail developer, the owner and operator of Siam Paragon, Siam Center, and Siam Discovery, and a joint venture partner of ICONSIAM, ICS, and Siam Premium Outlets Bangkok, is organizing environmental conservation and revitalization activities and inviting all Thais to contribute to environmental protection.
Ms. Naratipe Ruttapradid, Chief Operating Officer of Siam Piwat Co., Ltd., stated that Siam Piwat has always placed emphasis on the sustainability of its business practices, particularly with regard to the environment, and strived to revitalize the environment and create a better world for all life on earth. Throughout its years in business, Siam Piwat has integrated environmental conservation into its business processes, as can be seen in, for instance, its Smart Building concept, which seeks to conserve energy and increase green spaces within its shopping centers; and in its integrated waste management project under Siam Piwat 360° Waste Journey to Zero Waste, which led to the development of the Recycle Collection Center – Thailand's first-ever drive-thru waste drop-off point – and the realization of an eco-community as well as in the support it has lent to tree planting projects to increase green spaces in Bangkok. To mark the World Environment Day, which falls on June 5 of every year, Siam Piwat has prepared a range of activities:
- Thailand's first-ever trash pickup competition: To take part in environmental conservation at the global level, Siam Piwat is joining hands with G-Yu Creative to invite eco-conscious individuals to participate in the SPOGOMI WORLD CUP 2023 Thailand Stage to win a chance to represent Thailand at the global competition. The trash pickup competition will be held on Sunday, July 2, 2023 at Parc Paragon, Siam Paragon. Those interested can apply without any charge from June 18, 2023 onwards. Further information is available at: https://www.gyucreative.com/spogomi-thailand/c.
- Earth Discovery: "No Pollution is the Solution" Exhibition: To strengthen its leadership in creating a sustainable society and developing environmental conservation knowhow, Siam Discovery, the Exploratorium, is organizing an exhibition aimed at promoting awareness of decarbonization with the goal of contributing to decarbonization endeavors, along with an array of activities all through June.
- Plastic Recycling Project by ECOTOPIA and Earthology: ECOTOPIA is partnering with Earthology, a manufacturer of lifestyle and fashion items made from plastic bottles, to launch a decarbonization-themed collection of products, including hats, tote bags, and clothing, all of which are upcycled from plastic waste deposited by Siam Piwat staff and collected from across Siam Piwat's shopping centers.
- Workshop by ECOTOPIA and Sansiri: In partnership with Sansiri, ECOTOPIA is hosting a workshop on June 7, 2023, featuring Charee Boonyavinij, the founder of Uncle Ree Farm, and HASS, a food waste composter producer, on how to easily grow and harvest vegetables in condominiums and other types of residences to minimize carbon emissions.
- Trash to Merit Project: Siam Piwat, in collaboration with Thai Beverage Can Co., Ltd., and other partners, is taking part in the Trash to Merit Project to deliver used aluminum cans to the Prostheses Foundation of HRH the Princess Mother in support of their operation. As part of this initiative, Thai Beverage Can has installed three can crushers at the following entrances: Siam Paragon's Star Dome Entrance connecting to BTS Siam Station, the walkway connecting Parc Paragon and Siam Center, and the entrance of the Plaza between Siam Center and Siam Discovery. Eco-conscious visitors can take part in the project today until June 30, 2023.
- RCC Double Point: Siam Piwat is rewarding eco-conscious shoppers with a campaign that offers VIZ Coins x 2 for all the sorted and cleaned waste deposited at the Recycle Collection Center (RCC), which can be collected and redeemed on ONESIAM SuperApp. The campaign will run from June 1 to 30, 2023.
- Clean Energy: In collaboration with its partners, Siam Piwat has installed charging stations for electric vehicles at its shopping centers, with more to be put into operation this June. In addition, Siam Piwat has installed solar rooftops at ICONSIAM with a capacity of over 1 million kWh annually, capable of reducing greenhouse gas emissions by as much as 500 tons per year, as well as developed solar rooftops covering an area of over 20,000 sq.m. in total across Siam Premium Outlets Bangkok. The solar power production contributes to Siam Piwat's organizational goals of decarbonizing its operations and realizing a low-carbon society.
Slated to take place in November 2023 in Japan, the first world championship for garbage collection, SPOGOMI WORLD CUP aims to raise consciousness regarding waste-related issues, including waste reduction and effective waste segregation. By transforming trash collection into an enjoyable sport, the event will inspire individuals of all ages to change their habits in their everyday routines, ultimately restoring ecological balance and making the world a better place to live for all.
In addition, Siam Piwat has scaled up Siam Piwat 360° Waste Journey to Zero Waste in order to pass on waste management concepts to surrounding areas, such as temples, schools, and communities, as well as joined forces with partners in Pathumwan to co-develop an environmental revitalization model for the city center. Through various initiatives since 2015, Siam Piwat has successfully reduced greenhouse gas emissions by 18,309 tonsCO2eq, equivalent to planting 1,064,466 trees.
"These activities are testament to the fact that everyone can take part in conserving the environment at different capacities and in different ways. We are ready to provide and create both platforms and opportunities for everyone to engage in environmental conservation. This embodies the aspiration of our organization as a model of sustainability to contribute to environmental restoration and conservation and to create tangible positive impacts across all sectors," added Naratipe.