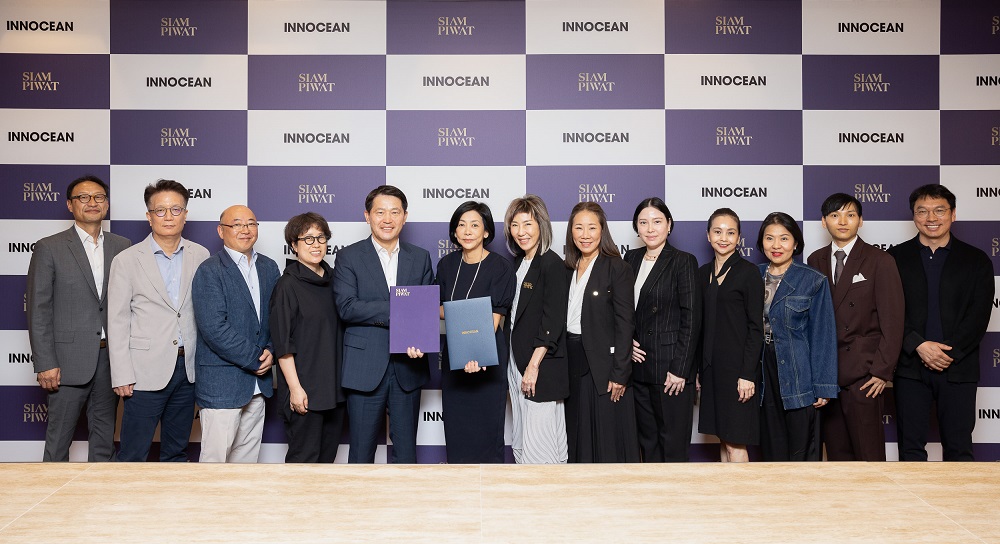 - Siam Piwat combines the potential of INNOCEAN, an international company, to optimize and expand business ecosystem to greater global business opportunities and sustainably achieves great success together.
- Another important step forward for Siam Piwat on global stage, creating the great phenomena and new international business development opportunities by emphasizing being the top-notched group and earned 'Global Admiration in the hearts of people worldwide.
- Discover the world-class experience with the debut of two exclusive Korean lifestyle pop-ups including 'Boggle Boggle K-Ramyun Pop-up Shop' and one more.
Siam Piwat Group, a leading world-class retail and real estate developer and the owner and operator of Bangkok's global destinations such as Siam Paragon, Siam Center, Siam Discovery, a joint partner of ICONSIAM, ICS and Siam Premium Outlets Bangkok. is expanding its premium global business ecosystem through a strategic partnership with INNOCEAN, Hyundai Motor Group's global marketing communication enterprise. The collaboration marks a significant step that enables new business opportunities and international expansion for Siam Piwat Group's prestigious global destinations and emphasizes recognition as 'Global Admiration' for the premises.
According to multiple tourist surveys, Thailand has continued to be well-positioned in the world's top tourist destinations. With the core strength in Creative Economy, in line with strong cultural soft power which include Food, Film, Fashion, Fighting and Festival, the country has successfully and distinctively attracted tourists, investors and international organizations. While South Korean is the global trend-setter, the remarkable impact of K-Culture influence to the world. The co-creation and collaboration of Siam Piwat Group, the leading developer of global top-of-mind destinations, and INNOCEAN, a South Korean innovative and creative force, is marking a major partnership to boundless possibilities.
Announcing the global collaboration between Siam Piwat Group and INNOCEAN

Mrs. Mayuree Chaipromprasith, President – Corporate Affairs and Communications of Siam Piwat Co., Ltd. said "As a leading developer of global destinations, Siam Piwat is emphasized on our 'Co-Creation and Collaboration to Win" strategies. We believe in the limitless potential and capabilities of our strong business ecosystem through a collaboration with top industry leaders, both local and international. Our alliance spans over varieties of industries, bringing to fruition the strength of every affiliate which optimize new business opportunities, create revolutionary milestones, deliver new and exciting experiences and, above all, achieve even greater and more sustainable success. The collaboration has contributed to Siam Piwat's ability to solidify its 'Global Admiration' recognition that earned the 'top-of-mind' positioning among Thais and international visitors.
Looking ahead, the strategic partnership between Siam Piwat Group and INNOCEAN, a leading innovative global agency, will strengthen both companies' strengths and open doors to new business opportunities in an international scale. The alliance will also optimize knowledge and know-how sharing, along with innovations, creativity and business experiences. Through this new partnership, both parties will also be able to conduct in-depth consumer behavior study to obtain the insights for future business growth in order to customize one-of-a-kind and unique retail experiences for consumers, not only in Thailand and South Korea but also to the world. This is the testament of Siam Piwat's mission to be the 'Showcase of the World,' to offer opportunities and present to the world Thai creativities and products," concluded Mrs. Chaipromprasith.
Mr. Lee Yong-Woo, President and Global CEO of INNOCEAN said "INNOCEAN is a global agency with over 33 overseas corporations in 23 countries worldwide. We focus on innovation, collaboration and excellence. We have been pushing boundaries and welcoming new ideas and opportunities. The core of this global partnership with Siam Piwat is inseparable with both of our companies' shared visions.
"For decades, Siam Piwat has successfully been a forefront developer of Thailand's global destinations. The company has been recognized for its excellence, innovations and one-of-a-kind experiences. We are very excited partner with Siam Piwat. Our collaboration will open doors to a vast network of strong affiliates and new business opportunities. Our collaboration does not limit only to Thailand but also expand through the Asia-Pacific region. Our strengths, expertise and abundant resources will leverage each other to greater achievement, growth and boundless success."
Delivering world-class experiences with two Thailand debut of two popular K pop-up shops

The pooling strengths of Siam Piwat and INNOCEAN, especially on creating one-of-a-kind and delivering unique experiences, will bring to Bangkok the debut of two K Lifestyle shops including K-Ramyun Pop-up Shop and one more pop-up shop at Siam Discovery where everyone is invited to 'Come Play With us.'
"Boggle Boggle K-Ramyun Pop-up Shop" is first of its kind in Southeast Asia that offers Korean ramyun experience where visitors will discover the taste and experience this South-Korean staple noodle dish and also engage with trendy Korean lifestyle. K-Culture enthusiasts, especially Gen-Z will have fun experiencing the trendy dining culture, straight from South Korea to Thailand. The pop-up shop is located on 3 Floor, Siam Discovery and runs from 24 June – 31 July 2023.
There is also one more pop-up which be open at Siam Discovery soon. The two lifestyle pop-ups will mark new attractions for Thai customers and international tourists. They are the first joint force of the Co-Creation between two leading companies from two countries. The collaboration will lead to more opportunities and enhanced boundless business growth as well as the create one-of-a kind experience in the future.
About Siam Piwat
Siam Piwat is a leading world-class retail and real estate developer and the owner and operator of Bangkok's global destinations such as Siam Paragon, Siam Center, Siam Discovery, a joint partner of ICONSIAM, ICS and Siam Premium Outlets Bangkok. Siam Piwat is dedicated to pioneering world-class projects with creativity, innovation, and top quality management. It is also an innovative prototypes and concepts, consistently delivering unparalleled experiences to customers.
Siam Piwat is firmly committed to driving its business towards sustainable growth and aspiring to create legends and mutually-rewarding achievements with stakeholders, passing on through generations to regenerate a sustainable world.
About INNOCEAN
INNOCEAN is a global marketing and communications service provider that offers creative marketing solutions to various multinational brands both in Korea and abroad. It has been recognized for its excellence at many prestigious advertising festivals and design award ceremonies. The company employs some 3,300 employees at its Korean headquarters and at its 33 overseas corporations in 23 countries throughout the Americas, Europe, Asia, Oceania and the Middle East. Through such large-scale global events as the FIFA World Cup, major motor shows, Shanghai Expo, Yeosu Expo and the Super Bowl, it has accumulated the experience and know-how needed to become a global marketing communications company.