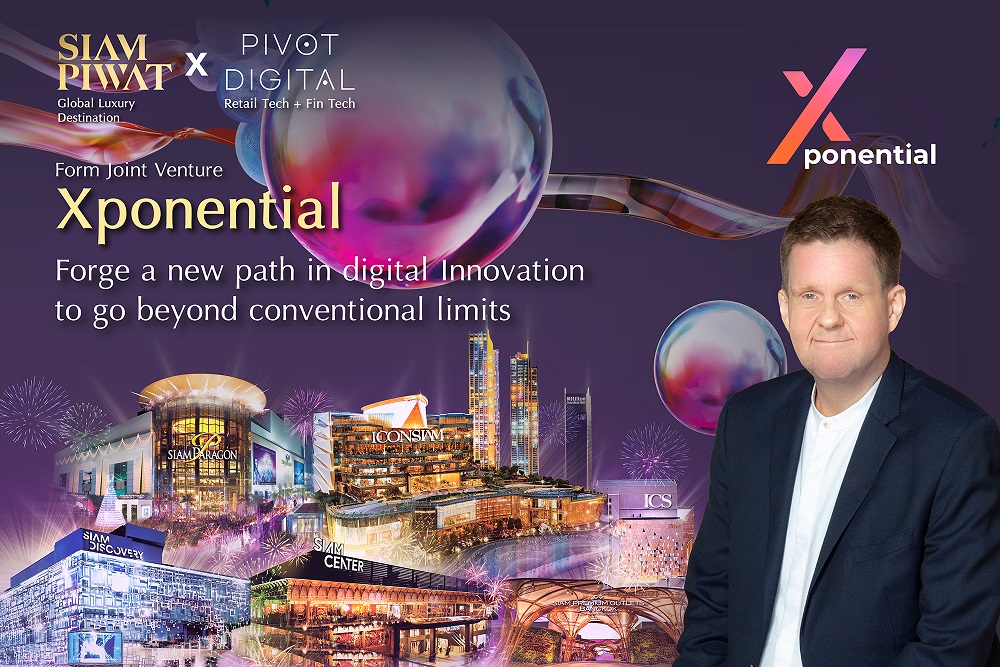 Siam Piwat, a leading real estate and retail developer behind iconic landmarks such as Siam Paragon, Siam Center, and Siam Discovery, and a joint venture partner of ICONSIAM, ICS, and Siam Premium Outlets Bangkok, is charting a new course in digital innovation. In partnership with Pivot Digital Pte Ltd., an elite boutique consulting firm known for its expertise in digital transformation and cutting-edge technology solutions, Siam Piwat has established a groundbreaking joint venture named Xponential Co. Ltd.
Xponential is primed to propel digital innovation beyond conventional limits and enhance the ONESIAM SuperApp to better serve the rapidly evolving needs of customers, business partners, and alliances. The goal is to deliver a seamless and extraordinary digital experience.
Axel Winter, Chief Executive Officer of Pivot Digital Pte Ltd., explains that this new venture exemplifies Siam Piwat's commitment to expanding its digital capacities and adapting to an ever-evolving digital world. Xponential represents a unique fusion of Siam Piwat's luxury mall operations – world-renowned for their excellence – and the unparalleled expertise of Pivot Digital in RetailTech and FinTech.
"Our unique proposition stems from our ability to transform and elevate the digital business landscape. We are dedicated to enhancing the ONESIAM SuperApp, propelling it towards a new growth curve while leveraging Pivot Digital's deep tech expertise to create a state-of-the-art SaaS platform. We aim to offer advisory services that extend beyond Siam Piwat to the global industry. Thus, Xponential stands at the cutting edge of digital innovation in the retail sector, revolutionizing customer experience and setting new industry benchmarks," added Mr. Winter.
Xponential brings together critical Retail and FinTech expertise along with deep technical and AI skills to offer an unparalleled value proposition for the global luxury mall industry.
The creation of Xponential signifies a landmark moment in Siam Piwat's digital journey. Building on the success of the ONESIAM SuperApp launched in late 2021, it marks a decisive step towards developing a world-class business ecosystem in collaboration with partners, tenants, and global brands. The app has received a positive response from both existing customers and business partners, enabling Siam Piwat to expand customer base to new generations and maintain its leadership in high-spending consumers in Thailand.
Singapore-based Pivot Digital, with global hubs in Budapest, Hungary, Ho Chi Minh, Vietnam and now Bangkok, contributes a wealth of expertise in digital transformation and product development to Xponential. Renowned for its consulting prowess and technical implementations, Pivot Digital specializes in new business models in retail omni-channel, financial services, and retail, making it an indispensable contributor to this game-changing venture.