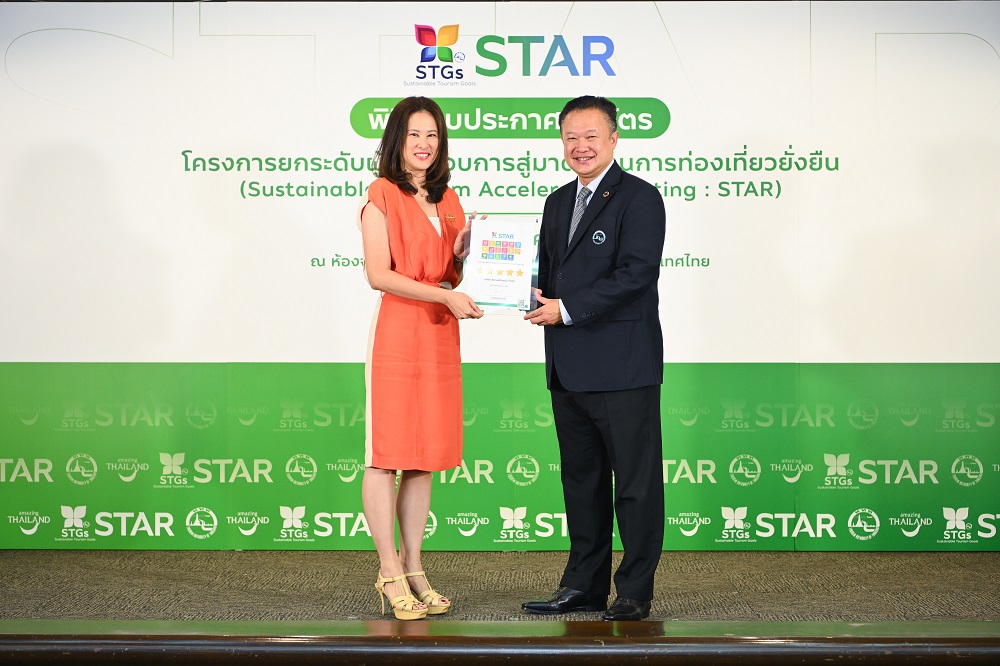 Siam Piwat, a leading real estate and retail developer, the owner and operator of world-class projects, such as Siam Paragon, Siam Center, and Siam Discover, and a joint venture partner of ICONSIAM and Siam Premium Outlets Bangkok, has received the highest 5-star rating from the Sustainable Tourism Acceleration Rating (STAR) program, launched by the Tourism Authority of Thailand (TAT) to establish a sustainability standard for tourism business operators and elevate Thailand's tourism industry towards sustainable tourism. The rating underscores Siam Piwat Group's position as a world-renowned developer of global destinations that seeks to foster sustainable mutual growth with all parties, enhance the image of Thai tourism, and bolster Thailand's competitiveness as a sustainable destination.
Mrs. Tanavan Arkaleephan, Senior Director, Tourism Marketing Department, Siam Piwat Co., Ltd., said it was an absolute honor for Siam Piwat Group to meet the criteria of the STAR program and awarded the highest rating of five stars, making it the only shopping center operator to achieve this level of certification. Using its 12 Sustainable Tourism Goals (STGs) and the United Nations' 17 Sustainable Development Goals (SDGs) as criteria, the program sought to create valuable experience for tourists as well as inspire, foster eco-consciousness, and promote responsible tourism among them.
"The rating testifies to our long-standing commitment to applying sustainability ideas to every project, which has enabled us to succeed in operating world-class landmarks and win the hearts of Thai and international visitors alike," said Tanavan.
Siam Piwat Group, which also operates the world-class exhibition venues Royal Paragon Hall on the fifth floor of Siam Paragon and True Icon Hall on the seventh floor of ICONSIAM, has played a pivotal role in advancing Thailand's tourism industry and economy and fostering growth in every locality it operates in. With a conviction that harmonious co-existence with society and the environment is part of its business, Siam Piwat collaborates with various partners to promote the sustainable mutual growth of all parties involved, including the customers, tenants, and business partners.
Built upon the Amazing Thailand Safety and Health Administration (SHA) program, the STAR initiative seeks to inspire business operators to embrace sustainable tourism practices. The program awards a "Sustainable Star" certificate to businesses that meet the program's STGs. The certificate is divided into three tiers: 3 stars for achieving three STGs: STG 13, STG 16, and STG 17; 4 stars for achieving nine STGs: STG 13, STG 16, and STG 17 and any other six STGs; and the highest rating of five stars for achieving at least 12 STGs: STG 13, STG 16, and STG 17 and at least 9 other STGs. In the inaugural round, a total of 200 businesses submitted their applications, and 80 businesses successfully met the criteria. The names of the awardees were announced on August 25, 2023, at the Tourism Authority of Thailand Building.