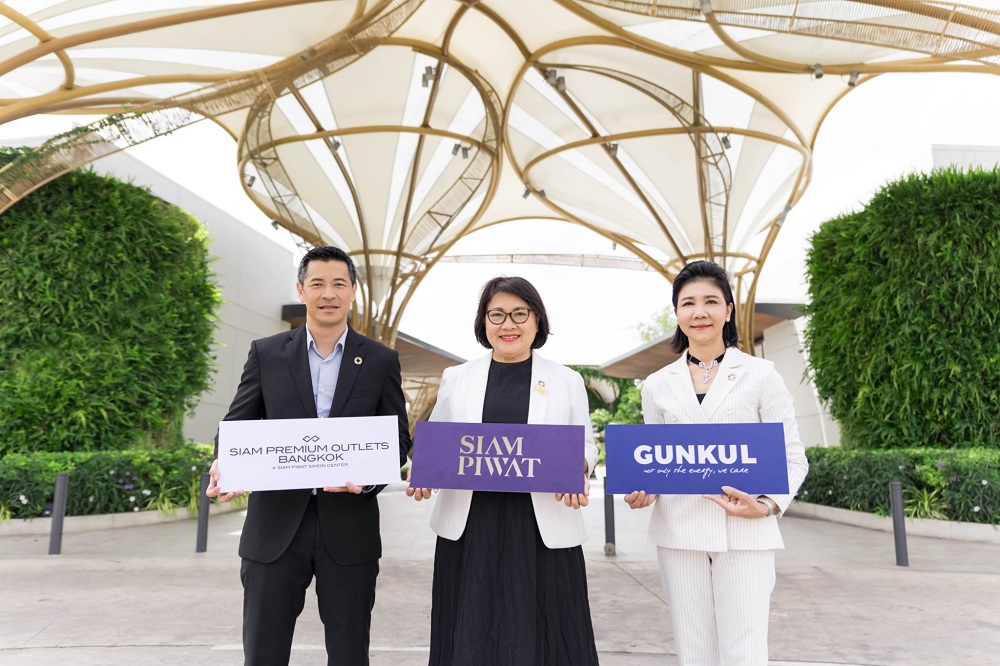 Siam Piwat Simon, a joint-venture operating Thailand first Premium Outlets – Siam Premium Outlets Bangkok, announced its achievement of sustainability goal with the impactful adoption of on-site solar energy. The environmentally-conscious practice is a coordinated project with Gunkul Engineering Public Company Limited, an integrated leader of renewable energy.
Over 50,000 square meters of solar rooftop has been successfully installed at Siam Premium Outlets Bangkok with over 100-million-baht investment. The solar panels can generate of solar power, offsetting the reliance on fossil fuel-based electricity, at 3,800,760 kWh per year. This initiative aids in the reduction of greenhouse gas emissions by an estimated 1,900 tons of carbon dioxide equivalent (tCO2e), or equivalent to the impact of planting 110,465 trees. It also plays a pivotal role in fostering energy conservation in the long term and cultivating business practices that are environmentally conscious and sustainable.
Siam Piwat Simon, is a joint venture between Siam Piwat Co., Ltd. and Simon. Siam Piwat is a leading real estate and retail developer the owner and operator of Siam Paragon, Siam Center, and Siam Discovery. And a joint venture partner of ICONSIAM, ICS, and Siam Premium Outlets Bangkok. Simon is a real estate investment trust engaged in the ownership of premier shopping, dining, entertainment and mixed-use destinations.
This achievement vividly underscores the significant commitment of the Siam Piwat Group on propelling the organization's sustainable growth. Seamlessly integrating sustainability into its strategies and business operations, the company actively contributes to positive change in the face of climate change. This approach resonates with the principles upheld by Gunkul Engineering that places importance on the economy, society, environment, and all stakeholder interests.
Naratipe Ruttapradid, Chief Operating Officer, Operations, Siam Piwat Co., Ltd., said, "The collaboration between Siam Piwat and Simon in the creation of Siam Premium Outlet Bangkok is our joint dedication to advancing business in a sustainable manner while also prioritizing environmental stewardship. Therefore, we place a significant emphasis on the reduction of greenhouse gas emissions, a critical global agenda. This is achieved by reducing energy consumption and enhancing energy efficiency."
"Siam Piwat and the Simon, in collaboration with Gunkul Engineering Public Company Limited — a proficient leader in alternative and clean energy—have undertaken the task of developing and installing solar rooftops across an expansive area spanning over 50,000 square meters at Siam Premium Outlet Bangkok. The project aims to harness solar energy as a replacement for conventional electricity usage, fostering energy and environmental preservation to mitigate pollution. This aligns with the organization's commitment to curbing greenhouse gas emissions and playing a part in building a low-carbon society."
"The solar rooftop installation in this project is fully aligned with our policies and guidelines for environmental preservation and conservation across areas we operate, and we do so on a continuous basis. In line with this, we have initiated various activities aimed at achieving balance and minimizing greenhouse gas emissions. Our primary focus lies in enhancing energy efficiency and advocating for the preservation of both energy and the environment, all geared toward mitigating the challenges posed by climate change. Siam Piwat is dedicated to operating at full efficiency and remains resolute in its commitment to adapt and evolve according to the changing business landscape in the times ahead."
Michael Tang, the Managing Director at Siam Piwat Simon, the joint venture managing Siam Premium Outlet Bangkok, said, "Siam Premium Outlet Bangkok holds the distinction of being Thailand's only 'Premium Outlet' to implement a full-fledged solar rooftop system. This installation empowers the property to harness solar energy within its premises, with the goal of reducing greenhouse gas emissions and optimizing the utilization of clean energy. Ultimately, this initiative yields a societal and global influence.
The installation was completed successfully, with solar energy utilization starting in August 2023. Siam Piwat Simon's dedication to collaborating with partners and introducing internationally benchmarked innovations remains steadfast, as we strive to cultivate environmentally conscious projects. This effort is geared toward providing exceptional experiences while fostering sustainable positive impacts on individuals, communities, and the environment."
Sopacha Dhumrongpiyawut, Chief Executive Officer of Gunkul Engineering Public Company Limited, expressed, "Gunkul acknowledges the significance of green energy in enhancing competitiveness and bolstering corporate reputation on the global platform. Moreover, considering Thailand's aspiration to evolve into a carbon-neutral society, where clean energy assumes paramount importance, solar roofs stand as a solution that aligns with both financial savings and ecological enhancements. Drawing upon Gunkul's four-decade strength in the electrical and renewable energy sector, and the trust it has gained from various industries over time, we are assured of our capability to utilize the company's amassed potential and accumulated expertise in executing solar rooftop setups for generating power."
"Currently, we have successfully concluded the solar power purchase agreement, which is a Private PPA, with a capacity exceeding 100 megawatts. This significant milestone serves to reinforce and promote Siam Piwat's corporate vision of attaining sustainable growth to new levels. This also revitalizes our business operations that take into account environmental sustainability, with the aim of restoring and passing on a livable world to the society," said Sopacha.
Siam Premium Outlets Bangkok is the one and only world-class 'Premium Outlets' in Thailand. It provides a shopping experience from international luxury names and globally renowned brands, complemented by daily offers of up to 70%. Open daily from 10:00 a.m. to 10:00 p.m. Stay updated at www.siampremiumoutlets.com, and connect through social media platforms: Facebook (SiamPremiumOutletsBangkok), Instagram (SiamPremiumOutletsBangkok), and Line Official (@siampremiumoutlets). For more information, call 02 0828 998.