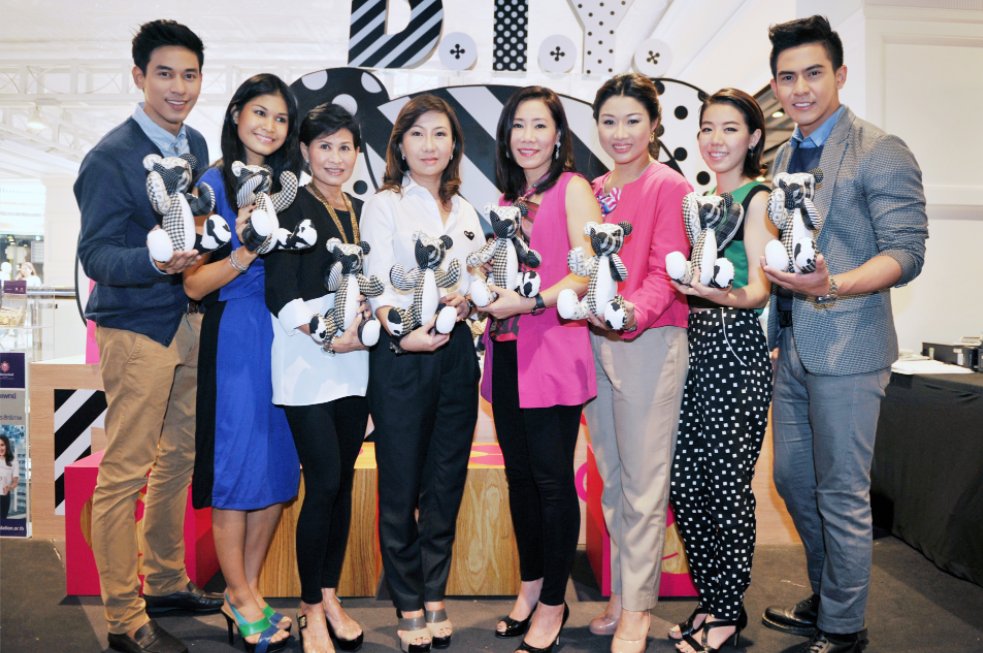 On the occasion of National Mother's Day, Siam Center, Ideopolis, joining hands with MuangThai Life Assurance Plublic Company Limited.,invited everyone to do the good deeds and fill the mother's heart with joy in "Absolute Siam DIY Doll". The guests were encouraged to create the teddy bears in their own style as the present for the mother, someone special and underprivileged children. Moreover, they can enjoy the workshops of doll, hat and scarf making from today to September 10, 2013, on the 4th floor of Siam Center (in front of Zen Japanese Restaurant). All proceeds from Absolute SiamDIY Dollwill go to Ramathibodi Foundation under the royal patronage of H.R.H. Princess Maha Chakri Sirindhorn.
Absolute SiamDIY Doll offered everyone a chance to design the one-of-a-kind teddy bears by mixing and matching different parts of the doll, such as head, body arms and legs, as they wished. After being sewed together, these tailor-made dolls would be donated to someone special. In the event, Pavenelak Limpichart and Warisa Passakornnatee creatively made their doll for their moms, Pimpawan Limpichart andSomluck Kamonlertvara. Pongsakorn "Toey" Mettarikanont or "Bak Joy" from Supapburut Juthathep (Juthathep Gentlemen) and Takoon "Pop" Karnthip or "Chai Deaw" from Kaen Sanaeha TV drama showed their doll-making skill to surprise their mothers. They also invited everyone to make the dolls for the needy children and donate them to Ramathibodi Foundation.
Chanisa Kaewruen, the Marketing Promotion executive of Siam Piwat Co., Ltd., revealed that "Absolute Siam DIY Doll" activity was hosted for everyone to express the love to the mother on the National Mother's Day. Anyone can design 35-cm tall Absolute SiamDIY Dolls in their own style for their mother, loved ones and needy children. This activity is available from today to September 10, 2013. Each doll costs only 299 baht and all proceeds will be donated to Ramathibodi Foundation.
Sombatsara Tirasaroj said that, in Absolute Siam DIY Dollby Siam Center, participants had a chance to make merit in a fun ambience. They not only enjoyed sewing the dolls by themselves, but also felt blissful to do good deeds by donating the money to Ramathibodi Foundation and the dolls to underprivileged children. The donors not only felt proud, but also could practice the concentration.
Pavenelak Limpichart said that it was her pleasure to join this meaningful activity. Everyone naturally loved their mother but unfortunately many children never had a chance to meet their mother. That is why she would like to take this opportunity to send mom her love and spread the joy to the underprivileged children. She would like them to feel warmhearted and realize that someone still love and care for them. She was so closed to her mother that they were almost inseparable because they had similar lifestyle and taste, such as clothes, shopping, vacation and exercise. When they attended the social sp_news_detail together, they would discuss with each other what to wear. They might have some differences because of generation gap. That is why her mother always saw her as a child. At the end, she listened to her mother because she knew her mother always wanted the best for her. Furthermore, she did not want to argue with and upset her mother. Instead, she chose to displease herself. She would like to express the love to her mother and let her know that even though she was not a perfect daughter, she would try her very best to be a good daughter and make her mother as happy as possible.
Warisa Passakornnatee said that she was glad to join this activity. In addition to being enjoyable, this event gave her a chance to make merit and make a difference. Even though the proceeds from doll making were not much, it meant a lot for someone. That is why she would like to invite everyone to make as many dolls as possible and donate the money to Ramathibodi Foundation. For the relationship with her mother, she was very close to her mother and could talk to her mother about anything, especially dharma. Her mother has taught her dharma since she was seven by taking her to make merit and encouraging her to listen to the dharma. Even when travelling abroad, her mother chose the countries with Buddhist background. If she was available, her mother and she would go to meditation retreat together. During the weekends, they always went to the restaurants together. She would like to tell her mom to do whatever that made her happy and do not have to worry about her child. Throughout these years, she has done a lot for her child.
Absolute Siam DIY Doll will take place from today to September10, 2013. All proceeds will go to Ramathibodi Foundation. During every weekend, the doll, scarf and hat making workshops are available until September 8 for three rounds a day at 11 a.m. – 1 p.m., 2:30 – 4:30 p.m., and 5:30 – 7:30 p.m. Anyone interested in this activity can join at the abovementioned date and time at Siam Center.
Sireetorn Niyomsen (Koy) 081-831-1406 sireetorn.n@supremo.co.th