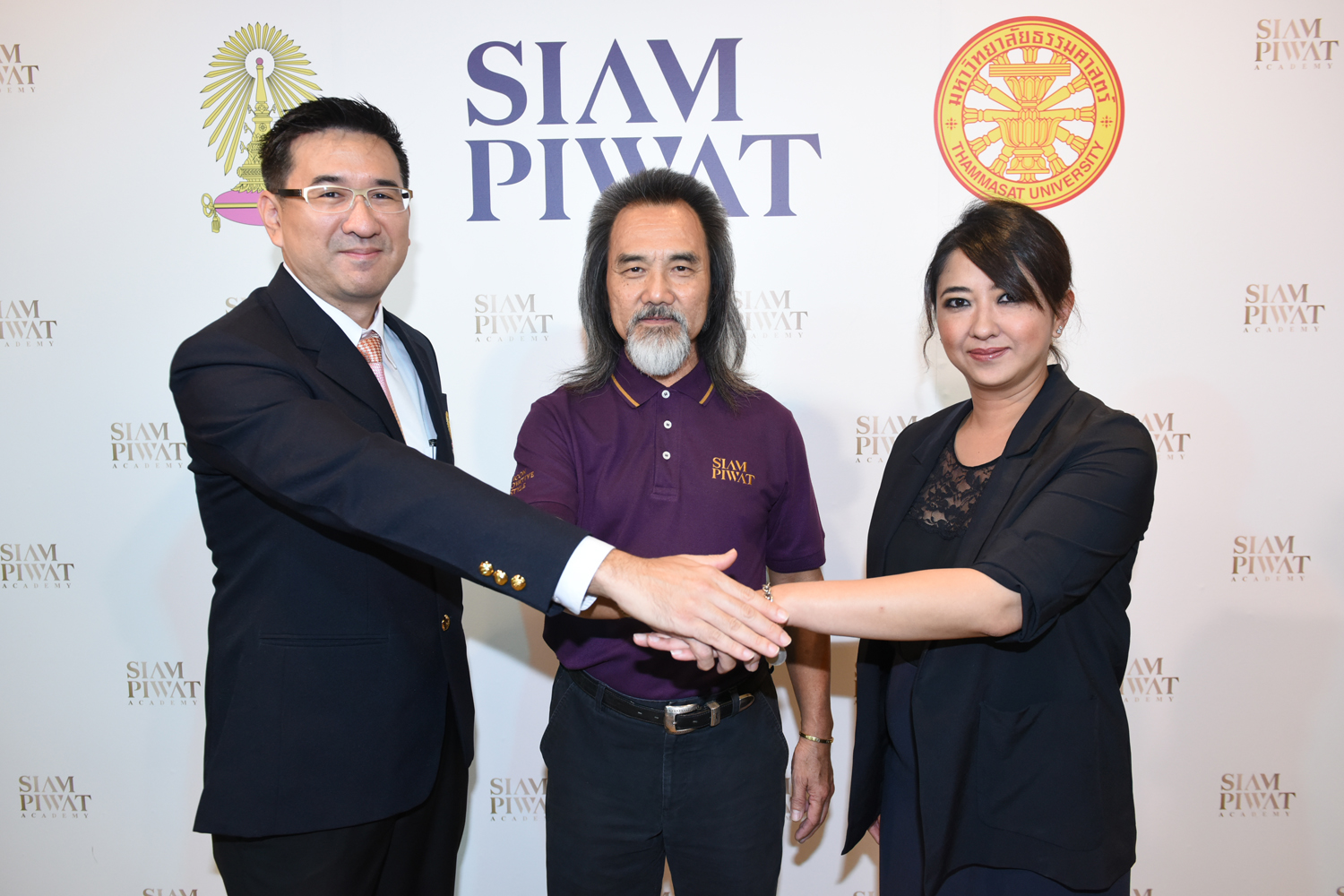 Siam Piwat Company Limited the leader of innovative retail and real estate business – launches Siam Piwat Academy. The academy is Thailand's first in collecting and gathering every aspect of shopping mall and property facility management, which will be shared by professional executives who are specialized in the area. Moreover, Siam Piwat collaborated with Thailand's two leading educational institutions: Chulalongkorn University and Thammasat University, introducing Thailand's first specific course of facility management.
Chanisa Chutipat, President of Siam Piwat Co., Ltd. said: "Siam Piwat's 56 years of success in shopping mall and retail business has led the company to the creation of Siam Piwat Academy – Thailand's first leading educational institution offering Shopping Mall and Public Assembly Facility Management. The academy proceeds on the company's vision of sharing the knowhow and long experiences of the company with retail business people through Siam Piwat's high executives who have long been in the business. By introducing Siam Piwat Academy, the company has emphasized its main strategy of being the advanced creative leader, and strengthened the capability of those high executives, who are the main supporters in driving business to success. The essential goal of the academy is to give back to the society by enhance the quality of life and education standard for Thais. We expect to share our business knowhow to support the development of retail business industry, to increase Thais' competitiveness for them to be ready for global platforms – thus, leading to the strong and sustainable retail business management."
Mr. Wicha Hanamornroongruang, Distinguished Scholar, Faculty of Architecture and Siam Piwat's Advisor, revealed that: "Siam Piwat Academy is established with Siam Piwat's determination in sharing its excellent knowhow collected for 56 years, along with the willingness to develop the project until it is internationally recognized by retail and real estate industry. Our executives has often been invited to give lecture to business personnels. We foresee that such business expansion will call for an increase in human resources. Thus, in 2015, we decide to officially launch the course of Public Assembly Facility Management for the first time in Thailand. The course is the result of Siam Piwat's collaboration with two leading educational institutions: Chulalongkorn and Thammasat Universities. The course will feature both theoretical knowhow taught by honorable professors of each university, and real and practical working experiences by Siam Piwat's executives. By enrolling in the course, one will also be granted a chance to observe businesses in Siam Piwat Company Limited. In the next three years, we plan to elevate such vocational education to the level that Thailand becomes ASEAN's largest learning center in shopping mall and retail business management, along with to collaborate with more of international institutions and the company's partners in order that the course will be developed to efficiently cover all dimensions of shopping mall and retail business management."
Siam Piwat academy has opened a short 3-month intensive program for executives in Shopping Mall Facility Management in collaboration with the Faculty of Architecture, Chulalongkorn University, on 15th August – 10th October 2015. Next on schedule is Public Assembly Facility Management course – the collaboration with Thammasat University – which will start in November 2015 to February 2016. Siam Piwat academy expects about 100 persons who will graduate from Facility Management course, and within 5 years Siam Piwat Academy will empower people in the major of Facility Management over than 500 persons.
Assist. Prof. Vorapat Inkarojrit, Ph.D., Deputy Dean of Faculty of Architecture, Chulalongkorn University comments on the importance of Shopping Mall Facility Management study: "The University foresees that well-rounded knowhow and understanding in business are what will significantly drive the business forward. Our Faculty of Architecture works with Siam Piwat to develop academic knowhow in architectural researches, industrial design, physical environment, real estate, and urban planning design. The collaboration aims to share useful knowhow with the public, society, and country, in order to elevate retail and real estate industry, and trigger the development in retail and real estate human resources to achieve competitiveness with global platforms."
Assist. Prof. Jittaporn Sribonnjit, Lecturer of Real Estate Business Program, Thammasat University says "The University is pleased to collaborate with Siam Piwat in human resource development. The courses co-created by the university will provide understanding in public facility design, commercial marketing and trade development and standardized management, for the sustainable business growth. The curriculum does not only include lecture from honarary professors and instructors, but also field observation, and group project activities supervised by instructors."
Thailand's current retail market is growing and expanding so fast that it becomes yet another business with high competitiveness. Siam Piwat's role as the innovative leader in retail and real estate business, along with its long expertise in the business, and the establishment of Siam Piwat Academy, are regarded as significant step to drive Thai retail industry towards international standard equivalent, and to create quality human resource to respond to the expansion of retail business, and the role of being ASEAN's largest learning center in the near future.