Siam Paragon is proud to announce its 10th anniversary, "the Siam Paragon 10th Anniversary, the Prismatic Celebration" on December 9th. The official birthday party was honored by over 1,000 VIP guests, divas and celebrities from across Thailand, to celebrate the decade of Siam Paragon's success in the midst of an extraordinary night with a fine dinner, music and entertainment. Siam Paragon also flew in street performers from abroad to make the event even more unforgettable.
Siam Paragon first opened in 2005 following the joint venture of Siam Piwat Co., Ltd. and The Mall Group Co., Ltd. to create Siam Paragon as the pride of Thailand on the prime location that levels up Bangkok as a world-class shopping destination. Over the past 10 years, Siam Paragon has created phenomena, being the center of shopping, entertainment, the world of learning as well as a landmark attraction that has attracted over 200,000 visitors per day.
The 10th Anniversary Celebration has been created to be the event of the decade. The Siam Paragon executives, led by Pasinee-Limatibul, Ketvalee Napatsap, Chadatip Chutrakul, Supaluck Umpujh, Krisana Umpujh, Mayuree Chaipromprasith, welcome guests from all over the country including executives, alliances, leading brand executives, celebrities, the press and more.
In the midst of an atmosphere of exclusivity, Siam Paragon invites its guests to a special fine dining dinner by 16 luxury restaurants including Harrods, Signor Sassi, Four Seasons, Oriental, Amici, AOI, Cafe Chili, Coffee Bean and Tea Leaf, Crystal Jade, Grill Tokyo, Manna, Hay, Scala Shark Fin, Taling Pling, Vanilla Brasserie, who created a selection of delicacies to welcome the guests of Siam Paragon on this important night. Special drinks from Diageo were served including the 10 limited edition Johnnie Walker Blue Label, with 10th anniversary of Siam Paragon logo. Entertainment includes leading divas Jennifer Kim, Radklao Amaradit, Nantida Kaewbuasai, Christina Aguila. Nat Myria, Nicole Theriault, New-Jew, Gam-The Star, and Bee Peerapat. Many celebrities who have joined the show were Ken – Phuphoom Pongpanu, Top – Charon Sorat, Sunny Suwanmatanon, Tor - Tanapop Leeratanakajorn, Marsh Jutawut Pattarakampon, Napat Siangsomboon, , New - Chaiyapol Pupart, Nike - Nithidol PomSuwan and many more.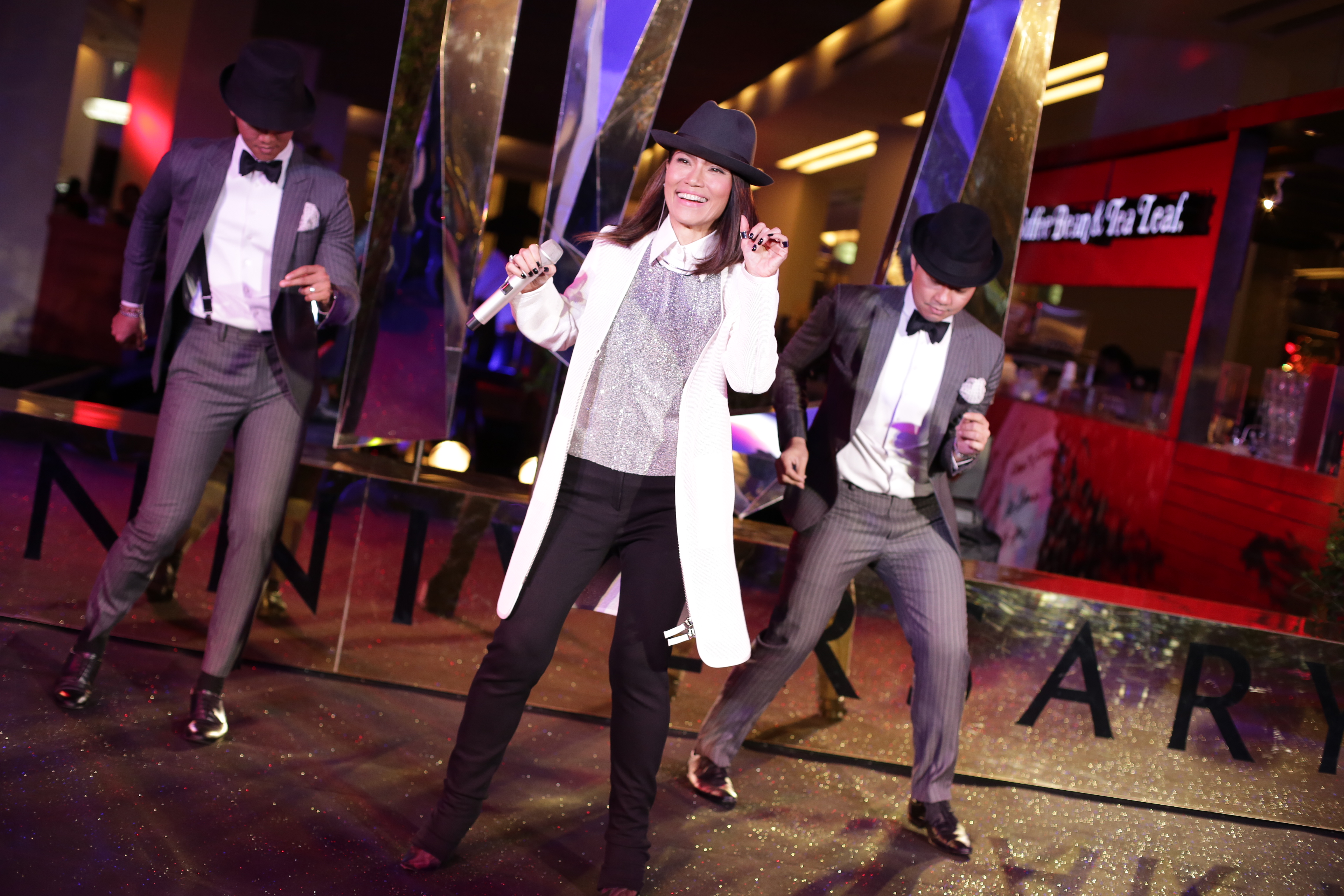 In addition, the guests also had the opportunity to be photographed by Thailand's leading fashion photographers, including Ploen-Wasan Peungprasert and Tim Pansiri Sirivejjapan, young-blood photographer Thananont Thanakorakan, Lang - Surasak Idirith from Benedict Studio, street photographer Pornpoj Kanchanahattakij aka 'Sixtysix' and Kachen Wonglaemthong. Guests can also choose to have their portraits painted by the new wave of painters.
The shows include international street performers, namely World Acrobatic Mirror Ball Show from London, The Elegant Stilt Walker from Austria, and the magic shows that entertained the guests throughout the event.