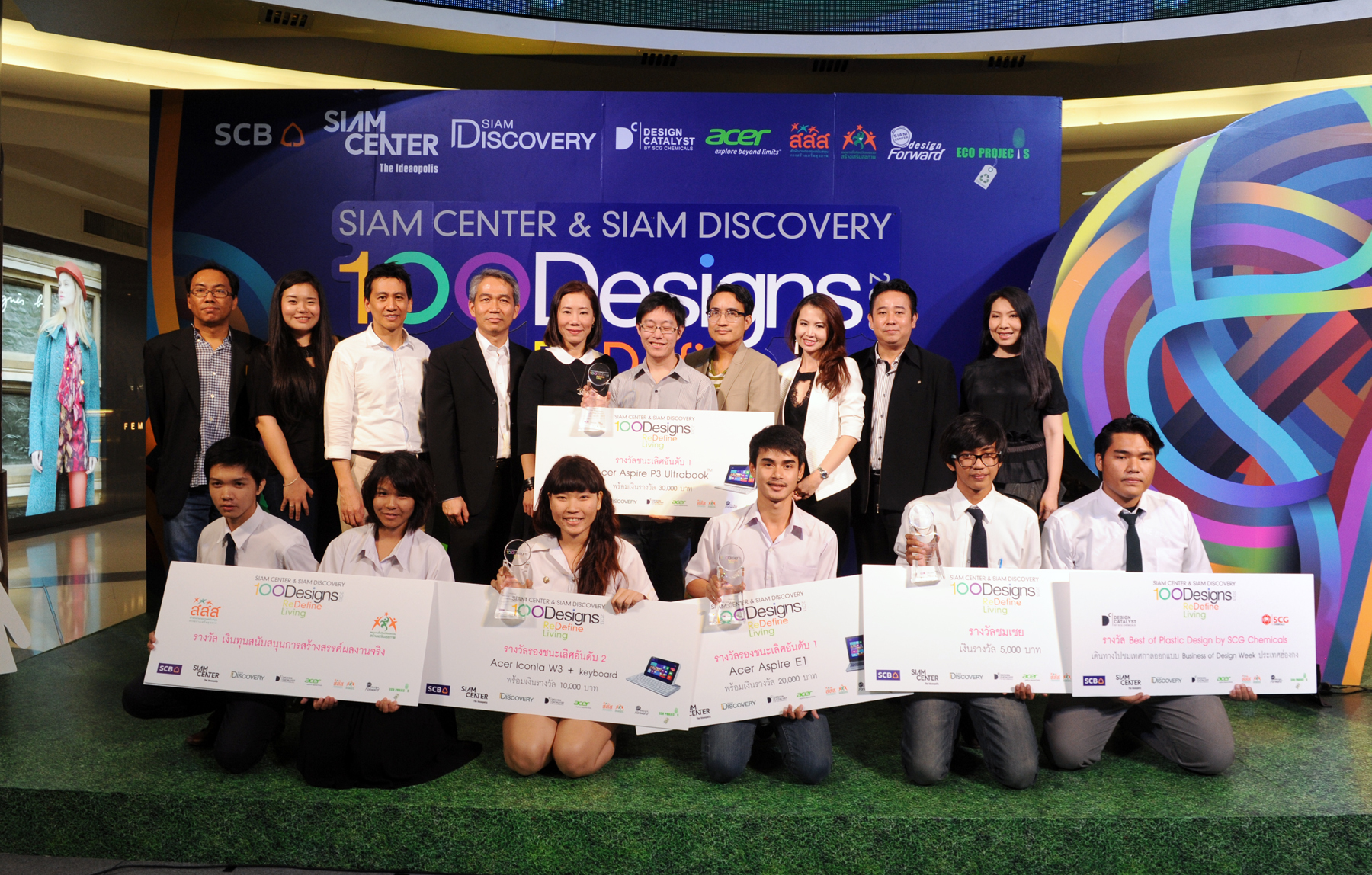 Siam Piwat Co., Ltd., owner and operator of the world-renowned retail destinations such as Siam Paragon, Siam Center, and Siam Discovery as well as main partner and owner of ICONSIAM, the iconic landmark of Thailand's prosperity by the Chao Phraya River, has further cemented its position as 'the Icon of Innovative lifestyle' in the retail and real estate business after Thailand's only hybrid retail store Siam Discovery - The Exploratorium has won the World Retail Award for Store Design of the Year — another testament to the company's success in retail business expansion, ushering in new chapter in the history of Thailand's retail industry by becoming the first and only corporate from Thailand to receive such accolade from this prestigious award show.
In winning the World Retail Award for Store Design of the Year, Siam Discovery - The Exploratorium not only beat its world-class competitors but was also the only Asian mall to rank in the top ten for the Best Experience Initiative category.
Chadatip Chutrakul, Chief Executive Officer of Siam Piwat Co., Ltd., stated, "After having launched our five-year policy and investment plan in 2014, Siam Piwat has consolidated its position as the 'thought-leader' and aims to incorporate 'novel experiences that meet the customers' needs' in its every core business. We have invested in new businesses, especially retail businesses, and introduced new ideas to expand the success of the retailers and our business allies, so that we can always offer fresh and exciting experiences.
Following the core investment plan, Siam Piwat has written a new phenomenal chapter in Thailand's retail history by relaunching Siam Discovery as the country's largest lifestyle specialty store. With its several local and international accolades, namely Thailand Property Awards, Southeast Asia Property Award and most recently Store Design of the Year from World Retail Awards, Siam Discovery – The Exploratorium is a conceptual twist on medium-size retail business by incorporating innovative ideas, a proof of Siam Piwat's much-coveted success in making a difference in retail industry.
"Siam Piwat's main customer target focuses on the millennial generation, A-level and B-level customers as well as international tourists, hence our needs for a world-class project that responds to the needs of customers from all over the world. With years of extensive research on global trends comes an in-depth understanding in the needs, lifestyle and behaviors of this new generation of consumers. The concept for the store was presented after 2-year planning to ensure that Siam Piwat would be the first in Thailand in delivering never before happened experiences.
All the projects we have been developing during the past 3-5 years, be it Siam Center or Siam Discovery, have undergone extensive space design focusing on making a difference in interior space to give customers a whole new experience. Gone were the conventional retail design ideas, and the new concept of creating a large open space that is flexible to changes and transformations is introduced for the first time here. Pop-up store, event marketing, presentation of limited collection and collaborative collection between Siam Piwat and retailers give customers new exhilarating experience with every visit. Meanwhile, the millennial generation's constant craving for artistic and creative consumption as well as fun activities within the retail space have inspired our partnership with world-renowned consultants and collaborations with award-winning artists in creating new and exciting space. In addition, local architects, interior designers and artists also come together to enrich the space with an element of art, fashion and technology to guarantee visitors of a world-class experience beyond shopping.
...We understand that the life cycle of retail business has been shortened considerably: some product categories/ brands achieve huge popularity for only a limited period of time due to consumers' continuous search for newness as well as the rise of e-commerce and online shopping. Siam Piwat puts each and every detail into consideration for each and every project. All the projects that have been developed during the past 3 years follow 4 key strategic rules to ensure long-term success: 1) To innovate and stay ahead of others 2) Being customer-centric 3) The Creation of Shared Values and 4) Building Partnerships," added Chadatip.
To Innovate and Stay Ahead of Others
Creating innovations and offering different, exhilarating experience has been the core of Siam Piwat's development projects. Each and every project comes with a new, unique modern lifestyle concept that belongs to a class of its own and at times, is the first of its kind in Thailand or even in the world. Siam Discovery - The Exploratorium is a testament of such conviction. As Thailand's first hybrid retail store, it combines products and services with activities designed for people of all ages and genders that share the lifestyle with the millennial generation who enjoy testing new products and are in continuous search for their own unique identity in the changing society. Concept aside, service efficiency also benefits from Siam Piwat's strive to be the leader in retail innovation. We are the first in Asia Pacific to introduce a new mobile application for customers. By combining high-tech solution Connected Mobile Experiences (CMX) with Hyperlocation from Cisco to create Siam Discovery Mobile Application, we are able to act as "The Best Shopping Companion" for our individual customer, each of whom are entitled to customized message, promotions as well as lifestyle and fashion information tailored to their tastes and needs.
Being Customer-Centric
Technology has brought a dramatic change in consumer behaviors, most notably higher competition as a result of fast connectivity and accessibility and long-term consumer behavior has become much more difficult to predict. Siam Piwat has readied our operation in preparation for those rapid changes and an understanding of consumer group and their diverse needs is essential for our business development. We have a special unit to study consumer behaviors and trends to enable us to promptly respond to all changes. Siam Discovery - The Exploratorium is designed as an answer to future trends and to respond to the fast-changing demands of the millennial consumers. Developed with an understanding of their needs and lifestyle, it is an ultimate destination designed as Thailand's first hybrid lifestyle retail. Products, services and activities are selected to respond to modern way of life of those with an avid interest in different innovations and a desire to find their own unique position in the society, while enjoying shared experience with others. Our space is designed to be easily transformed to tell new stories of products every month — a difficult and challenging mission with practically no time to stop. Our team of experts is an integral part in keeping us ahead of competitors when it comes to creating the most fun and exciting experiences for the millennial generation, whose input is indispensable in giving us stories they all are passionate to share with, and things they want to give to, their friends and even others in the society. All these experiences are combined together within a concept of Lifestyle Specialty Store, each and every aspect of which caters the utmost needs of the customers.
The Creation of Shared Values
During the past 3 years, Siam Piwat has set a goal in creating brand value for not just Siam Piwat's own business, but also brands and products of tenants and partners by revolutionizing the marketing plan. Transforming "shared values" into "commercial values" is the heart and soul of successful brand management, hence the utmost need to creating bond and loyalty among customers by making it relevant to their fast-changing everyday life. We focus on communications that connect brands with customers through all available channels to strengthen brand loyalty by creating experiences and revolutionizing old business and retail traditions. With Siam Discovery The Explorer campaign launched before the reopening of Siam Discovery, 500 visitors were invited to enjoy an extraordinary experience before anybody else and in turn, became our brand advocacy by posting, chatting and sharing their exclusive experience with hundreds of their friends and fan base, which evolve into hundreds of thousands audience.
We have modified our means of communications with target groups by not announcing directly as to who we are or what we sell. On the contrary, Siam Discovery introduces a concept 'Come play with us!' at 'The Biggest Arena of Lifestyle Experiments' and encourage consumers in discovering themselves through their favorite products and innovations. Siam Piwat has advanced to another level and become one of managing customers' experiences and emotions, rather than managing products and sales. We aim to be customers' best friend, winning their hearts. Because friends are loyal to each other and friendship makes everything possible. By continuously changing to meet the demands of customers, whatever happens at Siam Discovery comes from the interests of our customers, with us merely giving lives to those stories. Ours is a non-stop work to carter to the ever-changing needs of our customers.
Building Partnerships
Siam Piwat believes that through partnership and collaboration with stakeholders, we will create a long-term engagement that leads to healthy growth of business. If we do it in the right way, it can bring about business sustainability. And for Siam Discovery, we believe in empowering our customers and encouraging their participation. We collaborated with over 5,000 brands and customers to set theme for the Open Space, where display revolves not around specific brands, but instead the specific interest of the customers - a revolutionary in retail approach in its own way. The success of such approach depends heavily on participation from brands and partners, or precisely their belief that ours is a powerful concept with huge success potential. While traditional retail concept focuses on brands, our approach is customer-centric, and all brands are equal. Retailers, like customers, are empowered through the "story" we create, and this ground-breaking concept that allows us to create and revolutionize retail experience that is unlike any other has won us World Retail Award.
Siam Piwat has been supporting a new generation of entrepreneurs by partnering with Hubba for "DISCOVERY HUBBA" — a co-working space that breaks all the rules of co-working space by offering beyond a mere space to share and exchange ideas and business dreams. Special activities and workshops are curated as part of the thinking innovation essential in building a retail business start-up society for the new generation — a mission we consider as part of our role in driving and promoting the new future of retail business.
"We would like to share this award with our partners from over 5,000 brands in Siam Discovery as well as customers whose demands and inputs have inspired us to continuously come up with new and exciting stories. It is an honor for all Thais and for Thailand — a testament of our country's success in achieving a new standard for retail business with international recognition. It's a proof of our pioneering role in the business, and a motivation we need for our next expansion — our upcoming mega-phenomenon that is ICONSIAM," concluded Chadatip.