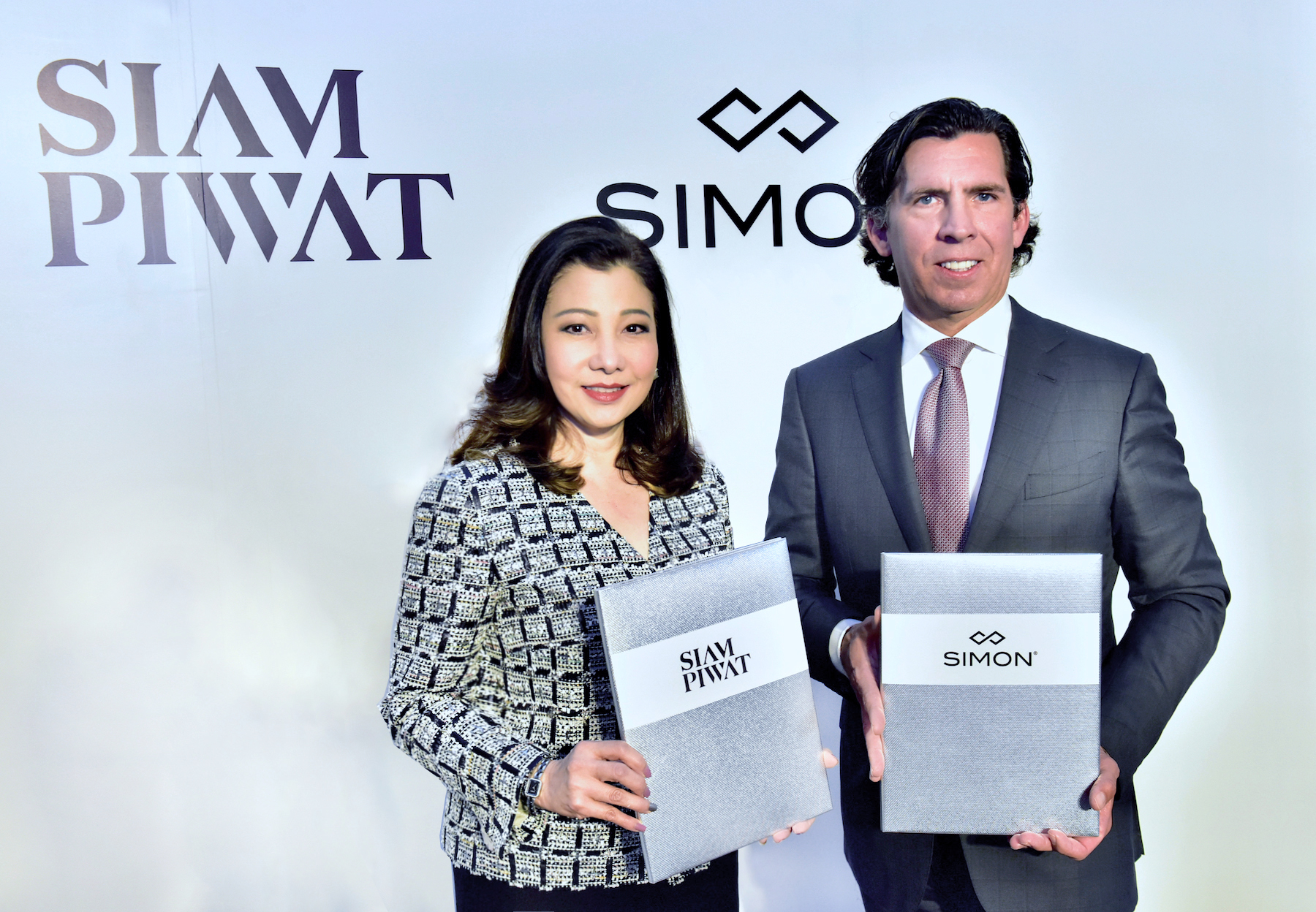 Simon, a global leader in premier shopping, dining, entertainment and mixed-use destinations, has entered into a joint venture with Siam Piwat Group, the owner and operator of prestige retail developments in Bangkok such as Siam Paragon, Siam Center, Siam Discovery, and joint venture partner of ICONSIAM, to open luxury premium outlets in Thailand and further expand the diversity of the country's retail and lifestyle destinations.
Simon is the world's largest publicly traded retail real estate company with a portfolio of more than 230 properties. The joint venture is Simon's first in Thailand, and its fourth in Asia.In total, plans for the joint venture initially envision three Premium Outlets projects to be built in Thailand.
The Premium Outlets brand is a natural for Thailand, as the country's growing population and over 35 million tourists seek high-quality merchandise at value prices.
The first project of the joint venture of Simon and Siam Piwat Group will be a luxury premium outlet development of around 50,000 sqm gross leasable area, which is targeted to open in October 2019 in Bangkok. Bangkok has a population of over 14 million in the greater metro area and is the main port of entry for Thailand's extensive and growing tourism. The project, located on a plot of 150 rai (24 hectares), will be home to a strong mix over 200 stores including some of the most sought after luxury and designer brands, alongside international and local brands. The center will provide an 'oasis' serving locals and tourists that will feature an impressive array of dining, leisure and entertainment options.
Customers will enjoy everyday savings of 25 to 70 percent on a vast array of designer apparel, footwear, fashion accessories, leather goods, and specialty brands, similar to those found in Simon's existing Premium Outlets around the world.
Mrs. Chadatip Chutrakul, Chief Executive Officer of Siam Piwat Group said, "We share a vision with Simon that the future of retail is about offering visitors to our destinations an exciting experience that goes beyond shopping and provides them with opportunities to socialize, have fun, learn and pursue their lifestyle interests."
Simon's Premium Outlets platform has an ownership interest in 96 properties globally, including 15 in Asia with nine in Japan, four in Korea, and two in Malaysia. Simon's portfolio features some of the most recognizable luxury outlets in the world including Woodbury Common Premium Outlets (New York), Desert Hills Premium Outlets (Palm Springs), Las Vegas North Premium Outlets, Gotemba Premium Outlets (Tokyo), Yeoju Premium Outlets (Seoul), and Johor Premium Outlets (Malaysia).
Mark Silvestri, Simon's Executive Vice President said, "We are very excited to bring our world-renowned Premium Outlets brand to Thailand and partner with Siam Piwat, an outstanding real estate company."
About Simon
Simon is a global leader in the ownership of premier shopping, dining, entertainment and mixed-use destinations and an S&P 100 company (Simon Property Group, NYSE:SPG). Our properties across North America, Europe and Asia provide community gathering places for millions of people every day and generate billions in annual sales. For more information, visit simon.com.
About Siam Piwat
Siam Piwat is the owner and operator of prestige retail developments in Thailand such as Siam Paragon, Siam Center, and Siam Discovery, as well as the joint venture partner of ICONSIAM – the US$ 1.7-billion Bangkok, riverside landmark development opening in 2018.Siam Piwat is a world-class innovator in retail and lifestyle destination development that is the partner-of-first-choice of the world's great companies that are the best at what they do.The company's developments have won many global awards including awards for 'best store design in the world' and 'best shopping mall design and development in the world' from two of the world's most prestigious retail development associations, as well as been ranked 6th as the world's most talked about places on Facebook.