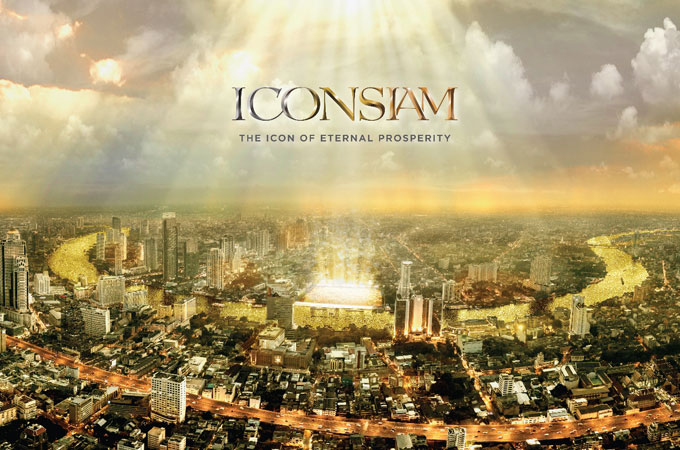 New national landmark readies to rise in Thailand – begins piling, boosts investment to Bht 50,000 million
- New property development – the largest and grandest ever undertaken by the private sector in Thailandto be named 'ICONSIAM' – project details unveiled
- Creating an iconic new national landmark that will be a symbol of national pride
- Total investment boosted 40% to Bht 50,000 million(US$1,540 million) by joint developers Siam Piwat, Magnolia Quality Development, and Charoen Pokphand Group
- Spearheads plan to make Bangkok's riverfront an entirely new global attraction in Thailand, assembling massive public sector and private sector coalition of hoteliers, retailers, river transport operators, historical destinations, and cultural attractions to activate 10 km of river frontage under 'ICONSIAM River Master Vision'
- ICONSIAM mega-development to have two glamorous shopping complexes, two magnificent waterfront residential condominium buildings, multitude of stunning, world-class attractions that will bring global recognition to Thailand
ICONSIAM to combine the best that Thailand has to offer with the best of the world to become a new paradigm of excellence
The owners of one of the world's great, new iconic developments that is also the largest investment ever made by the private sector in Thailand in a property endeavour, today, presented the first details of the mega-development's key components and announced that the sensational new riverside landmark being constructed in Bangkok is to be named ICONSIAM.
The iconic development, for which piling has begun, promises to be a new symbol of national pride for Thailand. It includes two of the world's most glamorous retail complexes, two magnificent, world-class waterfront residential condominium buildings, as well as seven precedent-setting attractions that will be the first of their kind in Thailand and which are called the 'Seven Wonders at ICONSIAM'.
The developers disclosed that, in response to very strong interest from customers in the project concept, the project's land area is expanded from the original size of 40 rai (16 acres) at the time when the decision to develop the riverside site was first announced, to 50 rai (20 acres) through the acquisition of surrounding properties. As a result of the expansion and enhancements, the total investment in the project is also raised more than 40% to Bht 50,000 million (US$ 1.54 billion) from the initial Bht 35,000 million (US$1.1 billion) that had been committed.
ICONSIAM is being developed by a highly reputable partnership between three of Thailand's most successful businesses, assuring the project the national landmark status that it seeks. The development partners are Siam Piwat – the owner and operator of globally reputed prestigious retail developments including Siam Paragon, Siam Center, and Siam Discovery – Magnolia Quality Development Corporation, the high-profile developer behind a number of holistic innovations for top-end residential developments, including Magnolias Ratchadamri Boulevard – and, the multi-national conglomerate Charoen Pokphand Group.
Mrs. Chadatip Chutrakul, CEO of Siam Piwat Co., Ltd., said, "We are creating the most sensational development that this country has ever seen that will change the axis of activity in Bangkok. It will be the most compelling, must-see destination of Thailand drawing visitors from around the world and from around Thailand because of the richness of its diversity of offerings and attractions – many of which will be the first of their kind – and because it will be at the centre of an grand-scale plan to revitalise Bangkok's world-renown Chao Phraya River as a global destination."
She said, "ICONSIAM is introducing to Thailand a completely new approach to property development. We are creating a new national destination that is comprehensive and integrated, like a city, and one that has a huge role to play in carrying forward the rich culture of our nation. It is a unique example of collaboration between multiple ministries, state and city agencies, and the private sector. It is also a hub for transportation infrastructure, with two existing bridges across the Chao Phraya River in the vicinity, and three more new bridges to be built. The city's rail mass transit system's Red Line will be near ICONSIAM, and the project is located at the centre of the loop of the Blue, Purple, and Green line mass transit systems. There is one private pier and two public piers at ICONSIAM, as well as six of our own shuttle boats and own shuttle buses."
Mrs. Chadatip added, "Our vision for ICONSIAM incorporates the world's most advanced thinking in the design of residential, commercial and community space, and it will put Thailand into the rarefied list of countries that are the locations for the world's most iconic property developments. It combines the best of the world with the best of what Thailand has to offer and will be a major force in strengthening Bangkok's position as one of the world's most desirable destinations."
She said, "ICONSIAM has been designed for the future, while blending in all that is true to Thailand's cultural heritage. It will be the defining property development of its era and an iconic legacy for the country's property industry. ICONSIAM will be a paradigm of excellence that showcases Thailand's capabilities and inspires the confidence of the international business community."
ICONSIAM is in a strategic Bangkoklocation on a 50-rai (20-acre) plot of land with cultural significance and is situated on the Chao Phraya River. It has one of the longest river frontages in central Bangkok, and is also embraced to the left and right by water along a distance of more than 400 meters.
Mrs. Chadatip said, "ICONSIAM is in the heart of a broad catchment area for a large number of international and local customers, with 3 million residents, 200 upscale residential projects and more than 10,000 rooms in 50 world-renown hotels within a five kilometer radius. It is five minutes by car from the Silom and Sathorn central business districts and is the most convenient destination for those living in the western part of Bangkok. Visitors can access ICONSIAM by rail, car, or by boat from a combined 650 trips a day. And, in the next three to five years, several major transport infrastructure programmes in the vicinity are to be completed."
roject components

Ms. Tipaporn Chearavanont, CEO, Magnolia Quality Development Corporation Ltd., said, "ICONSIAM will be Bangkok's most prestigious address. We are creating a complete and comprehensive lifestyle offering that is like a new city and embraces residential, retail, and cultural components. These components are at the highest international standards and they will have the world looking at Thailand in an entirely new way."
"ICONSIAM has a gross floor area (GFA) of 750,000 square metres, comprised of two retail complexes covering 525,000 sqm, two super-luxury waterfront residential buildings – one at 70 floors, and the other at 40 floors – as well as multiple, first-of-their-kind attractions, labeled the 'Seven Wonders at ICONSIAM'. Together, they aim to give ICONSIAM the most diverse set of mega-attractions available anywhere in the country, and ensure it becomes the most desirable destination for all visitors to Thailand and from around Thailand," she said.
Among the 'Seven Wonders at ICONSIAM' are:
- Southeast Asia's longest, on-land multi-media water-and-fire feature at over 400 metres in length, and which will dazzle visitors with enthralling shows of water, fire, sound and light.
- a museum of treasures featuring Thailand's heritage and wisdom.
Retail concepts
Mrs. Chadatip said, "ICONSIAM is creating a retail environment that is like no other in the world. We are pioneering revolutionary new ideas at the forefront of retail development which will make ICONSIAM a unique destination that provides visitors an unparalleled diversity of inspirational and exciting experiences. There are more than 500 shops, 100 restaurants from 30 countries, and many services and products that are going to be available for the first time in Thailand. There are also venues capable of hosting world-class performances and gatherings
"ICONSIAM has an 'icons-within-an-icon' concept that will be one of the first in the world. The world's and Thailand's most iconic brands will design and construct their own iconic structures inside our retail complexes. These 'brand mansions' will be designed by each brand owner to represent the unique heritage and individual essence of each brand."
She said, "The flagship 'brand mansions' at ICONSIAM are also among the first such buildings in the world, and they will become talk-of-town destinations in themselves. Visitors will be able to walk leisurely among these various 'brand mansions', which, collectively, will deliver a stunning, other-worldly experience."
She added, "The developer acts as a curator for the collaborative efforts of tenants and other participants in shaping the space at ICONSIAM and in bringing alive this entire, extraordinary venture."
She said that ICONSIAM will draw in the atmosphere and view of the surrounding Chao Phraya River, and that visitors will be inspired inside the buildings by the artworks of national artists of different genres as well as by the works of world-renowned artists. "The visitor will delight in immersing themselves in experiencing the venue and the marvelous location, rather than just moving along corridors or just seeing rows of shops," she said.
Residential concepts

Ms. Tipaporn said, "The Magnolias Waterfront Residences at ICONSIAM are at the forefront of global residential development design and will be among the world's best residential properties. They are conceived to enable residents to be a part of a seamless global community that operates without national boundaries and whose expectations of quality, conveniences and services are at the highest levels, regardless of whether they are living in London, Tokyo, New York, or Bangkok."
She said the residences will set new benchmarks in residential development in Thailand in terms of luxury, global connectivity, services and sustainabilitywith special attention towards everything that enhances quality of life and respect for the environment. The buildings will have embedded the world's most advanced communications technology and fibre optics to support a growing international community of people who operate globally and need to stay connected with the world.
According to Ms. Tipaporn, The Magnolias Waterfront Residences at ICONSIAM provide "a rare combination of superlative quality in design and execution, with a location that is both beautiful, and yet is still central and highly accessible through multi-modal transport systems." Residents are near shopping and entertainment facilities and still close to nature, similar to some of the latest developments on the Thames in London.
She added that each unit is designed to benefit from natural ventilation as well as draw in the magnificent view from the site, giving the feeling of a resort home. Green areas are at around 70% of the site, and there are pocket gardens for a high degree of privacy. Units benefit from air purifiers, humidity control, and large verandahs that let one enjoy the river and breathe fresh air.
Ms. Tipaporn said that the attention with which ICONSIAM has been designed, and the emphasis on sustainable practices, will also bring great value to the surrounding communities, further adding to the quality of life of those in the vicinity of the project.
Revitalising the Riverfront
Mr. Narong Chearavanont, Senior Executive Assistant to Chairman of Charoen Pokphand Group Co., Ltd., said, "Charoen Pokphand Group is confident that ICONSIAM will benefit Thailand because it is a world-class project that will become a new iconic landmark for Bangkok and help attract visitors from around the world to shop, tour, and reside in the country. The project will increase Bangkok's potential as a business and tourism hub in ASEAN and the world."
He said, "ICONSIAM will act as a catalyst to a dramatic revitalization of the Chao Phraya River. Through a collaboration called the 'ICONSIAM River Master Vision', more than 30 major establishments, including retailers, hoteliers, river transport.
operators and sites of historical and cultural significance with important riverfront locations, will work together to make the river into an exciting global-scale attraction that will further boost the appeal of Bangkok as a memorable destination, and help to drive up local and international tourist visits to the city."
"This collaboration extends across a zone of more than 10 kilometers along the Chao Phraya River and offers local and international visitors a rich and varied experience that
includes enjoyment of the river's beauty as well as its valuable cultural heritage. They can explore the river in a way that was never before possible, and spend days journeying through the various partner establishments. It is the first time, ever, anything of such a spectacular scale has been put into motion to make this magnificent river into a phenomenal new destination for visitors and the single biggest tourism-related initiative ever undertaken right in the heart and soul of Bangkok," he said.
Among the riverside establishments that have joined forces with ICONSIAM are the Mandarin Oriental hotel, the Royal Orchid Sheraton hotel, the Shangri La hotel, The Chao Phraya Express Boat company, Asiatique the Riverfront, Chatrium Riverside, Millenium Hilton Bangkok hotel, and The Peninsula Bangkok hotel.
He said that because it was such a grand-scale programme, it would also serve as a powerful force to realign people's transport preferences in the city and encourage people to consider river transportation as an attractive alternative to their cars.
The city administration is considering plans to create the longest riverside boardwalk in Bangkok, and ICONSIAM will participate and become a significant part of the dramatic project by creating at ICONSIAM the largest community space by the river and connecting it to the city's boardwalk.
"The riverside event plaza and park of over 10,000 square metres will allow people to access and enjoy the beauty of the riverside atmosphere in a way that has never been possible before. It will host grand, national sp_news_detail as well as world-class performances at one of the most enchanting locations on the Chao Phraya River, and it will make ICONSIAM an essential fixture in the global tour circuit of the great performing artists of the world," he said.
He said the Chao Phraya River is one of Bangkok's natural assets with the greatest potential and that the ICONSIAM River Master Vision plan will help activate this asset to boost Bangkok's standing as a hub city in the new ASEAN Economic Community (AEC), as well as help increase tourism revenues for Thailand.
He said, "Charoen Pokphand Group is very proud to contribute to the development of ICONSIAM because the investment is in line with the group's 'Three Benefits' operating principles which require all of the group's investments to serve the interests of the country first, its people, and then the company. We have a commitment to sustainability in all our operations, and believe that ICONSIAM will support Thailand's social and economic development needs as well as contribute to the country's reputation and prestige."
ICONSIAM is currently accepting bookings for retail space as well as residences.
Completion of the project is scheduled within 2017.
ICONSIAM – 'The Icon of Eternal Prosperity'