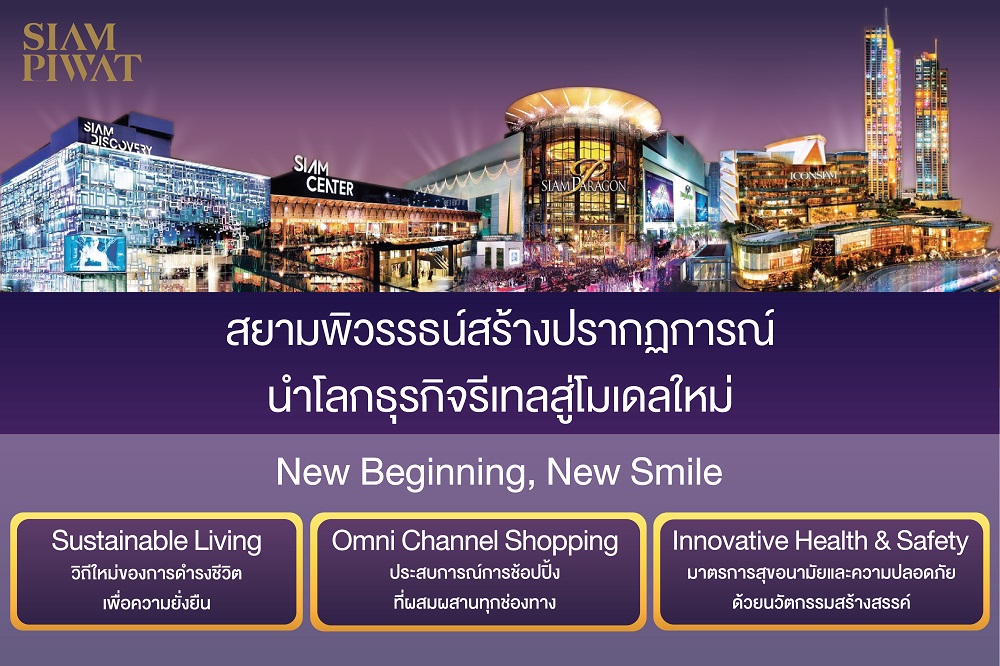 - Siam Piwat leads the retail industry into new business models, underlining its positioning as 'The Thought Leader.'
- "New Beginning, New Smile" vision, heralding into a new era of the future's shopping malls, a place of happiness and smiles. The ultimate response to customers' changing way of lives in the age of 'New Normal Innovative Lifestyle,' with a Retail Ecosystem that incorporates Sustainable Living Community and Omni Channels Shopping.
- To ensure customer safety and confidence, maximum innovative health & safety measures has been implemented, the first and pioneering retailers to take proactive precaution measures right after the early spread of coronavirus.
Siam Piwat Co., Ltd., the owner and operator of global retail destination OneSiam – which integrates Siam Paragon, Siam Center and Siam Discovery – and a joint venture partner of the Chaopraya Riverside spectacular project ICONSIAM, has yet again marked revolutionary retail milestones, pioneering the latest retail business models that define the age of new normal.
Chadatip Chutrakul, CEO of Siam Piwat Group, said, "The Coronavirus pandemic has created a global impact that has changed people's way of living tremendously. Siam Piwat, as 'The Thought Leader' and 'The Icon of Innovative Lifestyle', has taken this opportunity to lead pioneering retail business models that truly serves the significantly changing consumers' behaviors and needs. What we have achieved, are not only an exemplary retail master plan to thrive in this significant change, but also a new definition of retail norms for the future. Our new business model is created based on the valued input from leaders in various fields, a work of thorough brainstorming and the comprehensive understanding about the new way of sustainable living for all. In addition, the master plan emphasizes on creating beneficial social impacts through a shopping experience that purchases are made to create a better living and better health, to reinforce quality of life and human potentials.Through retail, shared values are fulfilled at both ends, the producers and the consumers.This is a defying Retail Ecosystem that genuinely creates sustainable success and contentment for all involved – consumers, entrepreneurs, SMEs, communities, society and at large, our country.
Sustainable Living
Siam Piwat has always adhered to the principle of business for sustainability, through co-creation and creating shared values. The ultimate goal is to achieve equality and mutual benefits at all levels and to elevate the quality of life and potentials for Thais. We serve as a driving force of the Thai economy and to bring reputation to our country. All of our retail properties have assigned spaces devoted to support SME businesses as well as underprivileged people from across the country to showcase their potentials and their products. We have also provided them business know-how, product development, connected them with financial institutions to equip them with strong financial basis like savings and investment. They have also learnt from real business experience of data management, an important knowledge that not only generates income, but also brings pride, polishes their potentials and creativity to proceed to a larger international-scale.
The epidemic has been a wake-up call for people all over the world to be more aware of living sustainably and their behaviors have geared towards achieving better health and creating less environmental impact. In addition, they have tended to support community business, local SMEs who practice sustainability. Consumer products in this new normal age need to further emphasize their sustainability values. Siam Piwat – a Though Leader who has set Creative & Innovative Retail benchmark for the retail industry, is introducing 3 key elements in response to the sustainable living trend.
• Retail ecosystem for the mutual benefits and shared value of producers and consumers The current crisis has brought national unity and encouraged Thais to help and support one another. Siam Piwat is bringing smiles back to the Land of Smiles with our "Siam Piwat Thai Shuai Thai,' meaning Siam Piwat Thai helps Thai, campaign to boost the country's economy. SMES entrepreneurs facing business struggles are welcomed to sell their products free of rental charge. At 'Fuen Jai Thai Market' in SookSiam at ICONSIAM, entrepreneurs and communities across the country affected by the crisis can sell their products. Also, Royal Paragon Hall and TRUE ICON HALL are made available for affected exporters to distribute their offers. This campaign is supported by the Institute for Agricultural Product Innovation, Thailand Textile Institute, Department of Environmental Quality, and Ministry of Natural Resources and Environment. And, the Product & Food Fair, hosted by Kantana Group, has a collection of famous shops selling quality products and food.
The retail concept of Thai Helps Thai is a way of 'New Beginning – New Smile," to bring back happiness and smiles for entrepreneurs who need help and support. At the same time, it brings happiness and smiles to consumers, for they can support their fellows Thais. This is a driving force and a stepping stone to together navigate through the crisis and drive the economy forward.
• Ecotopia at Siam Discovery offers products and services for the new normal lifestyle
Ecotopia is the largest eco-community in Asia, spanning across 2,000 square meters. With a dedicated health-oriented segment, the zone offers products that response to modern lifestyles focusing on better health and better environment, designed to cater sustainable living in all dimensions. On offer are wide ranges of health and hygiene, chemical-free, organic, environmental-friendly, recycled and reusable products. Featured also are workshops to create valued living, to benefit the society and the world by polishing human potentials, from the mindset to physical strength. Ecotopia is originated by a force of 12 eco-community leaders in collaboration with Siam Piwat with a determination to form an aspiring space for the new generations who believe in sustainable society filled with joy and a right balance between innovation and nature.
• Presenting a new way of life with style through the power of Co-Creation & Collaboration
Siam Piwat strongly believes in the potential and value of collaborations, between organisations and field experts, proven by many inspirational and fruitful co-creation and collaboration works. Siam Piwat is creatively injecting positive vibe to the new way of living, with a special collaboration space at Siam Center, The Ideaopolis. Leading brands and Thai fashion designers are creating stylish 'New Normal' health and hygienic products and functional gadgets to spice up sustainable living.
The Omni-Channel Shopping
Online shopping and e-shoppers has significantly increased as consumers are more familiar with online purchase. OneSiam and ICONSIAM have offered Omni-channel shopping services that seamlessly bridge online and offline shopping experience.
• For the first time in Thailand, Siam Piwat has initiated luxury brand shopping experience through S-commerce, withLuxury Chat & Shop service. Siam Paragon and ICONSIAM are hubs for world-class brands and now luxury items can now delivered to customers' doorstep. Luxury Chat and Shop is a first-ever service that no any other shopping malls have operated before, and it has become a benchmark service and case study that draws attentions from many world brands. Luxury brands joined this Luxury Chat & Shop distribution channel include Balenciaga, Bally, Boss Hugo Boss, Bottega Veneta, Burberry, BVLGARI, Coach, Dolce & Gabbana, Fendi, Furla, Givenchy, Gucci, Jimmy Choo, Loewe, Kwanpen, Longchamp, MaxMara, MCM, Mulberry, Michael Kors, Off-White, Paul Smith, PRADA, Philipp Plein, Salvatore Ferragamo, Tiffany & Co. and Versace.
OneSiam and ICONSIAM Chat & Shop service also offers customers a shopping experience from anywhere and at any time. The channels enable close communications between customers and ensure speedy and convenient service.
• OneSiam application and @OneSiam Line account fulfill shoppers with updates on privileges and wide selections of fashion, beauty, dining, living and entertainment. OneSiam mobile application has seen more than 200,000 downloaders and the @OneSiam Official Line account's membership has exceeded 720,000.
• Call & Pick Up service made grocery shopping at Gourmet Market at Siam Paragon, Dear Tummy supermarket and Taka Marche at ICONSIAM most convenient, in response to the changing consumer behaviors that want to effectively spend time on grocery shopping, making list in advance and then simply pick up. This is a new retail norm that offers convenience and speedy service. In addition, customers can spend the spared time from grocery shopping on their other wish lists. Also, Eat @ Home and Eat @ Condo offer take-away and food delivery to homes and condominiums with line ups of many restaurants at Siam Paragon and ICONSIAM.
• Siam Center Virtual Mall brings Siam Center onto the digital shopping platform, creating a new phenomenon, once again, for the retail industry. In collaboration with LAZADA, Southeast Asian top e-commerce platform, we offer around-the-clock shopping experience, and customers can be be inspired by Siam Centeranytime and anywhere. The service is available at www.lazada.co.th or LAZADA mobile application.
Omni Channel Shopping is a marketing strategy that Siam Piwat has been successfully implementing during the ongoing coronavirus situation. Siam Piwat will continue with this Omni Channel Shopping strategy while improving it until we reach the apex, to serve customers' demands in the age of new normal.
The Innovative Health & Safety Measures
Shopping center is a place of happiness. It is now an obligatory practice for shopping malls to build consumers' trust and help them feel safe and cared all through their visits. Siam Piwat is the first retailer to adopt the maximum precaution measures for both customers and its employees. This was evident staring from the early state of the pandemic. When we reopen, Siam Piwat will still maintain the strict measures and maximize hygienic practices for every touch points. Siam Piwat has taken the following Innovative Health & Safety measures to ensure the safety of the public and our business alliances.
1. The measure of service providers' health & hygiene: Screening and health checks are conducted daily on employees, with strict follow-up.Our employees are required to maintain personal hygiene at all times to ensure customer's confident.
2. The measure of shopping centers' safety: Deep cleaning is carried out in all areas before reopening. Screening check points are set up at all entrances with aids of advanced technologies such as automatic disinfectant gates and True 5G Temi Thermal Scan Autobot. Social distancing, sanitization of every touch points, good ventilation and air conditioning system are also practiced.
3. The measure of ensuring customers' maximum confidence: In response to the new normal, visitors are required to download check-in and check-out mobile application. For customer convenience, Siam Piwat has initiated one-time registration to get the e-pass that can be used for all future visits. Customer can simply scan their existing e-pass through the mobile application or use QR Code.OneSiam and ICONSIAM mobile applications enable customers to plan their shopping ahead with ease and convenience. Visitors are advised to wear face mask at all times and apply hand sanitizer regularly. Also, Siam Piwat offers the cashless shopping service, allowing customers to make payments through credit cards and other digital payment channels.
"Siam Piwat's New Beginning, New Smile vision is a new norm for the future of retail. It brings back happiness and Siamese smiles to Thais. Also, it serves as a new business model for the retail industry that can best serve the 'new normal' way of life.
"Siam Piwat is confident that maintaining positive mindset, social discipline for benefit of the whole nation and our love and well wishes toward each other are our power towards victory. We are joining forces to bring back the 'Siamese smiles' for all Thais. And we will bring smiles from people across the globe back to Thailand. Then, it will be 'our great victory for our country," concluded Chadatip.