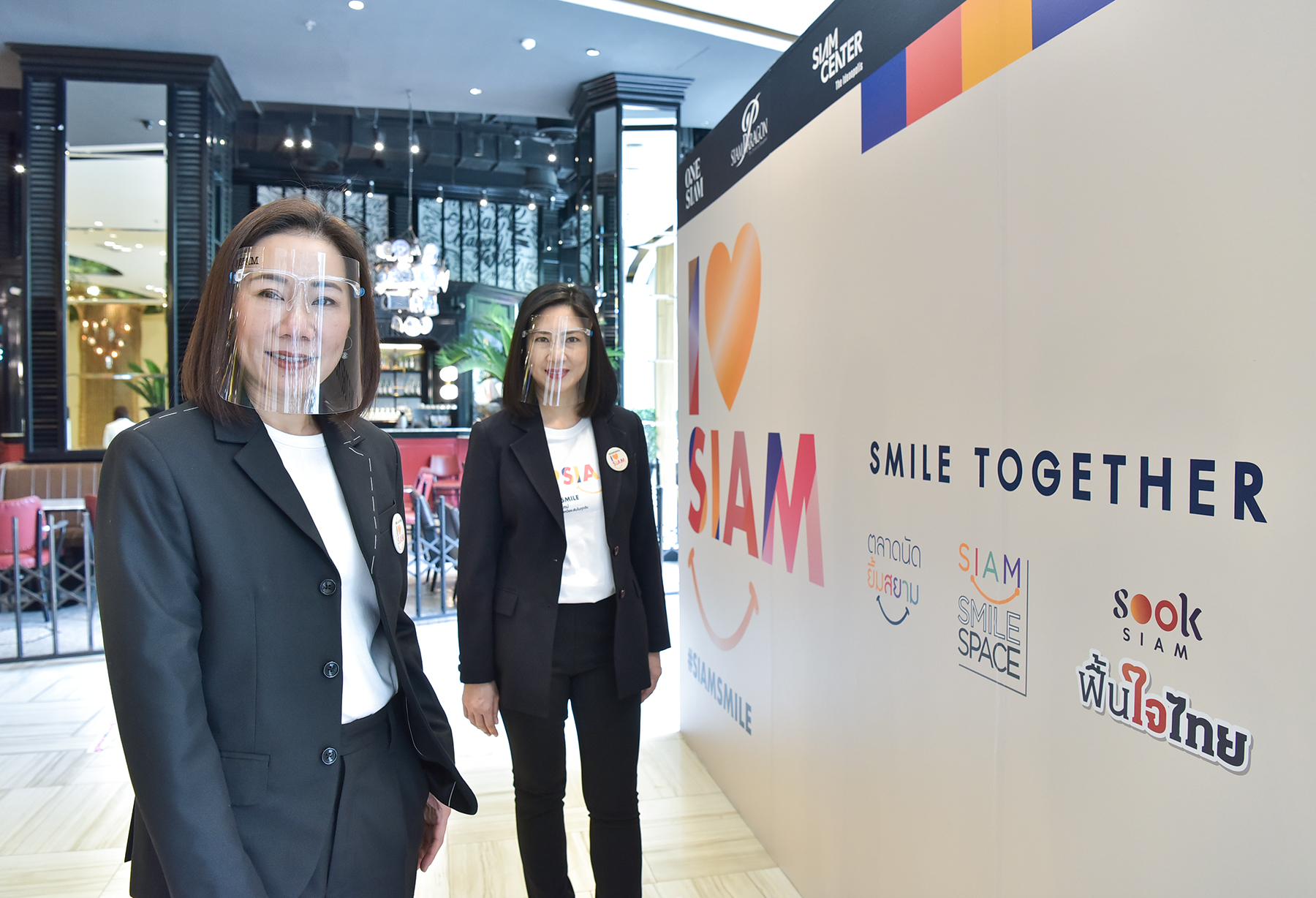 - Siam Piwat underscores its "Co- creating Shared Values for Sustainability" strategy by creating a new retail ecosystem that brings mutual benefits and success to both manufacturers and consumers in a sustainable way.

- Siam Piwat has joined forces with partners to launch four projects aimed at assisting employees and entrepreneurs affected by the COVID-19 pandemic.
Bangkok (May 28, 2020) – Siam Piwat Co., Ltd., the owner and operator of the Global retail Destination OneSiam, which integrates Siam Paragon, Siam Center, and Siam Discovery, and a joint venture partner of the mega project by the Chao Phraya River ICONSIAM, has launched "I Love Siam – Smile Together," a campaign that reaffirms Siam Piwat's commitment to standing with all Thais during these trying times and bringing smiles and happiness to everyone as part of a transition towards the "New Normal Innovative Lifestyle." The campaign encourages everyone to show support for fellow Thai people in order to restore the "Siamese Smile" through four pilot projects developed under the strategy "Co-creating shared value for sustainability" to assist employees and SME entrepreneurs affected by the COVID-19 outbreak: "Siam Smile Marketplace," "Siam Smile Space," "Fuen Jai Thai," and "Thai Help Thai Smile Together" in order to bring mutual and sustainable benefits to both business owners and consumers.
Ms. Chanisa Kaewruen, Senior Deputy Managing Director of Siam Piwat Co., Ltd., stated, "The outbreak of COVID-19 has transformed every aspect of our lives and given rise to new lifestyles that are now called the New Normal. While the situation seems to have improved, many are still suffering from its impacts as they are unable to resume their businesses or go back to their old way of life. A report by the Department of Employment reveals that as many as 267,351 people registered online as unemployed in April – a 84.56% increase compared to March, and the majority lost their job as a result of COVID-19."
Chanisa added that as 'the Icon of Innovative Lifestyle' and the operator of spaces of experience and happiness, Siam Piwat strives to play its part in providing support and assistance so that Thai people can get back on their feet and stand tall. To this end, we have launched a campaign named "I Love Siam – Smile Together," which aims to stimulate economic activity through a new retail model called the 'retail ecosystem', which prioritizes balance and connects manufacturers and buyers in such a way that fosters sustainable success. This campaign encourages all Thais to show support for one another by purchasing locally made products, with Siam Piwat serving as a hub and providing spaces that will bring smiles to everyone involved, including financially affected employees and SME entrepreneurs who have lost their livelihoods and all Thai consumers who will have the opportunity to enjoy shopping once again. The campaign comprises four major activities as follows:
1. Siam Smile Marketplace
In collaboration with its partners, Siam Piwat is transforming Royal Paragon Hall andTRUE ICON HALL into venues for Siam Smile Marketplace, where affected employees and entrepreneurs across Thailand, such as exporters who have been forced to suspend their operation and those who have started their own businesses after being dismissed, can sell their products without any rental fees and can take full advantage of Siam Piwat's channels to promote their businesses. This project will be held from June 24 to 28, 2020 at Royal Paragon Hall and from July 1 to 5, 2020 at TRUE ICON HALL. Those affected by the COVID-19 pandemic and interested in joining the project can apply until June10, 2020 and contact the official Line account @RoyalParagonHall and @TrueIconHall for further information. (The dates and times above are subject to change in accordance with the government's lockdown easing measures.)
Ms. Kritsana Janyasakulwong, Senior Director of Sales and Marketing, Siam Alliance Management Co., Ltd., said, "Through the years, Siam Piwat has focused on supporting talented individuals across Thailand, be they small business owners from various provinces, designers, youths, people with disabilities, children with special needs, and the underprivileged, to give them opportunities to have their own businesses and use Siam Piwat's platforms to present their diverse range of products and services. Just as we did in the past, during this COVID-19 pandemic we launch all of these activies to help Thaientrepreneurssurvive and to bring back happiness and smiles for them. We have joined hands with ourpartners from both public and private sectors such as Institute for Agricultural Product Innovation, Department of Foreign Trade -Ministry of Commerce, Thailand Textile Institute andDepartment of Environment Quality Promotion - Ministry of Natural Resources and Environment to promote the activities and connect us to affected SME entrepreneurs across the countrywhowill be offered spaces devoted to support them. We also developed the stringent screening process forthe selection ofSME entrepreneurswishing to join our campaigns. This to ensure that all products sold in the markets are of high quality with reasonable price, and to pass on the happiness to our customers underthe Thai Help Thai concept."
2. Siam Smile Space: A workspace of smile and happiness
The abrupt changes in lifestyle during the ongoing COVID-19 outbreak, especially work-from-home movement, are proving to be stressful for many. Although the government has eased certain lockdown measures, COVID-19 still stimulates public fear and concerns while using public spaces. To encourage everyone to enjoy the public spaces, Siam Piwat is offering 'Siam Smile Space,' co-working spaces for everyone, places of smile and happiness, at its properties including Siam Discovery, Siam Center and ICONSIAM. Free Wi-Fi and free electric power supply are provided. Maximum health & safety measures practiced at all Siam Piwat's retail properties are also applied to these area. Siam Smile Space will be available from June 2020 onwards.
3. Fuen Jai Thai Project
To align with the campaign, 'Feun Jai Thai' (Restoration) project, at SOOKSIAM, G Fl. ICONSIAM, has been another pilot project to help those affected by COVID-19 since May15, 2020. By permitting merchants and business partners to sell goods, exempted from fees and additional charges, retail spaces have been allocated for 3 key groups local family-inheritedbusiness owners, business owners from local communities in 77 provinces, and local farmers fromrenowned farms including award-winning farmers whose products exceed the market's demandvolume. Each sales period is set to 7-10 days where different sets of merchants and business owners will rotate for the use of allocated retail space at SOOKSIAM. The spaces are allocated as follows:
- Thonburi Delight welcomes Thonburi locals, amateurs and newly start-up local business owners. From family's recipe food to handcrafted goods, these merchants represent Thonburi's local values in their unique ways. This group of merchants rotate on a weekly basis.
- Hall 1 is dedicated to Thailand's OTOP top 20 listed merchants from 77 provincesfrom artisanal food to authentic handcrafted items from the local community.
- Hall 2 is allocated for fruit farmers whose product volume have exceeded the capacity of the market demand, including products which cannot be exported internationally. As part of the campaign to support local farmers, this initiative brings local fruits derived from each farm directly to consumersincluding community farmers, Young SmartFarmer group, farmers who have inherited produce from their preceding generations, and innovation-centric famers.
This campaign is ongoing from May 17, 2020 to June 30, 2020 at SOOKSIAM, ICONSIAM, G Fl., ICONSIAM.
4. Thai Help Thai Smile Together
Siam Piwat, in partnership with the Chamber of Commerce and Board of Trade of Thailand, is organizing the Thai Help Thai Smile Together campaign, uniting the best of Thailand's fruits from all five regions as well as outstanding consumer goods from each province produced by local farmers and merchants. All of these goods are set to be on sale in Siam Piwat's retail space, exempt from all charges and fees, as part of the goal to support local farmers affected by COVID-19 pandemic.
This initiative is to increase the farmers' commercial activity and thus, giving consumers a more direct channel to buy fresh local produce from farmers, bringing joy and smiles to all. Farmers would be able to self-sustain and support their families while consumers have access to Thailand's finest fruits and goods brought in from all parts of the country. This campaign is set to launch from July 2020 at Parc Paragon, Siam Paragon.

"We believe that the way for us to overcoming this crisis is to unite and support one another. The power of unity will certainly give us the strength to rise and stand tall again. Siam Piwat is here to support all Thai communities and bring the unique Thai smiles back to our proud nation, and continuously propel our country's economy forward." Chanisa Kaewruen concluded.