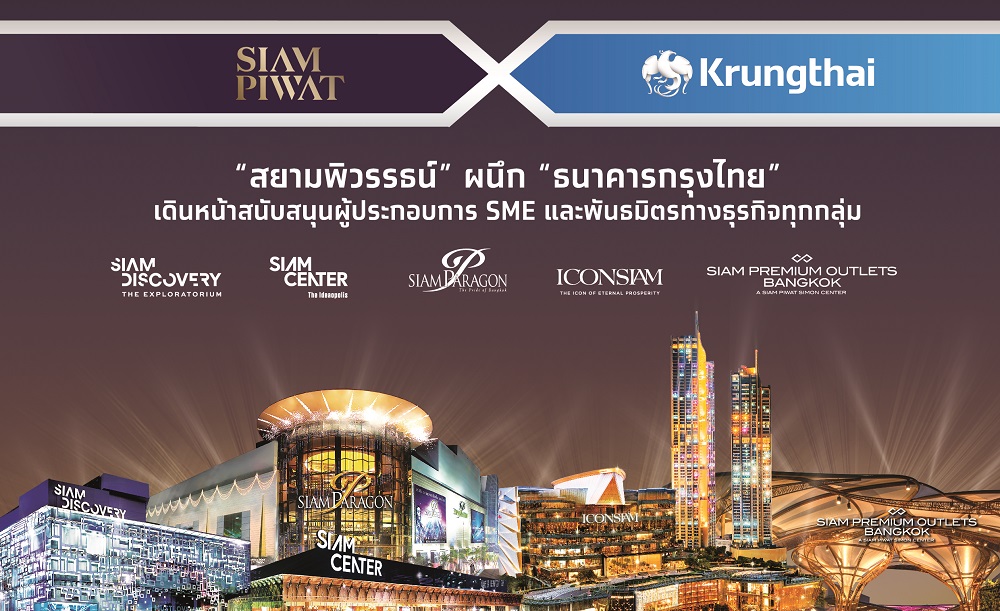 Bangkok (May 18, 2021) – Siam Piwat has joined hands with Krungthai Bank to provide assistance to all its SME business operators and partners who have been impacted by the current wave of COVID-19 by giving them access to soft loans and working capital facilities to improve liquidity and relieve financial burden, allowing them to maintain their businesses and navigate through this difficult time.
Ms. Chadatip Chutrakul, Chief Executive Officer, Siam Piwat Group, stated, "The increasingly severe COVID-19 crisis has impacted every sector of society, including Siam Piwat's business partners, who Siam Piwat values greatly. To this end, Siam Piwat has for the past 14 months been actively providing assistance in various forms. These include expanding sales channels for stores by launching Call & Shop, Siam Paragon Luxury Chat & Shop, Click & Shop, and Ultimate Chat & Shop, as well as collaborating with the food delivery application True Food to complete the omni-channel platform for its restaurant operators."
"Currently, Siam Piwat has over 5,000 business partners. As proven in past crises, Siam Piwat always does everything in its power to help the affected tenants and business partners, such as by reducing tenant and service fees, which has in the past enabled everyone to overcome difficult times. As the COVID-19 crisis has drawn on for more than one year, Siam Piwat is joining hands with Krungthai Bank to introduce special loans to help its business partners improve their liquidity, which is a major issue for everyone at the moment, and keep their business running smoothly in order to ensure that they are offered adequate and suitable assistance to overcome this crisis. Siam Piwat greatly values its long-standing relationships with its business partners and promises to stand by them as always and support them to the best of its ability," said Chadatip.
Mr. Payong Srivanich, President of Krungthai Bank, stated that Krungthai has always placed importance on assisting all customer groups, encompassing retail customers, SME business owners, and business customers, and has thus introduced various relief measures for both general customers and specific groups of customers to cater to their specific needs. Krungthai also focuses on assisting the business partners of its clients across the business chain according to its X2G2X strategy. To this end, it has collaborated with Siam Piwat to assist its business partners in improving liquidity through the two following measures:
1. Soft loans: The interest rates are no more than 2% per annum in the first two years (with the average interest rate over five years not exceeding 5% per year), with a maximum repayment period of 10 years and a grace period in the first six months from the first drawdown date (in the fifth to tenth years, the interest rate will be adjusted according to debtor risks). The borrower is eligible to loan guarantees by the Thai Credit Guarantee Corporation (TCG) for a maximum of 10 years and is required to post other minimum collateral as specified by the bank.
- Current Krungthai Bank customers with credit lines not exceeding 500 million baht as of February 28, 2021 can apply for this soft loan in the amount of up to 30% of the existing credit line as of December 31, 2019 or as of February 28, 2021, whichever is higher, but not exceeding 150 million baht, deducted by other existing soft loans.
- New customers without loans with any financial institution prior to March 1, 2021 can apply for a soft loan in the amount of up to 20 million baht (the credit limit for loans from all financial institutions combined).
2.Working capital facilities for Siam Piwat's business partners
The overdraft facilities offer credit limits according to the size of business transactions as well as special interest rates, low collateral requirements, and the ability to make payment via transfer through various channels. With a minimum retail rate (MRR), customers can seek up to 20 million baht. The maximum credit limit for unsecured overdraft facilities is 1,000,000 baht. Those seeking a higher credit limit can request a joint guarantee with the Thai Credit Guarantee Corporation (TCG). Siam Piwat will facilitate access to soft loans at reasonable costs to enhance their business efficiency and ensure efficient supply chain financing.
These relief measures are intended for Siam Piwat's business partners who own SMEs and have been impacted by COVID-19, and will be considered and approved by Krungthai according to its criteria on a case-by-case basis.
Siam Piwat greatly values its business partners and recognizes their significant contribution to Thailand's economy, as evidenced by the various measures it has introduced to relieve the impact and lighten their burden. As always, Siam Piwat stands with its business partners in navigating through and overcoming this crisis.
For those interested in joining the program, please call Krungthai Contact Center at 02-111-1111.