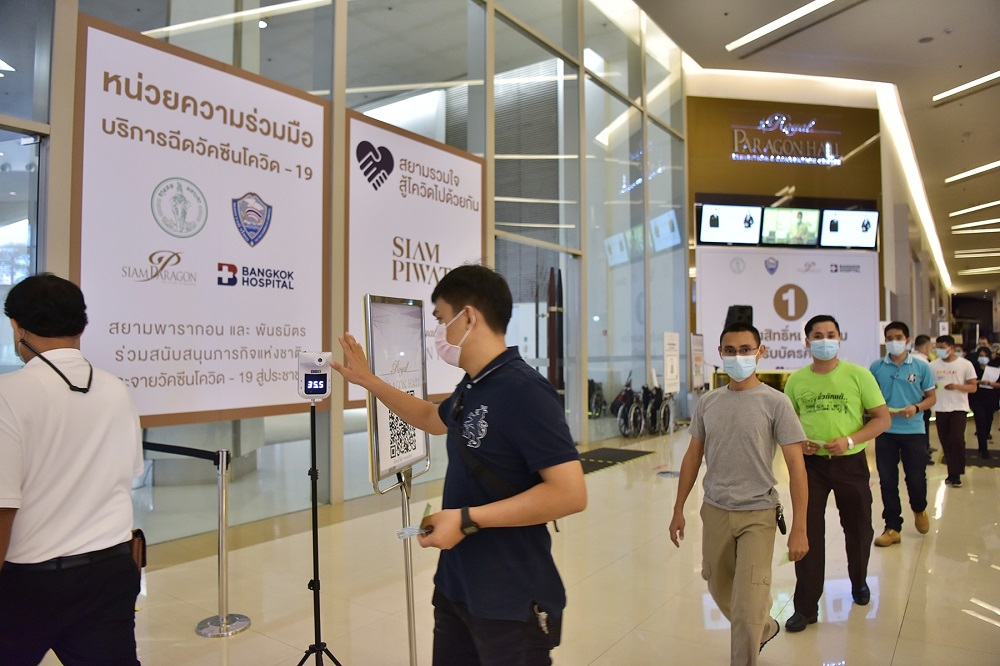 Siam Paragon, in collaboration with Bangkok Hospital, Health Department under Bangkok Metropolitan Administration (BMA) and the Thai Chamber of Commerce joins forces to support the government's national agenda - Covid-19 vaccination. The cooperation enables an alternative non-hospital vaccination station at Bangkok's city center, at a convention hall Royal Paragon Hall on the 5th Floor of Siam Paragon. This alternative venue can be conveniently accessed by public transports like the Skytrain, bus and private vehicles and is operated under strict health and safety as well as social distancing measure, under the authorities' guidelines.
In full support of the national vaccine rollout mission, Siam Paragon has readily set up its Royal Paragon Hall to serve as the vaccination station. Its city-center and also business-center location allows convenient access to the public and the exhibition hall and its well-equipped facilities can accommodate and serve a large number of people. The immunizing operation will be practiced under stringent health and safety measures to ensure maximum safety at the premise.
Talun Teng, Managing Director of Royal Paragon Hall, said "Siam Paragon is offering full supports to the vaccination mission. In addition to providing the venue, we also allocate our dedicated staffs and volunteers as well as other supporting facilities to assist throughout operation, to effectively accelerate public inoculation. We would also like to express our sincere appreciations to all of the devoted medical frontliners and personnel who stand by us in this trying time and we certainly believe, together, we will get through."
Matinee Maipang, MD., Deputy Chief Executive Officer - Group 1 and Hospital Director, Bangkok Hospital said, "The Ministry of Health, by the Covid-19 Vaccine Administration Sub-Committee, has called for supports from private sectors for vaccine immunization, first to citizen aged 60 and over and individuals at risk due to seven types of chronic diseases aged between 18-60. Accordingly, Bangkok Hospital has promptly submitted list of eligible recipients to MOPH Immunization Center (MOPH-IC). The list includes over 65,000 patients from the hospital's database and the public registered for vaccination via "Mor Prom" mobile and LINE application, who requested the vaccination to be taken in Bangkok. To effectively serve the increasing number of registrations and to accelerate immunization, the hospital has reached out to Siam Paragon for an additional and alternative vaccination site, considering the space capacity, which allows safe social distancing and monitoring area, a requirement from the Ministry of Public's guidelines, for any possible after-shot side-effect. Health and safety practices and convenient public access are also taken into accounts. The alternative vaccination station is set up to serve large number of vaccine recipients. For the site operation, Bangkok Hospital makes it our priority to provide quality medical services at hospital-level standard, for best health safety of the vaccine recipients. Hospital standards will be put into stringent practices including health and safety measures, infectious disease control, strict social distancing as well as vaccine transfer, preparation and quality control. The hospital standard will also cover patient care in case of any possible emergency related to acute vaccine side-effect or any other emergency cases. Fully-equipped first-aid unit is also available with essential equipment and medication that cover advanced life support system and teams of emergency personnel including emergency medicine (ER) physicians, nurses and emergency medical technicians are on stand-by to treat emergency cases. Transfer plan for emergency patient is prepared, patient will be transferred to Police General Hospital, the closest hospital, so the case will be treated as quickly and as effectively as possible at quality and trusted hospital. Bangkok Hospital takes pride in being a part to support our fellow Thais for their well-being, promotes immunization against Corona virus, reduces morbidity and mortality. We strongly encourage everybody to be vaccinated as soon as possible and together we will get through this crisis.
Today (21 May 2021), joining the vaccination test-run at the alternative site were disease-control and healthcare frontliners, and essential workers at higher risk of work-related exposure to mass public. All recipients had pre-registered for vaccination with BMA's Health Department. For the public, vaccination allocated by the government will be available from7 June – 31 July 2021. Bangkok Hospital will host two vaccination sites at 1. Bangkok Hospital, Soi Soonvijai, Bangkok, from 08.00 -17.00 hrs. and 2. Bangkok Hospital (Siam Paragon) at Royal Paragon Hall, 5th Floor, Siam Paragon**, Bangkok, from 09.00 -16.00 hrs.The service will be given to pre-registered recipients via "Mor Prom" mobile or LINE application.For more information on Covid-19 vaccination appointment, please contact COVID Center at Bangkok Hospital, call 02-308-7171 (4 lines available) from 08.00 -17.00 hrs.
Siam Paragon regards its visitors and staff safety as priority. Maximum health and safety measures according to the authorities' guidelines are practiced including temperature check points, hand sanitizers, increasing frequency to clean the air-conditioning and cooling system. Proactive sanitization including daily big cleaning and daily disinfection spray over in-mall areas and at touch points after operation hours.
The collaboration between Siam Paragon and Bangkok Hospital is a joint force between two private sectors to support the government's national Covid-19 vaccination agenda, for effective and quick mass immunization to help our nation through the crisis.
For more information, please contact Siam Paragon, call 02-610-8000 or visit Facebook:SiamParagonShopping or COVID Center at Bangkok Hospital, call 02-308-7171 or visit www.bangkokhospital.com
** Terms & conditions to receive the vaccination allocated by the government at Siam Paragon
1.One vaccine recipient is eligible to have one accompanied person, according to the safety and social distancing guidelines for best practice of social distancing.
2.For individuals at risk, according to the announcement by the Ministry of Public Health, who have pre-registered via "Mor Prom" applications, can change details of their requests via "Mor Prom" application such as change vaccination site, date, time or host hospital. In the application, select "change reservation," then click "choose hospital:hospital (resident areas)/ hospital (other areas)/ alternative sites" and choose "change appointment date and time." Change availability shown is subjected to each site's terms and conditions. Reservation change can be made only after 24 hour after the latest site confirmation in the application.