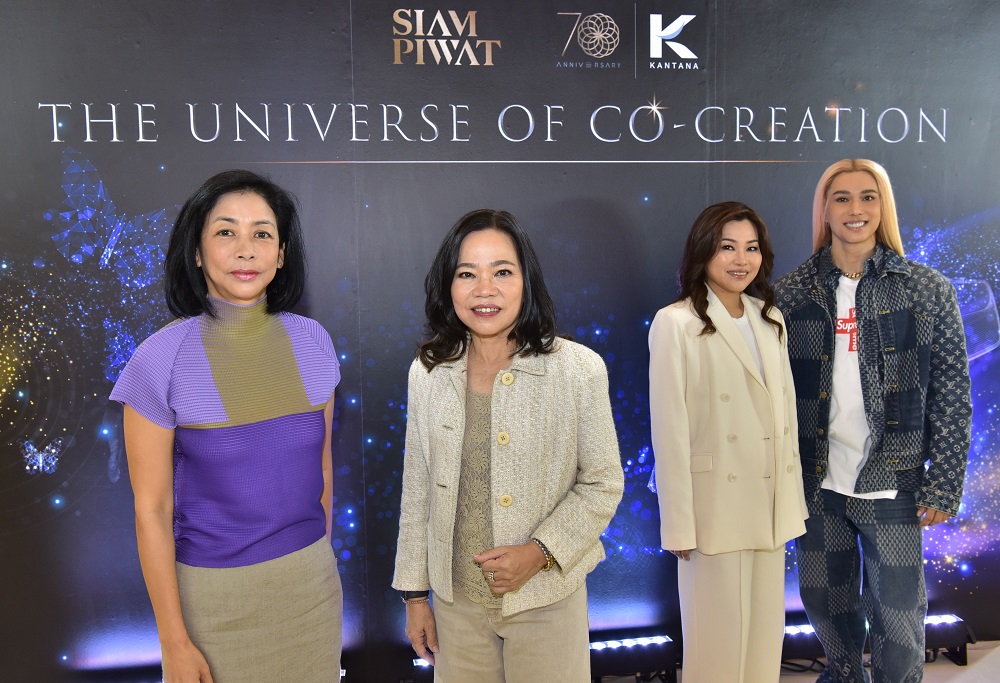 - Reinforcing Siam Piwat's vision, The Visionary ICON with expansion of a premium world-class business ecosystem and adoption of 'Collaboration to Win' strategy through a strategic partnership with entertainment business leader Kantana Group to create 'The Universe of Co-Creation.'
- Aim to become top-of-mind among digitally-driven new generations and expand to content-and-entertainment consumer segment, to deliver unprecedented customer experience
Leading real estate developer Siam Piwat Co., Ltd., the owner and operator of prestigious retail development including Siam Paragon, Siam Center, Siam Discovery and a joint-venture partner of ICONSIAM and Siam Premium Outlets Bangkok, optimizes the premium world-class business ecosystem by announcing its strategic partnership with Thailand's leading entertainment company Kantana Group, emphasizing its vision as The Visionary Icon. The collaborative partnership marks a major milestone to create 'The Universe of Co-Creation,' that aligns with the company's business strategies to cultivate a value-sharing ecosystem for a thriving and sustainable success for all entities.
Mrs.Mayuree Chaipromprasith, President – Corporate Affairs and Communications, Siam Piwat Co., Ltd.Said "Fundamentally, Siam Piwat's key foresight is to create a premium world-class business ecosystem. We have transcended domestic competition and geared towards new business opportunities that can expand beyond all boundaries. Our establishments are positioned as global destinations and we have cultivated strong communities of both local and international customers.
At Siam Piwat, our business goes beyond retail offering that relies simply on products and services, instead, we strategically position our business as the place to discover new and multi-dimensional customer experiences, both in physical and digital realm. We aspire to be the top-of-mind for local and international clients. This goal undoubtedly contributes to a strong network of local and international business alliances. Aligning with Siam Piwat's 'Collaboration to Win' strategy, this interconnection have seen enriched and long-standing relationship, together with commitment to together thrive forward and create revolutionary and innovative values. This integrated ecosystem dynamically spans over 13 industries and successfully leveraged into a global framework – empowering a 'Universe of Co-Creation' that is powerful, efficient and boundless.
The key success factors of the innovative premium business ecosystem, that evolves from the "Collaboration to Win" strategies are;
1.Accelerate Innovation
Collaborate with the robust partners to strengthen technology and innovation capabilities while complimenting each other and forge to business of future. This enhancement will help all parties efficiently evolve in this fast-paced world and together achieve the compatible goals more efficiently.
2.New Opportunity, New Growth Engine
Incorporating with collective key players that together will optimize business opportunities and enable innovative partnership that broadens capabilities. In addition, the orchestrated network contributes to knowledge and know-how sharing, while accelerating business growth, cross-reaching and expanding customer database as well as reaching new potential consumers. Siam Piwat also plans to operate customer for its ecosystem entities.
3. Unlimited Experiences
The partnership will bring together the parallel worlds the offline and online, the universe of unlimited experiences to strengthen the functionality and efficiency of OneSiam SuperApp and Siam Piwat's business units and connects new platforms into the ecosystem, not only in term of shopping, but also the experiences that meet the demands of customer at the highest level.

In 2022, Siam Piwat and Kantana Group PCL, a leading content provider and entertainment revolution, join forces to leverage the strengths of both organizations with a shared value to become the top-of-mind among digital-driven generations and broaden the content & entertainment consumer segment.
Mrs.Sasikorn Chansate, Chief Executive Officer, Kantana Group, PCL said "Kantana Group is a leading integrated content provider that include television, series, movies, animation, E-Sport and KOL management. We provide new contents in terms of productions and capture new audiences in all segments through integrated business strategy framework that connects customers, media and fanclub network. In addition, we build a network of partnership in varieties of OTT (over-the-top) platforms to offer the right contents to the right target groups.
Kantana's business strategy for 2022 is to focus on fashion and E-sport. We are actively growing the two communities to communicate, exchange and enhance benefit.
For the fashion community, this year Kanatana Group has generated varieties of fashion programs such as Face2Face Thailand, Sexy Mama and Dress My Love. Thanks to the support from Siam Piwat, the leading developer of global retail destinations, the collaboration truly empowers our capability to offer new experiences for consumers through a paralleled online and offline experiences.
E-Sport contents feature King of Gamer Club, E-Sport player management for Free Fire, ROV, PUBG Mobile and LOL Wild Rift. Kantana also produces E-Sport TV program and TVC as part of its marketing campaigns. The contents perfectly align with Siam Piwat's target segments. The up and coming The Up Rank movie will also mark a major campaign that will attract new generation customers that mutually benefits both Siam Piwat and Kantana.
Mr.Piyarat Kaljaruek, Vice President of Kantana Group PCL, said "Producing lifestyle and fashion content for the Thai market is in facta very challenging task. A synchronized marketing communication with other key players is crucial, most importantly, we partner with key players who nurture robust customer database, have high credibility and share similar brand image with our shows. The cooperative work with Siam Piwat is the testament of a strong partnership. Siam Piwat is the leader in luxury fashion and the key to success for all Kantana's contents. Our strategy efficiently combines online and offline communications that attract new target groups and audiences, especially those digital-native GenY and GenZ, Contents to the shared target groups, the fruit of the collaboration between Kantana Group and Siam Piwat's retail premises have been continuously released. Face2Face Thailand, a TV program that has become an online buzz, features luxury fashion and lifestyle that aligns with ICONSIAM's target group who support the filming location.
While Sexy Mama seeks smart and stylish women regardless of their age, body shape or profession. The program's purpose aligns with Siam Center's vision statement to support diversity and inclusiveness. Siam Center has earlier announced its collaboration with UNDP (The United Nation Development Program) to be a DiverCity Building, reinforcing its Ideaopolis vision.
Mrs.Saruntorn Asaves, Division Head - Shopping Center Business of Siam Piwat Co., Ltd., said "The collaboration between Siam Piwat and Kantana will definitely bring our retail premises closer to target customers, with no time-bound or geographical location limit.These are in line with the strategy to connects O2O customers with attractive and exciting contents and create communities based on interest of target segments such as Style for fashion, Glow for beauty, Fun for activities, entertainment, sports, games and gadgets.
The partnership presents both offline and online collaborations; in the shopping centers and on OneSiam SuperApp platform. Offline benefits will bring in more quality customers, generate more traffic, raise awareness, increase brand reach, emphasize brand image and add value to customer's experience. Whereas Onesiam SuperApp online content will broaden customer database, present attractive contents, offer varieties of privileges to customers and contribute to new market opportunities.
For the up and coming Kantana's The Up Rank project, OneSiam's shopping centers has spent over 10 million baht on offering special privileges to Kantana's The Up Rank participants that spans to online shopping at OneSiam SuperApp. Participants will also receive discount coupons from leading stores located in the shopping centers such as LOFT, ALAND, Absolute Siam Store, Ecotopia and ICONCRAFT. This is Digital Lifestyle Marketing merged with Customer Experience Program to capture new generation customers and other potential communities.
The varieties of collaborations between Siam Piwat and Kanatana Group showcase the boundless potentials of both industry leaders and, importantly, both companies have strategically planned to incorporate more partnership with the country's leading organizations for phenomenal outcome that will reshape the retail industry within this year.