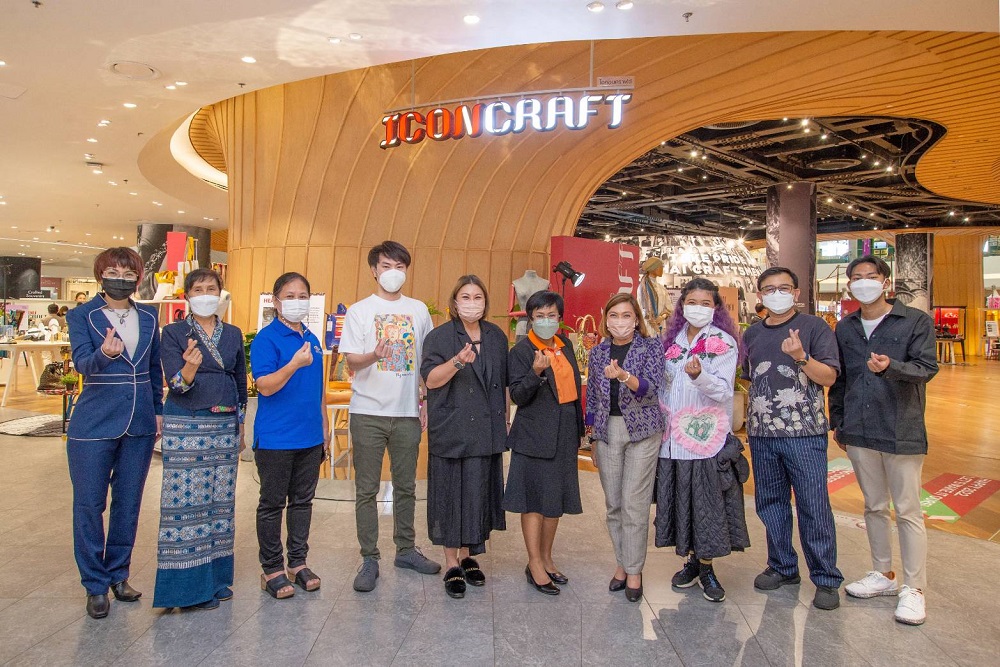 Siam Piwat, a leading real estate and retail developer, the owner and operator of world-class projects, such as Siam Paragon, Siam Center, and Siam Discovery, and a joint venture partner of ICONSIAM and Siam Premium Outlet Bangkok, moves ahead with its Made by Beautiful People initiative to give persons with disabilities, children with special needs, and the underprivileged peoplean opportunity to showcase their craftworks at shopping centers of Siam Piwat. for a third consecutive year. Made by Beautiful People zone is opened to increase awareness and sell products created by the underprivileged group in order to help create jobs and provide a source of pride for them and their families. New products to be featured in the zone include SANKONG EMBROIDERY's hand-embroidered items and products from Kamlangjai Project, which will be available for sale until May 31 at the ICONCRAFT Zone on the 4th and 5th floors of ICONSIAM.
Parisa Chatnilbandhu, Senior Director Retail Business concept shop ,said, "Siam Piwat's Made by Beautiful People Zone has been operating for three years as part of the Citizen of Love Project to offer a creative platform of endless inspiration for persons with disabilities and children with special needs who are skillful designers and artisans. We have collaborated with eight organizations, namely Kamlangjai Project, the Vocational Development Center for the Disabled, Light for the Disabilities Foundation, Anusan Sunthon School for the Deaf, Chiang Mai, Arunothai for Special Needs Project, Autistic Thai Foundation, Na Kittikun Foundation, and Sikkha Asia Foundation. As a space that gives them an opportunity to showcase products that they have meticulously crafted with love and send positive energy to people, the Made by Beautiful People Zone has enjoyed overwhelming positive feedback. Today, Siam Piwat is scaling up the project by expanding its collaboration with more foundation, reinforcing its mission to never cease promoting and embracing diversity and inclusion.
Made by Beautiful People features diverse offerings, including products made by female inmates under Kamlangjai Project, an initiative under the royal patronage of HRH Princess Bajrakitiyabha, which provides assistance to those in need of opportunities in Thailand, such as female inmates, individuals on probation, and juvenile delinquents or defendants, so that they can be reassimilated into society as quality citizens and contribute to peace in society. This initiative not only gives them an opportunity and boosts their morale but also helps equip them with professional skills and improve the quality of inmate-made products so that they are widely accepted by the general public and can generate income for them after their release.
The zone also features textile products made by students with hearing impairment at Anusan Sunthon School for the Deaf, Chiang Mai under THITIPAWAN brand, by Light for the Disabilities Foundation under the brand HOPE FOR HANDICAPPED, and by Nonthaburi Vocational Development Center for the Disabled under the brand MIND. Visitors will also find HEARTIST's one-of-a-kind cloth bags handcrafted by special-needs children under Arunothai for Special Needs Project as well as FEEMUE's craftworks by local women in Khlong Toei, which have won a Good Design Award in 2017 – a testament to their extraordinary skills and wide acceptance in Japan. New additions to the zone this year include hand-embroidered products by SANKONG EMBROIDERY, all carefully crafted by the elderly members of Ban San Kong Embroidery Group, led by Nitee Suthammarak, President of Ban San Kong Learning Center and an instructor who teaches handicraft to hilltribe villages and the elderly and trains male inmates in hand embroidery to equip them with skills that will enable them to earn a livelihood as independent artisans after their release and create products that will help generate income for themselves and their communities.
M.L.Oradit Sanitwong, a Siam Piwat executive, said, "I would like to invite everyone who loves products with unique and beautiful designs as well as sentimental value to visit Made by Beautiful People at ICONCRAFT on the 4th floor of ICONSIAM, which brings together handicrafts made by special people under eight brands. Among these are Inspire-branded craftworks from Kamlangjai Project under the royal patronage of HRH Princess Bajrakitiyabha, which aims to give inmates opportunities and encouragement, equip them with professional skills, and ultimately earn inmate-made products wide public acceptance and generate income for them. Coming with aesthetically-pleasing designs, the featured products include various types of smocked bags, such as drawstring bags, shoulder bags with straps tied into a bow, laptop bags, and eyeglasses pouches.
A staunch advocate for underprivileged people, Kuntinee 'Kib' Krairiksh stated that Made By Beautiful People is a project that promotes equality in society. As a lover of cloth bags, she invited everyone to show support for Heartist's one-of-a-kind hand-woven cloth bags crafted by individuals with special needs as part of their therapy in Arunothai for Special Needs Project. Available at special prices, these quality handicrafts offer buyers an opportunity to contribute to society.
The talented actress Pimdao 'Mutmee' Panichsamai said Made by Beautiful People is a project of sustainability that gives the underprivileged an opportunity to make an honest livelihood and would like to invite everyone to support the products by the social enterprise Art Story by Autistic Thai under the Autistic Thai Foundation, a non-government organization that promotes and develops the quality of life for children and individuals with autism. The social enterprise offers a diverse range of products, from glasses and T-shirts to scarves, hats, bags, and much more, featuring one-of-a-kind imagination-fueled artworks made by these special people.
You can now browse and show support for these beautiful products, which are not only practical for everyday use and promise to make your life more colorful but also contribute to a good cause, at ICONCRAFT, the ultimate craftwork destination for tourists across the globe, on the 4th and 5th floors of ICONSIAM, and ODS (Objects of Desire Stores) on the 3rd floor of Siam Discovery. For more information, please contact us at Facebook: ICONCRAFT or at Tel: 1338.